Good, Bad and Ugly: Ole Miss
THE GOOD: FIRST FIVE MINUTES.
This is what this Hoosiers team can be. Running the break efficiently, not letting teams get set up on D, pushing the pace, getting controlled buckets in transition with Jeremiah Rivers and Verdell Jones leading the charge. It actually looked slow to me at points, because IU wasn't trying to do too much — just simply taking what they were offered.
Rivers had a nice play during this stretch, as he grabbed an air ball and went coast to coast. But then Ole Miss turned up the pressure, started dominating inside, starting hitting shots, blocking IU's shots, and IU began turning the ball over at an alarming rate. What was once a 20-11 lead quickly became a double-digit deficit.
Ole Miss just had too much to throw at the Hoosiers. They blocked a ridiculous 12 shots on both lines (starters DeAundre Cranston and Eniel Polynice had two each; Terrico White had one, while the bench picked up the remaining seven), and scored at will in stretches. They overpowered IU. The Hoosiers were able to make mini-runs here and there — something last year's team would not have done — and had it to 69-61 with a bit over 5:00 to go. But after yet another turnover on a fast break (an errant Devan Dumes pass), that was basically it for their chances at a comeback.
THE BAD: TURNOVERS AND FREE THROWS.
So far this season, what killed IU last year is killing them this year. Sure, there's more talent at pretty much every position. And a turnover from Rivers this early evening might not look as bad as a Daniel Moore one from last year. But the fact remains: this team is having an awful time taking care of the ball. They had 14 turnovers at half, and 21 for the game. Rivers led the way with six (though some of his drives to the rim were pretty, no?), while Maurice Creek had five. And free-throw shooting was bad again as well: the Hoosiers only hit 12 of their 27 attempts for 44 percent.
It's tough to win a game, no matter how well you play otherwise, when you're shooting under 50 percent from the free-throw line and turning the ball over more than 20 times in a contest.
I have faith the Hoosiers can correct the sloppiness as they begin to adjust to Crean's up-tempo style. But sometimes with free-throw shooting you either have it or you don't.
THE UGLY:

Tom Pritchard's air-balled free throw. Back-to-back-to-back missed threes from nearly the same spot late in the second half: the first two from Dumes, the last one from Maurice Creek. The near empty gym: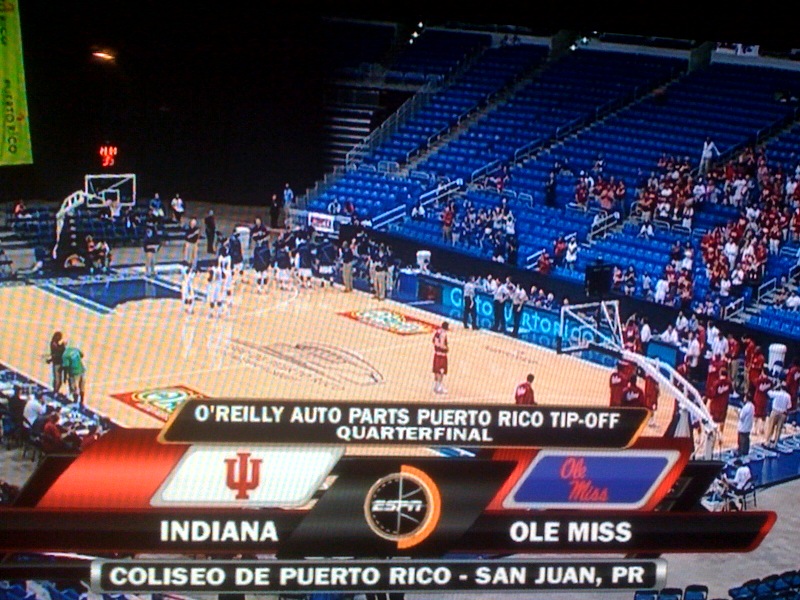 Filed to: Devan Dumes, Jeremiah Rivers, Maurice Creek, Tom Pritchard, Verdell Jones