Good, Bad and Ugly: Bryant
THE GOOD: THE START.
If there was anything Indiana needed to key on in this game, anything Tom Crean likely would be pleased to see, it was a good start by the Hoosiers. I know this is Bryant College, a team that's only entering its third season as a D-I school, a team that's now 0-13, but the Hoosiers' good start — well, save for those six turnovers in the first 10:30 — was so crucial to this team's overall makeup after their atrocious first half against Loyola (Md.) last week.
Heading into Big Ten play Thursday against Michigan, this young team needed a bit of a confidence boost, and going into the locker room with a 45-17 lead did just that. Jordan Hulls was solid in his start — I know Jordy has been playing well off the bench, but anyone else thinking Jeremiah Rivers' rough game last time out had anything to do with him riding the pine to start? — and Tom Pritchard continued to return to form by bruising down low, getting fouled and getting to the line. He only hit 3-of-9 from the charity stripe, but it's encouraging to see he got there that many times. He finished the game with 11 points and eight boards, and if he can keep up that kind of production, that starting spot should remain his. I love Derek Elston, but his energy is perfect in a sixth-man role.
IU also shot well from three-point land making 9-of-22 for 40.9 percent. And it was a team effort on the offensive end: four other guys scored in double figures besides Pritchard, as Christian Watford led the way with 15 points on 7-of-10 shooting. Verdell Jones also had 15, Devan Dumes added 12 and Hulls had 12 as well.
Other than that, it's sort of hard to glean much out of this one. No offense to Bryant, but they were such an inferior opponent and it was so out of hand in the second half — IU did win by 48 points tonight, after all — what we saw might not be all that telling of how the Hoosiers are set up heading into Big Ten play.
THE BAD AND UGLY: MAURICE CREEK'S INJURY.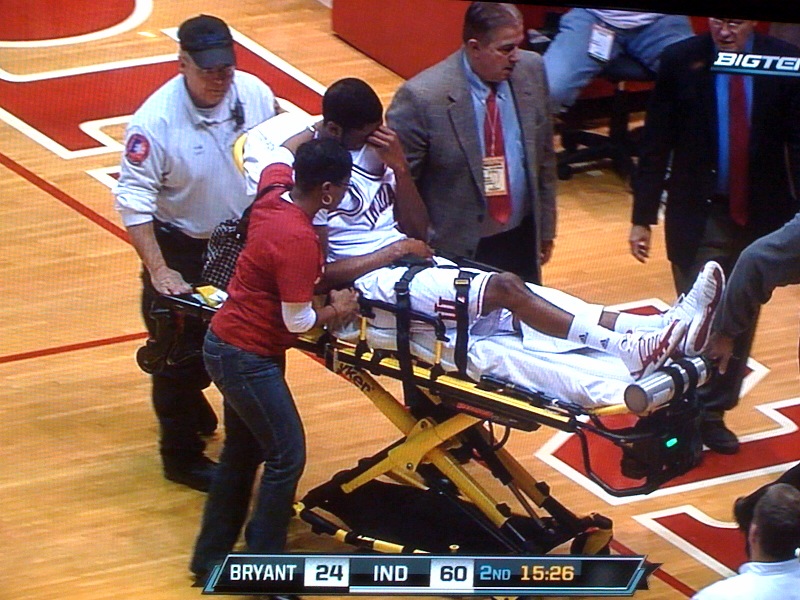 There are injuries you know are bad out the gate. A guy lands wrong, goes down instantly, he clutches the limb in question, and he lays there, writing and writhing and writhing in pain.
That wasn't the case with Creek tonight. It was slow moving. As he came down on his legs after he was fouled on the layup, Creek barreled a little, fell, then did a bit of a somersault into the row of photographers. But as he tumbled back over and righted himself on the court, he clutched his left knee and began the writhing.
Yet, he remained mostly calm as the training staff attended to him.
But when Tom Crean came out onto the court, you knew it wasn't good. And when subsequent replays seemed to indicate his knee had popped out of place, you knew it might be worse. And when the stretcher made it's way on the court, you knew it was really bad.
Initial indications were that Creek had a dislocated knee. But now it's been reported that Creek has a fractured knee, he'll have surgery and is out for the season.
I don't need to tell you this, but this is a huge blow for the Hoosiers. Creek was the team's leading scorer, the third-leading scorer in the Big Ten and the leading freshman scorer in the nation at 17.6 ppg entering tonight's game.
Best of luck on the surgery, Mo.
Some other observations:
+ Anyone else have to do a double-take on Bryant's black and gold unis? IU could have been playing Purdue for all I knew.
+ Bawa Muniru got in somewhat early in the first half, and you wonder if he's starting to show a little bit of improvement in practice to warrant that. During the second half, he had a nice block, something we've looked for, but haven't seen much of yet.
+ Rivers got a haircut. Lookin' good: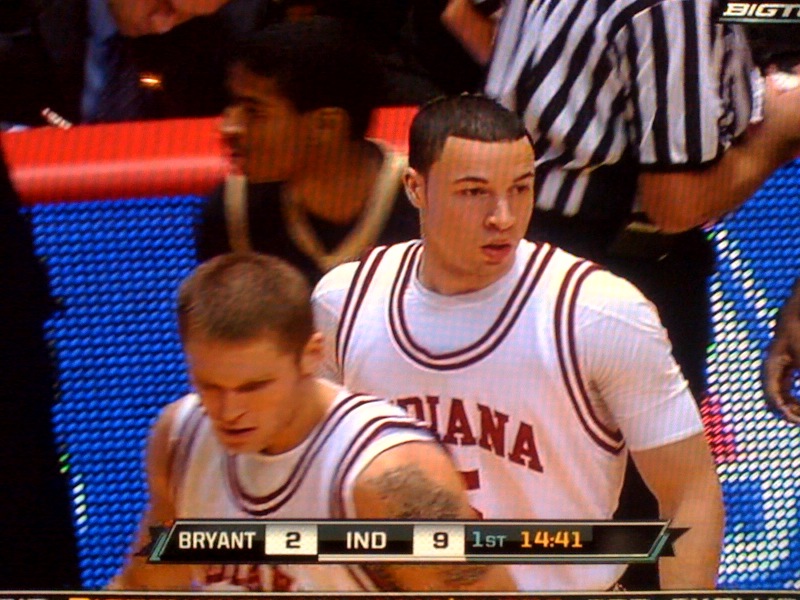 Filed to: Bawa Muniru, Bryant Bulldogs, Maurice Creek, Tom Pritchard