ITH Super Happy Fun Time Player Profile: Tom Pritchard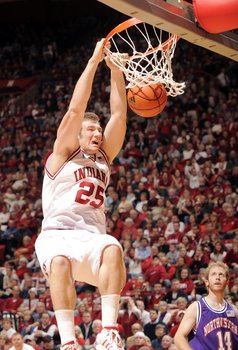 Hoosier Hysteria is on the horizon and it's time for Inside the Hall's player-by-player breakdown of the 2009-2010 Indiana Hoosiers. Today: Tom Pritchard.
Heading into last year's campaign, there were a lot of question marks. How would this team of virtual unknowns look? Would IU lose every game? Does Tom Crean really drink that much Diet Coke? But early on, there was a question mark that was quickly answered: if nothing else, we had a guy down low that might not have the prettiest game, but he was going to try and grind and bruise his way to a double-double every night. This guy's name was Tom Pritchard.
Now, Pritchard did disappear some games last season, particularly in Big Ten games where more experienced and skilled opponents knew to key on him because we didn't have much else. But for a freshman on a team such as last year's, the numbers are pretty good: five double-doubles, an average of nearly 10 points a game, and his 6.4 rebounds was good for eighth in the Big Ten.
As many of you are predicting, Tom Pritchard will likely get the starting nod to begin the season, though if he isn't improving and battling, he might be unseated by Derek Elston or Bobby Capobianco when it's all said and done.
I would think Pritchard would be safe, but Tom Crean's comments about him on this video are a little troubling. It seems Pritch came into individual workouts out of shape and lacking conditioning, and allowed a flaw to come back into his jump shot. On a video full or praise for his players, Pritch was one of the lone harping points for Crean.
Bottom line: If Pritchard puts in the hard work necessary to keep improving his game, there's no reason he can't snag even more double-doubles this year with an improved cast around him. Can he be the consistency IU so often is lacking in the frontcourt?
Quotable: "Tom Pritchard is better in some areas, but not where he needs to be yet." — Tom Crean at yesterday's press conference.

Filed to: 2009-2010 season preview, Tom Pritchard