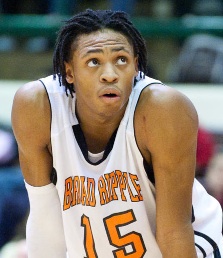 Less than a week after learning he would not be admitted to Indiana for the fall semester, Ron Patterson arrived at a decision on where he'll attend school next year.
Patterson will attend Brewster Academy, a prep school in Wolfeboro, New Hampshire.
He announced the decision on his Twitter account late last night.
A few notable Brewster alumni include Mitch McGary (Michigan), Will Barton (Memphis), T.J. Warren (North Carolina State) and Thomas Robinson (Kansas).
"His family just discussed the pros and cons of everything and Brewster will get him ready athletically and academically for that next year when he attends college," Patterson's AAU coach, Chris Hawkins, told Inside the Hall. "It's just the best situation and he's not rushing into a decision as far as how late in the game it was especially with school starting. I think it'll help him next year when he attends another school."
Brewster Academy coach Jason Smith coached Patterson, Jeremy Hollowell and Hanner Perea in the Derby Festival Classic last April in Louisville.