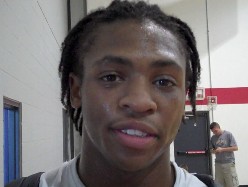 Throughout the season, Inside the Hall will keep you posted on how 2011 signees Austin Etherington and Cody Zeller, IU's eight verbal commitments and other notable prospects with interest in the Hoosiers, are performing at their respective schools.
You can send us stats or results for this report at insidethehall@gmail.com. Here's our latest update:
2011 SIGNEES
+ Austin Etherington (Hamilton Heights): Nineteen points in a 88-32 win over Eastern (Greentown) on Jan. 21. Twenty-nine points and 12 rebounds in a 95-57 win over Sheridan in the Wigwam Classic at Anderson on Jan. 22.
+ Cody Zeller (Washington): Twenty-eight points in a 84-31 rout at Pike Central on Jan. 22. (Game that was scheduled on Jan. 21 against Princeton was moved to Feb. 5 due to inclement weather.)
2012 COMMITMENTS
+ Hanner Perea (La Porte La Lumiere): Did not play. La Lumiere returns to action on Jan. 29 against Traders Point Christian.
+ Kevin "Yogi" Ferrell (Park Tudor): Twenty-two points in a 77-43 win over Indianapolis Speedway on Jan. 18.
+ Peter Jurkin (United Faith Christian Academy, NC): Out until February with a stress fracture, according to The Charlotte Observer.
+ Ron Patterson (Broad Ripple): Eighteen points in a 64-46 win at Indianapolis Chatard in the City Tournament on Jan. 18. Seven points in a 50-37 quarterfinal win over Indianapolis Washington in the City Tournament on Jan. 22. Twenty-two points, including four 3-pointers, in a 66-50 semifinal win over Indianapolis Manual in the City Tournament on Jan. 22.