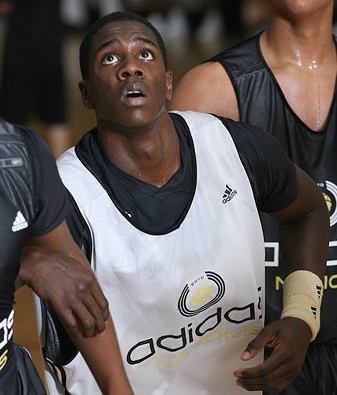 (Photo credit: Jack Arent/adidas)
Throughout the season, Inside the Hall will keep you posted on how 2011 signees Austin Etherington and Cody Zeller, IU's eight verbal commitments and other notable prospects with interest in the Hoosiers, are performing at their respective schools.
You can send us stats or results for this report at insidethehall@gmail.com. Here's our latest update:
2011 SIGNEES
+ Austin Etherington (Hamilton Heights): Thirty-two points in an 84-66 win over Madison-Grant on Feb. 10. Etherington surpassed 1,000 career points in the win. He was also a guest on the ITH Podcast early last week.
+ Cody Zeller (Washington): After being named a McDonald's All-American, Zeller had 27 points, six rebounds, two assists and a block in a 72-39 win at Owen Valley on Feb. 10. HD video of the game is available here.
2012 COMMITMENTS
+ Hanner Perea (La Porte La Lumiere): Twelve points in a 81-38 win over the Howe School on Feb. 8. With Tom Crean in attendance, scored 11 points and grabbed seven rebounds in a 75-60 win at Gary Lew Wallace on Feb. 10. Fifteen points in a 74-38 win over Gary Roosevelt on Feb. 12.