6-Banner Sunday: Men's and women's schedules released, media day and more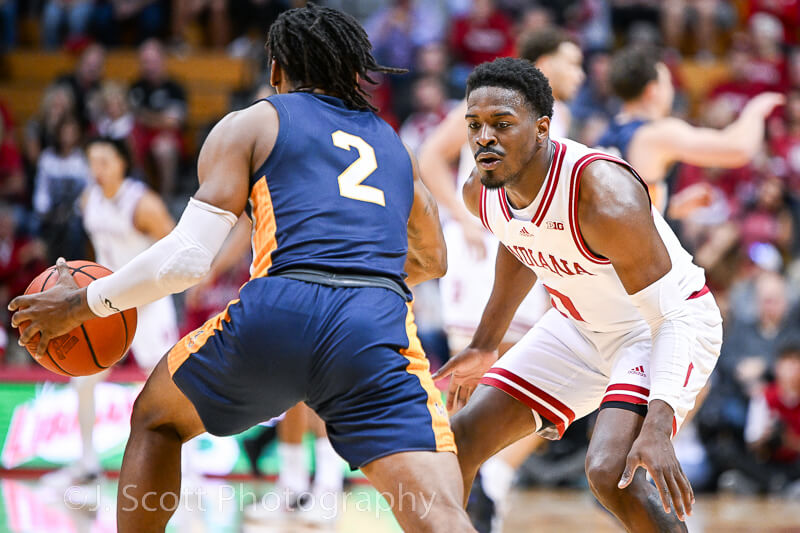 6-Banner Sunday is Inside the Hall's weekly newsletter in partnership with The Assembly Call. Almost 10,000 Indiana fans receive the newsletter each week. In addition to appearing each week on the site, you can receive 6-Banner Sunday by email. A form to subscribe via email is available at the bottom of this week's 6-Banner Sunday.
Welcome to another edition of 6-Banner Sunday, a joint production between The Assembly Call and Inside the Hall, and presented by our friends at Trueblood Real Estate, where we highlight the five most essential IU basketball stories of the past week, plus take a look at how the other IU sports programs are doing.
It is the week all IU fans have been waiting for as the basketball schedules for 2023-2024 are out. This is far from the only big news in Hoosier Nation though as media day and a major update in recruiting for a top Indiana prospect happened as well.
Also, a few predictions with the season getting close and Inside the Hall and Assembly Call shows round out the hoops stories in this edition of 6-Banner. We will, as usual, conclude with a look at other IU sports, led by football knocking off Akron.
• Basketball schedules released
• Media day coverage
• Recruiting updates
• Season previews continue
• Podcast on the Brink and Assembly Call
• Hoosier Roundup
Looking for tickets to upcoming Indiana games? Vivid Seats has you covered. Most of the non-conference schedule is already on sale at Vivid Seats and games are being added regularly. Vivid Seats is a full-service provider – with an industry-leading customer service team, reachable by phone or online during extended business hours. (These links are Inside the Hall affiliate links, so a commission will be paid to ITH if you click and make a ticket purchase. We appreciate your support!)
Banner #1 -Basketball schedules released
Generally, the schedule for Indiana basketball comes out in early September. Despite a delay of nearly two weeks, it is available to the public.
The pre-conference portion has been known since the summer. However, now the all-important Big Ten games are out and the whole slate can be viewed here. Inside the Hall gave four quick thoughts on it. The home games to circle on the calendar are the league opener against Maryland on Dec. 1, Ohio St on January 6, Purdue on January 16, and Michigan State on March 10.
It should be noted that with how everything falls, the mini-packs while students are on holiday break will have one of the best slates ever. It includes the matchups with the Buckeyes and Spartans as well as the premiere showdown of the season against Kansas. Requests for these tickets can be made here and must be done by Oct. 6.
On the other side of Assembly Hall, the women's squad is projected to once again be a top-10 team and compete for another conference championship. They had their entire schedule released this week as well. Their noteworthy contests in Bloomington are Illinois on Dec. 31, Purdue on Feb. 11, Iowa on Feb. 22, and Maryland on March 3.
Banner #2 – Media day coverage
The schedules were not the only headline this week as IU held its annual media day at Assembly Hall with the men's and women's teams. Inside the Hall had a transcript and video of IU coach Mike Woodson. The Woodson link also has Trey Galloway and Xavier Johnson speaking on the podium. Separately, a roundtable interview with Johnson was done. Finally ITH wrote five thoughts and early impressions from the event.
The women's squad was also involved in the occasion. Their videos, which include IU coach Teri Moren speaking can be seen here.
Banner #3 – Recruiting updates
Some significant updates in the recruiting world happened in the last few days. First and foremost, IU's top 2024 target Liam McNeely cancelled the visit to his home state Texas Longhorns, and eliminated them from contention. McNeely is down to just Kansas and Indiana now.
While the Hoosiers appear to be the favorite for McNeely, they did miss out on other prospects in Annor Boateng and Asa Newell, who they were on the outside looking in for. Boateng committed to Missouri, while Newell did not include IU in the final four schools he is considering.
Looking ahead to 2025, IU is hosting three recruits this weekend. This includes visits from in-state Azavier Robinson and Trent Sisley and Aleks Alston from Chicago.
Banner #4 – Season previews continue
Basketball games in Bloomington are drawing ever closer as evidenced by several news items that came out this week. In the relatively immediate future, IU managed to land a major celebrity for Hoosier Hysteria on Oct. 20, with Gucci Mane being the featured performer.
Also, several more predictions came out on where Indiana might fare in the Big Ten this season. Lindy's Sports pegs IU sixth in the conference while The Almanac predicts fifth.
On the women's side, the Hoosiers are among the favorites to win the league and Charlie Creme released new bracketology for ESPN. He has Hoosiers as a three-seed and hosting the first two rounds in Assembly Hall for the third consecutive season. The Big Ten is well represented with eight teams in and Iowa, Maryland, and Ohio State joining Indiana as hosts. Finally, IU is putting on a Candy Stripe Crew Event the week before Hoosier Hysteria for fans with developmental disabilities in preparation for the season.
Banner #5 – Podcast on the Brink and Assembly Call
Both Inside the Hall and Assembly Call had new episodes this week. Dylan Burkhardt of UMHoops joined ITH to discuss the top 25 players in the Big Ten the two sites collaborated on.
Meanwhile, AC Radio was on air Thursday as usual. They talked about the big stories in Hoosier Nation in the last few days, which included media day and the schedule release (see above).
Banner #6 – Hoosier Roundup
• Football survived against Akron with an ugly victory to improve to 2-2.
• Volleyball won their Big Ten opener against Illinois for their eighth straight victory to improve to 11-3 on the season. Also, Camyrn Haworth was named Big Ten Setter of the Week.
• Women's soccer knocked off Rutgers and Illinois to open conference play and improved to 8-0-2 overall. Top scorer Paige Webber was named to TopDrawerSoccer's Team of the Week as well as Big Ten Offensive Player of the Week.
• Men's Soccer beat Butler but fell to ranked Michigan State and sit just 3-3-2 at the halfway point of the season.
• Field Hockey lost to Michigan State and goalkeeper Arabella Loveridge was named to the New Zealand National Team for competition in late November and early December.
• Women's golf finished seventh at a tournament in Wisconsin. Chloe Johnson had a terrific time there, placing third individually and was named Co-Big Ten Golfer of the Week.
• Men's golf placed eighth during a competition in Illinois.
• Women's Tennis competed at an exhibition event called the Furman Fall Classic.
• Softball put out their schedule for the opening weekend with the rest coming soon.
• Swimming and diving announced a promotion for Luke Ryan to assistant head coach.
• Finally, George McGinnis and Doctor Larry Rink were officially inducted into the IU Hall of Fame. They join four others from various sports who already were inductees in this class.
Thanks for your continued support for The Assembly Call and Inside the Hall. We'll be back next weekend with a new roundup.
Now go enjoy yourself a 6-banner Sunday.
Aaron (Ari) Shifron
Assembly Call Contributor
Filed to: