Indiana picked to finish 6th in Big Ten by Lindy's Sports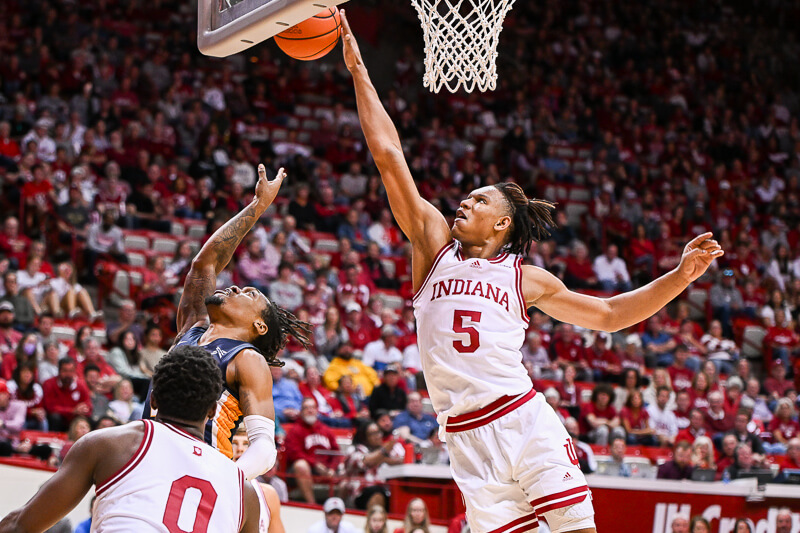 The Lindy's Sports 2023-24 preview magazine – an annual publication previewing the upcoming college basketball season – hit newsstands recently.
Here are some notes on Indiana and the Big Ten at large from the annual publication. (You can purchase the regional cover featuring Xavier Johnson here.)
· Six Big Ten teams are ranked in Lindy's preseason top 40, which is topped by preseason No. 1 Kansas. The Big Ten teams in the top 40 include Purdue (No. 3), Michigan State (No. 4), Maryland (No. 25), Wisconsin (No. 27), Illinois (No. 33) and Indiana (No. 38).
· In addition to Kansas, a pair of Indiana non-conference opponents are ranked in the top 40. UConn is No. 12 and Auburn is No. 29. Potential opponent Texas is No. 19.
· Seven Big Ten teams are projected to make the 2024 NCAA tournament: Purdue, Illinois, Indiana, Maryland, Michigan State, Ohio State and Wisconsin. Lindy's projects Purdue and Michigan State as Final Four teams.
· Lindy's ranked all 32 conferences in college basketball and has the Big Ten second behind the Big 12.
· Three Big Ten players earned Lindy's preseason All-American honors. Purdue's Zach Edey is a preseason first-team All-American and national player of the year pick. Terrence Shannon of Illinois is also a first team pick. Maryland's Jahmir Young is a preseason second-team All-American.
· Lindy's ranked the top 150 players in college basketball and included the following Big Ten players: Edey (No. 1), Shannon Jr. (No. 8), Young (No. 9), Cliff Omoruyi of Rutgers (No. 23), Northwestern's Boo Buie (No. 36), Michigan State's A.J. Hoggard (No. 48), Maryland's Julian Reese (No. 59), Michigan State's Tyson Walker (No. 63), Penn State's Ace Baldwin (No. 82), Nebraska's Keisei Tominaga (No. 92), Purdue's Braden Smith (No. 99), Indiana's Mackenzie Mgbako (No. 100), Iowa's Tony Perkins (No. 108), Wisconsin's Steven Crowl (No. 116), Minnesota's Dawson Garcia (No. 120), Maryland's Donta Scott (No. 128), Michigan State's Jaden Akins (No. 137) and Indiana's Xavier Johnson (No. 143).
· Lindy's picked Purdue to win the Big Ten followed by Michigan State, Maryland, Wisconsin, Illinois, Indiana, Ohio State, Northwestern, Iowa, Rutgers, Penn State, Michigan, Nebraska and Minnesota.
· On Indiana: "McDonald's AA Mackenzie Mgbako and Oregon transfer Kel'el Ware give the Hoosiers two more high-end talents. How long will it take to fill Trayce Jackson-Davis' massive contribution? Will Xavier Johnson stay healthy? If so, there's Sweet 16 capability."
· Edey is Lindy's pick for preseason Big Ten player of the year and Baldwin is the pick for newcomer of the year. Mgbako is considered the Big Ten's best NBA prospect.
· Lindy's first-team All-Big Ten: Boo Buie, Terrence Shannon Jr., Jahmir Young, Zach Edey, Cliff Omoruyi.
· Lindy's second-team All-Big Ten: Ace Baldwin, A.J. Hoggard, Keisei Tominaga, Tyson Walker, Julian Reese.
· Lindy's third-team All-Big Ten: Tony Perkins, Braden Smith, Dawson Garcia, Mackenzie Mgbako, Steven Crowl.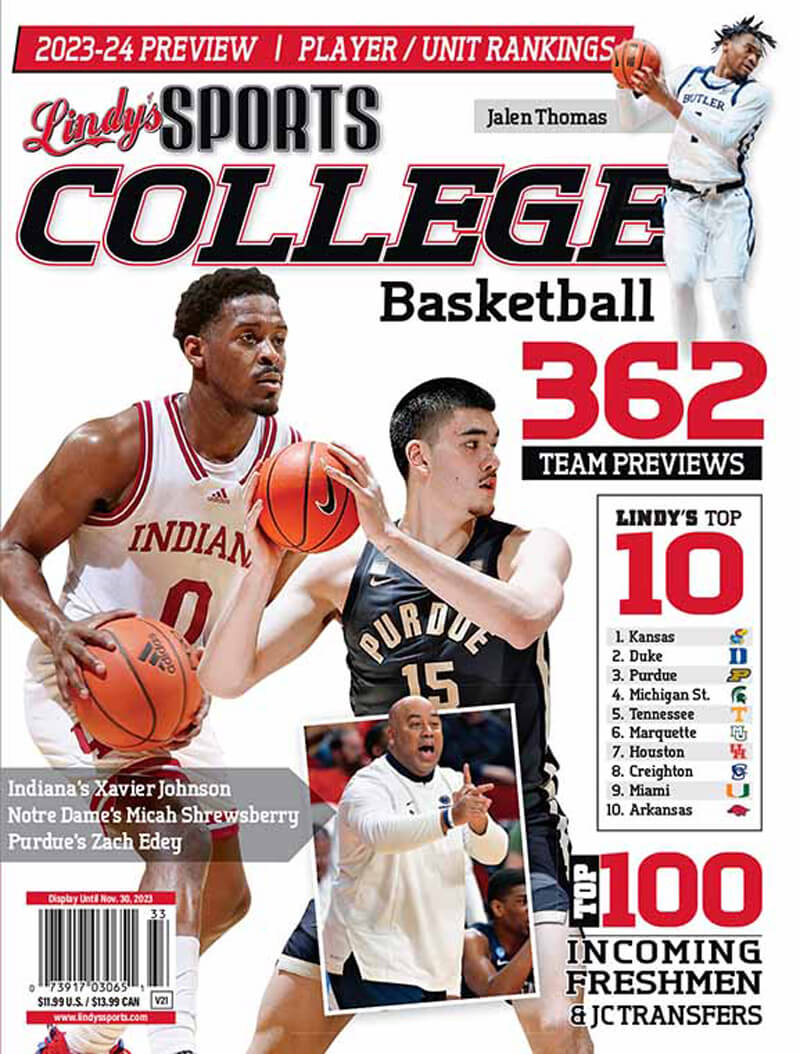 Filed to: 2023-24 Big Ten preview, Lindy's Sports, Mackenzie Mgbako, Xavier Johnson