Early impressions of a new-look Indiana men's basketball team from media day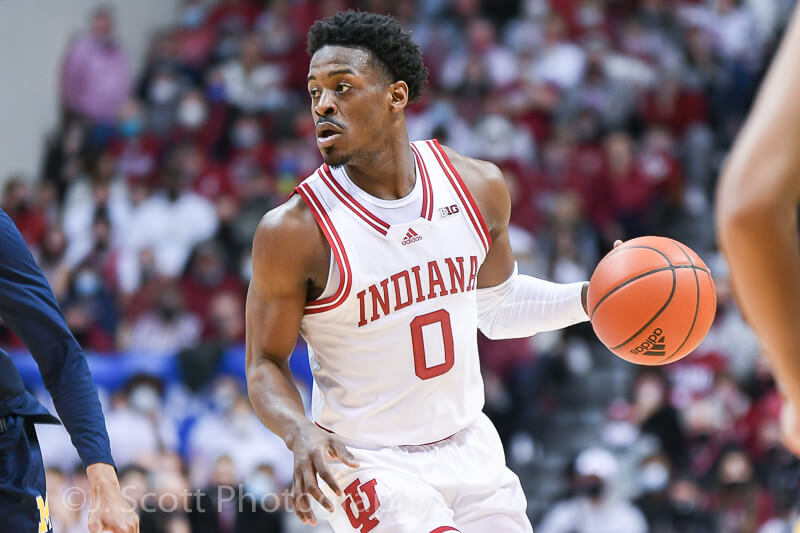 Indiana men's basketball is going to look different this season. Everybody knows that. The departures of Trayce Jackson-Davis and Jalen Hood-Schifino, not to mention Miller Kopp and Race Thompson, means the 2023-24 Hoosier squad faces more questions than answers.
Who will the starters be? What will the style of play look like? Who will step up as leaders? What is the team chemistry like? How far can the team go, and how high is their ceiling? The questions are endless — as they often are before any season begins.
Some of them are easily answerable and some are not.
"Only time will tell," Mike Woodson repeated throughout his 20 minutes at the podium in Assembly Hall during Indiana basketball's media day.
Woodson emphasized that the Hoosiers have a lot of work to do before their season starts in November. After all, ten new faces on the roster require a lot of adjustments for everyone in the program, on and off the court.
Throughout media day, though, those ten faces blended in seamlessly with the rest of the team. They all wore uniforms with "Indiana" emblazoned on the front, a physical embodiment of the camaraderie and unity the team already feels. As always, optimism abounds within Indiana basketball.
"I'm always optimistic as a coach when I go into a season, and this season is no different," Woodson said.
Xavier Johnson has the motivation and personality to be an impactful captain
Xavier Johnson's injury last season was a sticking point for the Hoosiers, derailing a significant amount of their strategy and plans for the season. When the guard was granted eligibility to return for one final year, there was relief; someone with significant Big Ten experience and the capability to be a leader would be back.
Now, Johnson has been officially named one of the two captains for the 2023-24 season — alongside Trey Galloway — and has the complete trust of his coaches and team.
"He's done it a little bit longer than most of the young men that we got on our team, so I expect more," Woodson said. "And he's wearing that captain title on his head, so that's — you've got to give me more, you've got to do more to help us win basketball games. And he will."
Johnson will have the chance to be a leader in more ways than one this season. In addition to being a captain in terms of encouraging and leading his teammates, Johnson will also facilitate and direct most of the plays on the court as the team's point guard.
Entering his sixth year of college basketball, Johnson holds a unique amount of experience that, by all accounts, should level up his game and that of those around him. Johnson will need to step out of his comfort zone and use his voice more — something he said the coaches get on him about — but he is willing and able to shoulder those expectations to lead the team.
"My goal is nothing individually," Johnson said. "I want to win. That's the last thing to do on my list in college, is to win."
Friendships and chemistry are well on their way to solidifying
Not everything about Indiana basketball this season is being built from the ground up; relationships between returning players like Malik Reneau, CJ Gunn, and Kaleb Banks, as well as the captains Galloway and Johnson, set a solid foundation on which to build an energetic and fun team.
But not even all of the newcomers have to start from scratch.
Anthony Walker and Johnson have known each other since Walker was in high school, and Johnson's presence at Indiana made it easy for Walker to transfer from Miami to Indiana.
"When I came to visit here, it was like a family reunion," Walker said. "We kicked it off of course right where we left off."
A successful program like Indiana is expected to have a high level of chemistry no matter what; that culture and environment of Indiana basketball was one of the biggest things that drew Payton Sparks to Bloomington when he chose to transfer from Ball State. Even though he hasn't even played a game with his new team yet, Sparks said there already was a level of bonding friendship unlike any he has seen.
"Right now, it's probably the best team I've ever been on so far," he said. "We're very close, you know, hanging out off the court. We've got a lot of great people."
At the end of the day, "only time will tell"
While there are certainties around captains and chemistry, not much else is set in stone for the Hoosiers. Expectations are high for everyone, regardless of experience. Woodson emphasized the need for everyone to step up and work hard to succeed.
With so many new faces, Woodson and his staff are still working to integrate players into the program and help them understand exactly what those expectations are, and what it means to play at Indiana. Some things won't become clear until official practices start at the end of the month, and other things won't come to light until the team hits the court in a game.
Woodson still has to find out how he wants to run his team without playmakers like Jackson-Davis and Hood-Schifino, who he trusts to do what on the court and how his new team works best. But he's not rushing anything, even putting together a starting lineup, instead content to let things play out and reveal themselves in due time.
"Practice and competition in practice will unveil who starts, because I don't know right now who's really going to be the starters," Woodson said. "What's important to me, along with my staff, is getting players to play at a high level and playing together and doing it the right way on both ends of the floor."
Filed to: Mike Woodson, Xavier Johnson