Four quick thoughts following Indiana's 2023-24 schedule release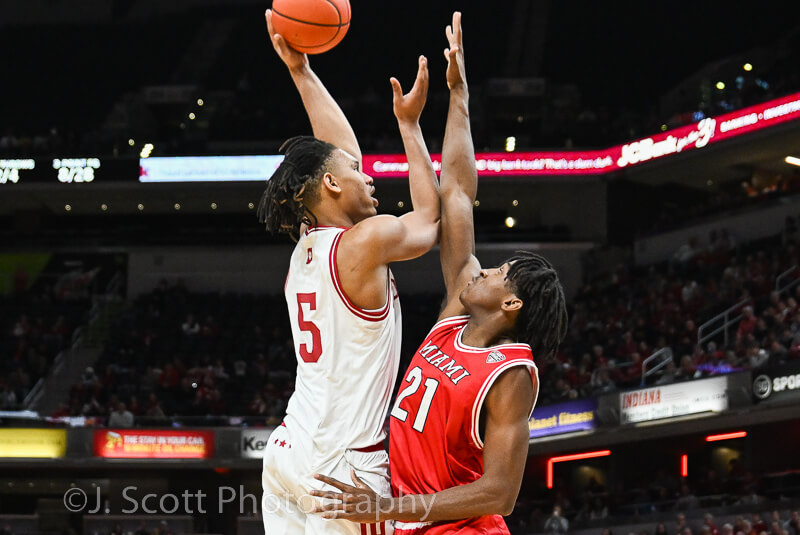 Indiana's 2023-24 men's basketball schedule was completed with the release of the Big Ten schedule on Tuesday.
Here are four quick reactions after examining the full 2023-24 slate for the Hoosiers:
The start of Big Ten play is difficult
Indiana's early season Big Ten games present a significant challenge for the Hoosiers.
After playing Harvard at Gainbridge Fieldhouse on Nov. 26, Indiana will return home to play against Maryland on Friday, Dec. 1 to open league play.
The Terrapins are projected to be in the tier of teams right behind Purdue and Michigan State in the Big Ten standings.
Indiana's early season road Big Ten game is at Michigan on Tuesday, Dec. 5.
While the Wolverines lost plenty this offseason – Hunter Dickinson, Jett Howard and Kobe Bufkin are all gone – this will be the first true road game of the season for the Hoosiers. Indiana is not playing a road game in non-conference play this season.
Indiana's stretch from Nov. 19 through Dec. 16 is daunting
Not only will they be tested to start Big Ten play with games against Maryland and Michigan, but the Hoosiers have tough games surrounding their early season league contests.
In a 27-day stretch, the Hoosiers will play UConn, Texas or Louisville, Harvard, Maryland, Michigan, Auburn and Kansas.
Even with the elimination of the Big Ten-ACC Challenge this season and no appearance in the Gavitt Tipoff Games, this is a daunting stretch for an Indiana team trying to acclimate new pieces.
Credit Mike Woodson for being willing to challenge his team with the non-conference schedule. We'll learn a lot about the 2023-24 Hoosiers during this stretch of games.
The conference double-plays are mostly favorable
Indiana's conference-double plays this season feature two teams projected to finish at the bottom of the conference.
The Hoosiers will play Minnesota and Penn State twice this season. The Golden Gophers are 131st in Bart Torvik's latest projections, while the Nittany Lions are 148th.
In addition, Indiana received double plays against three programs that are always challenging to play on the road.
The Hoosiers will play Iowa, Michigan State and Northwestern in Bloomington only. Last season, Indiana went 0-3 on the road against the Hawkeyes, Spartans and Wildcats.
Indiana has two weeks off during the season
After a lengthy break of 12 days last season during the holidays, Indiana will have two weeks off this season.
The Hoosiers will play North Alabama on Thursday, Dec. 21 and then won't play again until hosting Kennesaw State on Friday, Dec. 29. That long of a break isn't uncommon around the holidays, as it allows players to go home and spend time with their families.
But the Hoosiers will also have a week off in the middle of Big Ten play.
Indiana travels to Purdue on Saturday, Feb. 10, to take on the Boilermakers and won't play again until Sunday, Feb. 18 against Northwestern at Assembly Hall. That's a 7-day break, which could be beneficial after consecutive road games against Ohio State and Purdue.
Filed to: 2023-24 schedule