Transcript: Mike Woodson at Indiana's 2023-24 media day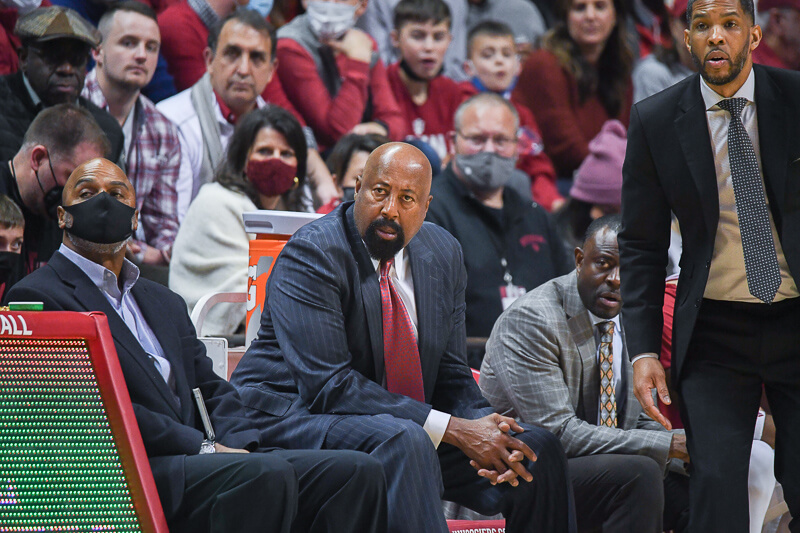 Mike Woodson took the podium Wednesday afternoon to preview Indiana's 2023-24 season at media day at Assembly Hall.
Here's a full transcript of his comments, via ASAP Sports:
(You can watch the full press conference here.)
MIKE WOODSON: Welcome. How is everybody doing? Good.
Well, let me just start by saying it's been a very productive summer, meaning I had to go in and have knee surgery, get my knee replaced, and along with my staff, I hobbled around this summer and we were able to build our basketball team back with six newcomers and scholarship guys, and then we've got four walk-ons, so we've got 10 new people to our ballclub. A lot of work that's got to be done before we open up against Marian here in our practice game.
With that being said, I'll open the floor up for questions.
Q. I wanted to start with Mackenzie Mgbako. Saw a lot of offensive ability there. I'm curious, what do you see, and how impactful do you feel he can be for you guys this year, especially on the offensive end, with the points you need to replace?
MIKE WOODSON: Only time will tell. He's capable of putting the basketball in the hole. He's shown that this summer. We've got to help him as coaches and put him in the best position possible to be successful and help us.
I'm expecting big things from him, but I'm not putting a lot of pressure on him. He's a freshman.
I think when you're building a basketball team, you've got to reach out and get a little bit from everybody. The freshmen that were freshmen last year that are sophomores, they've got to step up and play like sophomores, and juniors that are seniors like X and Galloway, they've got to give us more. Sophomores got to give us more.
There's a lot that's got to be done between now and the time we step out on the floor against Marian and start playing actual basketball, but Mackenzie is a big part to the puzzle. That's why we went and recruited him.
Q. Curious, you mentioned needing more from X. What exactly do you mean by that, and what are the two or three things you look at going into the season that he needs to do well for you guys to be successful as a team?
MIKE WOODSON: Well, I thought two years ago, make no mistake about it, we got in the tournament because of Xavier Johnson and his play coming down the home stretch.
Last year was a setback year for him. We didn't come into last season thinking that we would lose our starting point guard, and that was a blow for us in the stretch where we struggled to win games.
This year, X has played more basketball games in college than anybody on our ballclub, so I expect him to lead, be a point guard and be a leader on and off the floor and put us in position to win basketball games. That's what it's all about.
Q. Following along with X, this time a year ago he wouldn't have expected to be here just in the sense he thought he'd be out of eligibility and moved on. How have you seen him approach just all the things that you talk about needing from him, the day-to-day, the leadership, the things that maybe, again, he wouldn't have expected to be in this role but now embracing it and really trying to sort of be everything you and this team need him to be?
MIKE WOODSON: I think he's doing all the right things, along with Galloway. I named both of those two guys captains. But again, we've got to play games. We've got to get better and practice on both ends of the floor. He's got to play a role in that.
I'm hard on captains. I've always been that way. Bob Knight was hard on me as a captain when I was here. You're not given that title just to be given it. You've got to earn it, and you've got to be held accountable in terms of not only putting yourself in position to help us win, but getting guys to play at a high level around you. That's important.
Q. Mike, your third year, obviously, and last year I heard you say a few times when you answered questions that some things were still new to you in terms of being a coach. Now that you're in your third year, how comfortable are you with being a college coach, recruiting, NIL, et cetera, and what expectations do you have for yourself in your third year and how does that project to expectations for the program?
MIKE WOODSON: I took this job to win Big Ten titles and national titles and I've fallen short the first two years. I'm always optimistic as a coach when I go into a season. This season is no different.
We've got to go and win a Big Ten title, and then once we're fortunate to get into tournament play, then we figure it out there.
This summer, I recruited more. I had to. We lost four seniors. We lost three guys that left with — basically we lost 10 guys last year with the two walk-ons, as well.
So we had to go out and build our team back. I'm pleased with the players that we've brought in, knowing that when you add a lot of pieces to your team, there's a lot of work that comes with that.
I'm not pleased and happy right now where we are as a ballclub because there is a lot of work that's still left on the table that we've got to get these guys to understand who we are and what we're about and how we want to play on both ends of the floor.
Only time will tell. We start official practice on the 26th where I can get them a little longer now. That hour, four hours a week, it's okay, but it's not like being out on the floor two and a half, three hours. That's what I'm looking forward to.
Q. You mentioned the guys you lost. Trayce was here four years, Race was here six, Kopp started for two years. Obviously you know that Schifino, first-round pick. You lost a lot of quality players. How do you go about putting a new lineup together, and do you anticipate a different style of play this year?
MIKE WOODSON: Well, again, I think practice and competition in practice will unveil who starts because I don't know right now who's really going to be the starters. That's important, but what's important to me along with my staff is getting players to play at a high level and playing together and doing it the right way on both ends of the floor. That's what's going to be the driving force in winning basketball games, I think.
You know, I think all our guys are curious. They're eager. They come to work. They accept coaching. That's important when you're talking about building a team.
Only time will tell. I mean, it's hard to sit here and predict anything. I would never do that anyway. But at the end of the day, hard work, guys dedicated to what we're trying to get done will put us in position to win basketball games, I think.
Q. What about style of play?
MIKE WOODSON: Well, it's hard to say. If I asked you guys, did we post the basketball more than we ran pick-and-roll last year, you would probably say we did. But we didn't. 53 percent of our play last year was pick-and-roll basketball; 47 percent was posting the basketball. Where the first year we dominated the post with Trayce. I would have been foolish not to utilize him. But we expanded him out on the floor a little bit last year, and he was able to do some things in that area.
I don't know; I'm still looking at our style of play. I think you still have to mix it up. You've got to have post play, and everybody is playing pick-and-roll, which I was accustomed to doing in the pros. It's nothing new to me.
But only time will tell in terms of our style and where we go with it.
Q. You mentioned the turnover, 10 new faces. Does your experience as an NBA coach with free agency and all that make you better suited to sort of handle the transfer portal era and all the kids coming in and out? Do you think that helps being able to build a team when you're used to in the NBA having to flip over a roster quicker than college used to be?
MIKE WOODSON: Well, I did it in Atlanta where we flipped that roster within two, three years, and then I can't sit here and say, look, I've got to wait — I don't want to wait. My clock is ticking. I want everything this year.
But in New York, I did it in one year where we brought in nine players and surrounded Carmelo Anthony with nine different players and was able to go and win the division and get to the second round of the Playoffs. That was a good run for our ballclub.
But I had veteran guys when I did that. I'm dealing with young players now. You have to be patient with a lot of these young guys.
I understand that, but then on the flipside, I've got to be myself and I've got to coach and push and try to get guys to do things at a higher level than probably they're used to doing. That's going to be important moving forward, I think.
Q. Mike, your sophomores, CJ, Kaleb and Malik, just how do you see them attack this off-season, and what steps are you looking for from those guys this season?
MIKE WOODSON: The beauty about this summer, a lot of these guys, they stuck around and they put in the work, especially CJ and Kaleb Banks. I'm expecting more out of them. They're not freshmen anymore. I need more. We need it as a ballclub.
They're working in that area. They've done some pretty good things this summer for us. But we still as a team, we have a ways to go yet.
Q. Going back to the roster turnover, when you're in the portal or getting those late recruits like Mackenzie, what type of players did you try to approach and go after this year?
MIKE WOODSON: Well, you're talking about this summer?
Q. Yeah, throughout the summer and the transfer portal.
MIKE WOODSON: Well, again, I might have told Zach in our interview, listen, when I took this job, I made it clear to my staff that we had to go and recruit the best players, and they were like, damn, you just got here, you just can't go to the top, and I'm like, why not.
I think we've positioned ourselves to be able to sit at the table with all the top players. That's not to say you're going to get them, but if you're not sitting there, then you don't have an opportunity at all.
Mackenzie kind of stumbled into our hands, which was an amazing story. I mean, I don't want to get too deep into it, but at the end of the day, his mom gave us an opportunity to recruit him, and once he got here, we were able to close the deal and keep him here.
Same thing with Ware. This is a 7'2″ guy that a lot of teams wanted. But it takes work. My staff, coaching staff, have done a tremendous job of putting me in position to be able to get to the table and sit with these guys and be able to talk Indiana basketball and what I think and how I think they can help us and how I can help them.
Q. You've talked in the past about the importance of scheduling tough early in the preseason. You've got a lot of new faces this year. How do you expect that gauntlet that you've put together in the non-conference to kind of form the team chemistry this year?
MIKE WOODSON: Well, it's going to put us in position. We have a tough schedule this season. I thought the last two years our schedule was tough.
My thing is it doesn't matter who you play. If you're not ready to play and ready to play at a high level, any team in college basketball can beat you. I like competition. That's just my nature. That's how I've been all my life as a player and coach. You can't be scared of competition, man, or you're in the wrong game.
This season is a tough season in terms of scheduling and the teams that we filled it this year to play. But it's what it is, man. We've just got to take it one game at a time and see what happens.
Q. One of the things about when you sit at the table with the best players is when they get here, much like Jalen last year, they might only be here for a year. With a sixth-year point guard this year, do you feel there's more of a sense of urgency to be really good fast because it's maybe just one year with this specific group?
MIKE WOODSON: Well, that's a great question. There's always urgency on my part. I mean, I want to win now. Yeah, losing Jalen and Trayce, that's huge. But hell, it gives other guys an opportunity to step up and play and be noticed and make a difference and help your team win basketball games, because that's what it's all about.
I mean, I like our players that we've landed. It's on me; I've got to coach them up and get them ready to play basketball. That's what it's all about.
Q. You mentioned the goals of wanting to win a Big Ten title. From your first two years, what were your observations of the conference and just what will it take for you guys to try to get over that hump and win one?
MIKE WOODSON: Well, again, I thought we put ourselves in pretty good position the last two years. In the tournament we were right there. I just didn't get them over the hump, man, and that's something that I live with every day of my life.
Somehow I've got to get them over the hump. I'm the coach, and I've got to get them over the hump where we can hang another banner in here. I mean, that's all I think about, man. I don't think about any — it's not about me. It's about these student-athletes that I've fielded this year for our ballclub, and I've got to try to put them in the best position possible to be successful.
Q. You mentioned X and Trey as two guys who are captains on this team. How have you seen them grow into those roles?
MIKE WOODSON: Well, they've earned it. Unfortunately X didn't get a chance to show what he did the first year last season because of his injury, and make no mistake about it, I say it, you guys probably couldn't see it and didn't write about it enough, but losing Xavier Johnson last year was huge for our team. I mean, it hurt us.
We were able to regroup and recover from it, and a lot of that had to do with Jalen and the supporting cast. We just didn't feel sorry. We got after it in practice and was able to maintain.
X is back this year, and again, like I said, he's done it a little bit longer than most of the young men that we've got on our team, so I expect more. He's wearing that captain title on his head, so you've got to give me more, you've got to do more to help us win basketball games, and he will.
Q. Coach, when you look at what Xavier having to sit out, do you feel like he's hungrier to be back in there or has he picked up right where he left off?
MIKE WOODSON: I think he's hungry. I'm sure it was the first time he's ever been hurt where he's missed practically the whole season, so he's got to be hungry. This is his last go-around. He can't come — hell, how many years is this, six years for him? Hell, he's an old man. Hell, he can't come back for seven, so he's got to give us all he can give us this year to make it right.
But I do think he's hungry, absolutely I do.
Q. It seems like Kel'el Ware has a ton of potential but had an up-and-down freshman season. How do you get him to reach that full potential?
MIKE WOODSON: Well, when I recruited that young man I told him, you cannot go back and get what happened the year before. You can't. The word is out; they knocked you and said, hey, you're lazy, you don't work hard, and if you make a commitment to me, that's got to change.
I'm not always the easiest coach to play for, but I'm in your corner and I'm fair and I want what's best for you and my ballclub, and he made the commitment to me, and I'm going to push him to play at a higher level to help us win basketball games.
I can't think or worry about what happened in Oregon. That's gone. He's got to move forward and build a new life here with the Indiana basketball team. That's what it's all about to me.
Filed to: Mike Woodson