6-Banner Sunday: Big recruiting weekend, Blue Ribbon Big Ten prediction and more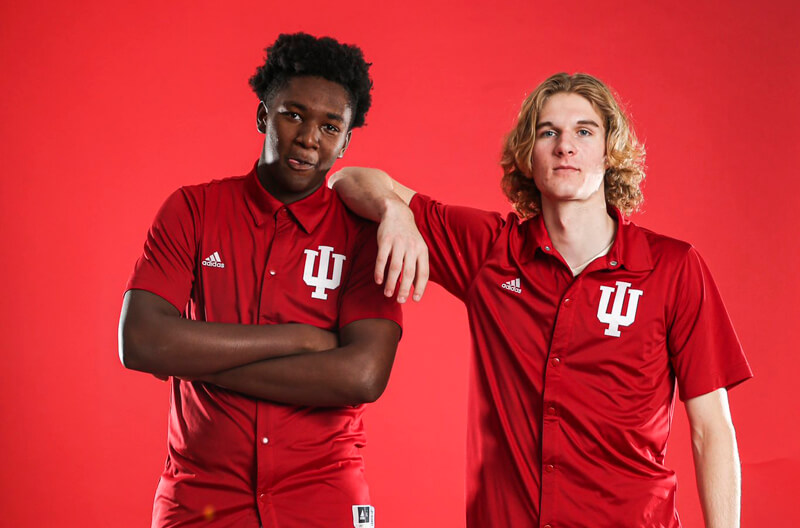 6-Banner Sunday is Inside the Hall's weekly newsletter in partnership with The Assembly Call. Almost 10,000 Indiana fans receive the newsletter each week. In addition to appearing each week on the site, you can also opt to receive 6-Banner Sunday by email. A form to subscribe via email is available at the bottom of this week's 6-Banner Sunday.
Welcome to another edition of 6-Banner Sunday, a joint production between The Assembly Call and Inside the Hall, and presented by our friends at Trueblood Real Estate, where we highlight the five most essential IU basketball stories of the past week, plus take a look at how the other IU sports programs are doing.
The most important visit from top prospects that Bloomington has seen in a long time is the big story in Hoosier Nation this week. With three highly ranked recruits on campus, Indiana looks to seal the deal with a trio of guys from a place where they have had success reeling in talent before.
Besides this, a few nuggets that look ahead to the upcoming year occurred. Also, an update regarding conference games with more teams joining the league, an honor for former IU coach Bob Knight, and Assembly Call shows wrap up the basketball topics this week. We will, as usual, conclude with a look at other Indiana sports, led by football getting their first victory of the season.
• Major recruiting weekend as IU hosts Montverde trio
• Hoosiers picked 4th in Big Ten by Blue Ribbon
• Big Ten may not expand basketball conference schedule
• Bobblehead Hall of Fame unveils two Bob Knight bobbleheads
• Assembly Call shows
• Hoosier Roundup
Looking for tickets to upcoming Indiana games? Vivid Seats has you covered. Most of the non-conference schedule is already on sale at Vivid Seats and games are being added regularly. Vivid Seats is a full-service provider – with an industry-leading customer service team, reachable by phone or online during extended business hours. (These links are Inside the Hall affiliate links, so a commission will be paid to ITH if you click and make a ticket purchase. We appreciate your support!)
Banner #1 – Major recruiting weekend as IU hosts Montverde trio
The Hoosiers have been in on many top prospects for 2024. However, they have yet to receive a commitment from anyone despite going after a lot of the best talent.
IU hopes to change that with three guests from Montverde Academy in Florida. This has been a place in the past where Indiana has seen great success as both Jalen Hood-Schifino and Malik Reneau hail from here. With Indiana coach Mike Woodson getting Hood-Schifino the NBA in just one season and Reneau blossoming into a star in the middle, these players can now be used as recruiting tools for these visitors. This threesome consists of blue chippers Curtis Givens III, Liam McNeeley, and Derik Queen, who are all on campus this weekend.
The Hoosiers are thought to be the leader for McNeeley and hope this visit can seal the deal. Videos of Givens III, McNeeley, and Queen's time in Bloomington were released on Saturday night. Also, Inside the Hall updated its recruiting board this week to reflect where IU stands with these and other players they are after.
Banner #2 – Hoosiers picked 4th in Big Ten by Blue Ribbon
As the 2023-2024 season draws closer, more news about what will or could happen within it continues. While there are a lot of unknowns for IU given the roster turnover, one publication is significantly higher on the team than all others so far. The Blue Ribbon College Basketball Yearbook released their predictions and they have the Hoosiers placing fourth in the Big Ten behind Purdue, Michigan State, and Maryland. However, they are low on the league as a whole with just the Boilers and Spartans cracking their top 25. To fulfill these high expectations, Indiana needs someone to fill Trayce Jackson Davis' role and both Reneau and Oregon transfer Kel'el Ware look to do that.
On an unrelated note, the TV assignments for the Empire Classic in New York are now finalized. IU vs. UConn was already given a 1 p.m. ET game on Sunday, November 19. However, it is now known that ESPN will televise the showdown. The next day's contests will air at 4:30 and 7 p.m. on ESPNU.
Banner #3 – Big Ten may not expand basketball conference schedule
Nicole Auberbach of the Athletic reported on Thursday that the Big Ten would not expand beyond its current 20-game conference basketball schedule despite adding Oregon, UCLA, USC, and Washington. However, she followed that up with a clarification post from the league that has yet to be finalized.
If the current model were to stay, the number of single plays would increase to 14, with just three opponents facing off twice. Whether some protected rivalries would be used for who is faced multiple times in a season is unclear. Already, IU and Purdue have a guaranteed series where they play a home-and-home matchup each year.
Banner #4 – Bobblehead Hall of Fame unveils two Bob Knight bobbleheads
Former IU legendary coach Bob Knight has earned many honors over the years. However, the latest one he has received is a bit unique.
The National Bobblehead Hall Of Fame has made two types of dolls reflecting both his winning and controversies. One of the figures portrays the more positive side of him coaching in his famous red sweater, which costs $30. The other reflects his controversial nature and is a caricature of the famous moment where he tossed a chair across the court against Purdue in 1985 for $40. They are also available together in a single transaction for $65 and can be pre-ordered here. Shipment is expected in December.
Banner #5 – Assembly Call shows
Assembly Call was on air with two shows this week. Doing The Work broke down the known matchups so far for the women's basketball team. Meanwhile, AC Radio looked at the recruiting visits this weekend.
Banner #6 – Hoosier Roundup
• Football easily disposed of an inferior Indiana State squad for their first victory of the season.
• Women's soccer beat Northern Illinois and Louisville to remain undefeated on the year at 5-0-2.
• Volleyball swept three games at a tournament in Tennessee to improve to 6-3.
• Men's Soccer defeated Seton Hall early in the week before falling to South Florida on Friday. They sit at just 2-2-1 overall as they have struggled to score despite an elite defense.
• Field Hockey took care of St. Francis (PA) and Miami (OH) for their first two victories of the fall and are now 2-2.
• Women's Golf finished seventh at their opening tournament in West Lafayette.
• Men's Golf took ninth place in their first competition of 2023-2024 at Michigan State.
• Baseball released its fall exhibition schedule.
• Wrestling added a transfer who was previously an All-American.
Thanks for your continued support for The Assembly Call and Inside the Hall. We'll be back next weekend with a new roundup.
Now go enjoy yourself a 6-banner Sunday.
Aaron (Ari) Shifron
Assembly Call Contributor
Filed to: