Nationally ranked Montverde Academy trio – McNeeley, Queen and Givens III – will visit IU beginning today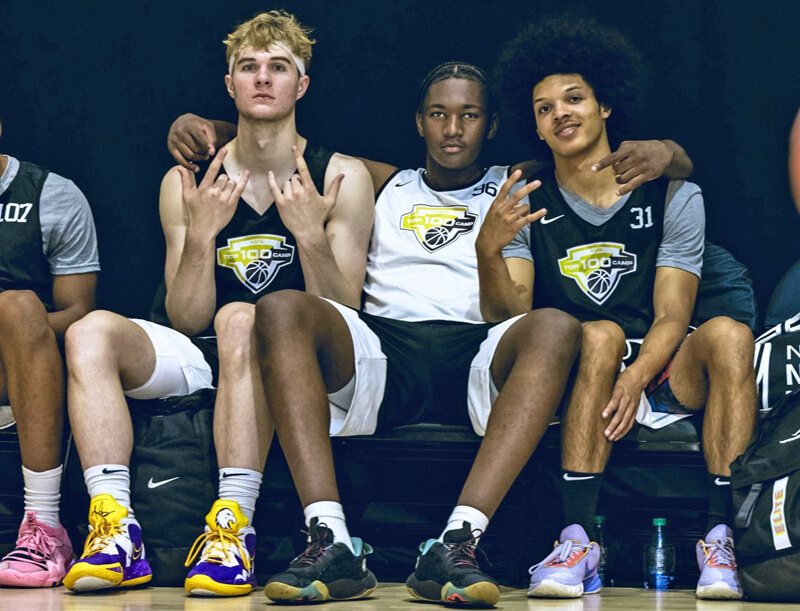 A major recruiting weekend for Indiana men's basketball begins today.
A trio of nationally ranked prospects from national powerhouse Montverde Academy (Fla.) will arrive Friday in Bloomington for official visits.
The trio is Liam McNeeley, Derik Queen and Curtis Givens III.
McNeeley, a Richardson, Texas native, will make his second official visit to Indiana. He took a junior year official visit last fall.
The 6-foot-7 forward is the No. 8 prospect in the senior class, according to the 247Composite. McNeeley's list of schools includes Alabama, Indiana, Kansas, Michigan, Oklahoma and Texas.
He recently took an official visit to Kansas and is scheduled to visit Texas later this month.
Bloomington this weekend!!?? @IndianaMBB pic.twitter.com/xxUBELDbIs

— liammcneeley (@liammcneeley30) September 6, 2023
Queen, a Baltimore, Maryland native, will also make his second official visit to Bloomington. Queen made a junior year official visit last fall with McNeeley.
Listed at 6-foot-9, Queen is one of the best frontcourt prospects in the country. He's ranked No. 10 in the latest 247Composite rankings.
While he doesn't have an official list of schools, Queen recently visited Kansas. Maryland and Houston are considered Indiana's top competition to land his commitment.
Givens III, a Memphis, Tennessee native, will be on the IU campus for the first time.
A 6-foot-2 guard, Givens is considering Georgia Tech, Indiana, LSU, Memphis, Texas, UConn and Villanova. He recently took an official visit to Texas and has also been on campus at LSU and Georgia Tech in recent months.
Givens is ranked the No. 59 prospect by the 247Composite. In the 247Composite positional rankings, he's considered the fifth-best point guard in the country.
Bloomington this weekend!??? pic.twitter.com/09R871N7Bd

— Curtis Givens III (@lilcurtis_3) September 6, 2023
The other top targets for the Hoosiers in the 2024 class include Boogie Fland, Annor Boateng, Asa Newell and Tyler Betsey. Indiana is working to get Fland back on campus this fall for a visit. Boateng will visit beginning September 29.
Indiana has a successful track record of recruiting Montverde players under Mike Woodson and his coaching staff.
On August 24, 2021, five-star guard Jalen Hood-Schifino committed to the Hoosiers.
Hood-Schifino spent one season in Bloomington and earned Big Ten freshman of the year honors. Hood-Schifino was a first-round draft pick in June's NBA draft by the Los Angeles Lakers.
On April 18, 2022, top 30 prospect Malik Reneau gave his pledge to the Hoosiers.
Reneau previously signed with Florida but reopened his recruitment after Mike White left for Georgia. Reneau averaged 6.1 points and 3.7 rebounds per game last season for Indiana.
As a sophomore, he's expected to step into a more significant role this winter. The graduation of Race Thompson and the departure of Trayce Jackson-Davis to the NBA should clear Reneau's path for more minutes.
With just over two months until the early signing period, Indiana is still searching for its first commitment in the 2024 class.
(Photo credit: NBA Top 100 Camp)
Filed to: Curtis Givens III, Derik Queen, Liam McNeeley