6-Banner Sunday: Indiana makes Mackenzie Mgbako addition official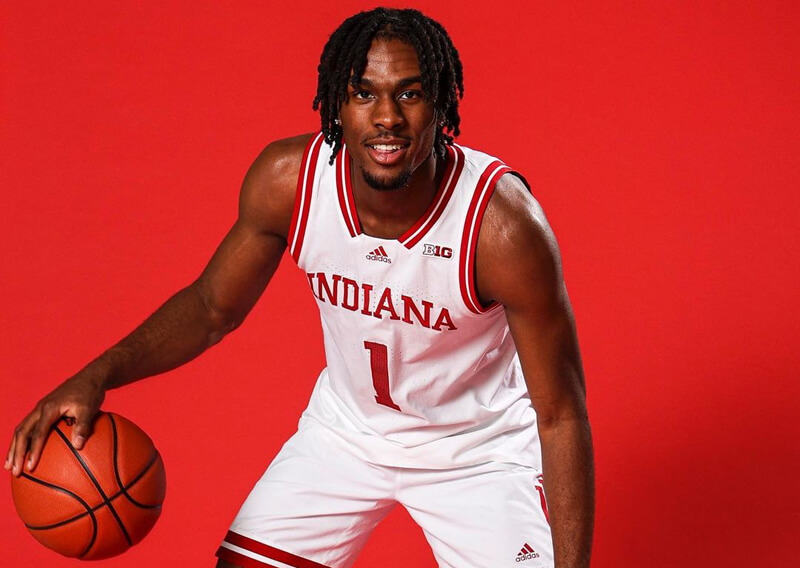 6-Banner Sunday is Inside the Hall's weekly newsletter in partnership with The Assembly Call. Almost 10,000 Indiana fans receive the newsletter each week. In addition to appearing each week on the site, you can also opt to receive 6-Banner Sunday by email. A form to subscribe via email is available at the bottom of this week's 6-Banner Sunday.
Welcome to another edition of 6-Banner Sunday, a joint production between The Assembly Call and Inside the Hall, and presented by our friends at Trueblood Real Estate, where we highlight the five most essential IU basketball stories of the past week, plus take a look at how the other IU sports programs are doing.
With the news of Mackenzie Mgbako's commitment now more than a week old, recruiting rankings have come out to show he has improved IU's incoming class substantially. While most Hoosier fans already knew this, there are now numbers to back that up. Having him in the fold has also strengthened Indiana's 2024 postseason hopes in early bracketology (although it will change many times between now and next March).
Outside of the continued Mgbako stories, the professional ranks have been the place to look for IU-related content recently. This includes Trayce Jackson-Davis and Jalen Hood-Schifino taking part in the NBA combine, a couple of former Hoosiers still alive in the playoffs, and Grace Berger starting her WNBA career.
We will, as usual, conclude with Assembly Call shows from the previous week and a look at other Indiana sports led by baseball and softball, now in the postseason.
• Mackenzie Mgbako commitment improves recruiting rankings for IU's 2023 class
• 2024 bracketology
• NBA draft combine update
• Former Hoosiers in the pros update
• AC Radio
• Hoosier Roundup
Banner #1 – Mackenzie Mgbako commitment improves recruiting rankings for IU's 2023 class
While it was already announced a week ago Friday that Mackenzie Mgbako chose the Hoosiers over Kansas, the team made it official on Tuesday when he signed his national letter of intent. With Mgbako now in the fold, Inside the Hall looked at what his donning the Cream and Crimson in the fall will do for this incoming class.
All major recruiting services (247Sports, ESPN, On3, Rivals) have now vaulted the team's ranking inside the top 20 nationally with it being a trio of incoming players that includes Mgbako, Gabe Cupps and Jakai Newton. Of the four publications, Rivals is the highest on IU, placing the Hoosiers at 14th in the nation. Also, all have Mgbako ranked high individually ranging from eighth to 12th.
Banner #2 – 2024 bracketology
Not only has Mgbako improved the Hoosiers' recruiting rankings. He has also likely brightened the prospects on the court for the 2023-2024 squad. While it is still very early, Joe Lunardi changed his ESPN bracketology for next March from having IU out to comfortably in as a No. 10 seed after Mgbako decided to play in Bloomington next season. He has them taking on seven-seed Villanova in Pittsburgh.
Also, Bart Torvik's early numbers jumped the Hoosiers to 25th nationally, with Mgbako in the fold.
Banner #3 – NBA draft combine update
Jalen Hood-Schifino and Trayce Jackson-Davis participated in the NBA combine this week as they try to improve their draft stock. First, the duo had measurements on their body taken early in the week. It was reported a couple of days later that both would opt out of the scrimmage portion.
As for where they sit now, most projections have Hood-Schifino somewhere in the teens with one publication putting him as high as 13. Meanwhile, Jackson-Davis' highest potential spot is 23 per one source. However, several have him falling well into the second round.
Banner #4 – Former Hoosiers in the pros update
While Jackson-Davis and Hood-Schifino are trying to break into the league, a few former IU players are firmly in it already and still participating in the NBA playoffs. Cody Zeller has seen several minutes in most games as part of the Miami Heat during their run to the eastern conference finals. His former Indiana teammate Victor Oladipo is also on the Heat's roster but is out for the rest of the season with an injury. Also, while Thomas Bryant has not played in the postseason, his Denver Nuggets squad is in the western conference finals.
Also, Grace Berger made the Fever's opening night roster but did not see any action in the team's season opener. Assembly Call was on site for her debut and wrote a column about her lack of participation for subscribers of its Community. Berger also interviewed with the media after the contest. One of the things she discussed was Assembly Hall now going to assigned seating in parts of the arena for women's basketball next season due to increased demand and record crowds.
Banner #5 – AC Radio
Assembly Call Radio was on air this week with its regular Thursday show. The topics of discussion about the program were next year's roster and NIL.
Banner #6 – Hoosier Roundup
• Baseball beat Purdue and Evansville and took a game from Michigan State to finish with 40 regular season wins and the runner-up spot in the league. They head into the Big Ten tournament next week in Omaha with a spot in an NCAA Regional all-but secured for the first time since 2019.
• Softball made their first NCAA tournament in 12 years by being selected to the Knoxville Regional. So far, they are 1–1 in the double elimination format there and play Louisville this afternoon with their season on the line.
• Men's Soccer celebrated its 50th anniversary this weekend with an event.
• Rowing had a record finish at the Big Ten championships and were invited to participate in the NCAA tourney.
• Drew Salyers moved on to the national championship as part of the men's golf team while the rest of the squad finished seventh in their NCAA regional.
• Track and Field competed at the Big Ten championships at home in Bloomington. They also had 31 athletes selected to the postseason in the East preliminaries.
• Cross Country named a new head coach.
• Women's Tennis signed three recruits.
• Field Hockey announced their upcoming fall schedule.
Thanks for your continued support for The Assembly Call and Inside the Hall. We'll be back next weekend with a new roundup.
Now go enjoy yourself a 6-banner Sunday.
Aaron (Ari) Shifron
Assembly Call Contributor
Filed to: