What they're saying: Post NBA draft lottery projections for Jalen Hood-Schifino, Trayce Jackson-Davis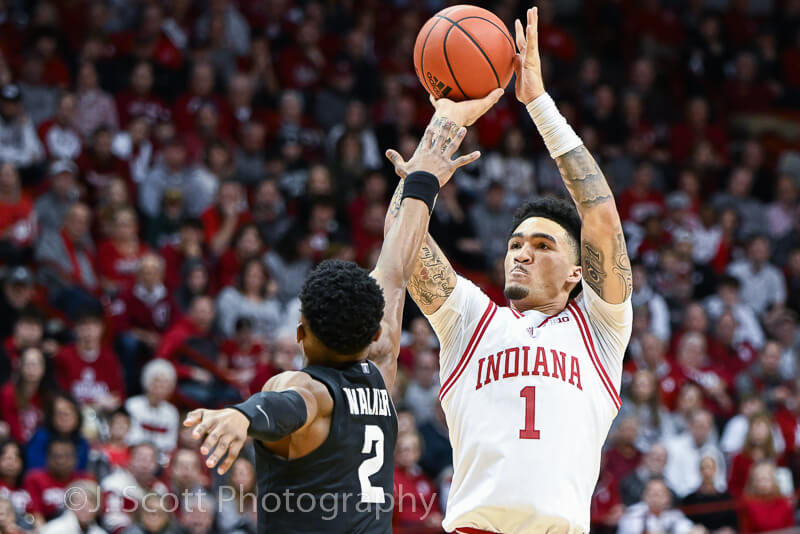 The 2023 NBA draft lottery took place on Tuesday night in Chicago and now the complete draft order for June's draft in Brooklyn is set.
The NBA draft combine is currently taking place in Chicago and measurements along with testing results for Jalen Hood-Schifino and Trayce Jackson-Davis are available here.
Here's an updated look at where Hood-Schifino and Jackson-Davis stand in numerous updated mock drafts as of Wednesday morning:
Jalen Hood-Schifino
• ESPN.com, Jonathan Givony: No. 15 to Atlanta
The Hawks are heavily reliant on the shot-creation prowess of guard Trae Young, whose standing is somewhat of an open question after a tumultuous season that saw changes in the front office and coaching staff. With that in mind, adding another lead guard to the team could make sense, making the live-dribble passing, shot-making and all-around aggressiveness of Hood-Schifino attractive. He's likely not ready to be handed the keys to an NBA offense anytime soon considering the huge swings in effectiveness we saw this season, but his upside is significant for a team that can afford to be patient with his development.
• The Athletic, Sam Vecenie: No. 19 to Golden State
Hood-Schifino is a well-rounded, young prospect who won the Big Ten's Rookie of the Year award this past season, carrying the Indiana perimeter while averaging 13 points, four rebounds and four assists. He's also a very strong on-ball defender with real size for a ballhandler at 6-6. He's shown great unselfishness and comfort in ball screens, with a penchant for knocking down midrange jumpers. However, he's not a particularly adept shooter off the catch yet and will need some fine-tuning in that regard. If he can improve that and some decision-making questions, Hood-Schifino could get on the court a touch earlier than most one-and-dones. But the shooting needs to improve, as he made just 33.3 percent from 3.
• Bleacher Report, Jonathan Wasserman: No. 21 to Brooklyn
Brooklyn could pair Spencer Dinwiddie with another wing-sized ball-handler in Hood-Schifino, whose NBA fanbase gradually grew with his budding flashes of pull-up shot-making and flashy passes. He'll get looks earlier than this in the late lottery and teens.
• The Ringer, Kevin O'Connor: No. 21 to Brooklyn
Depending on how the board falls, the Nets might prefer to package their back-to-back firsts to move up for a player they covet. But if they stay put, it'd make sense to nab a point guard like Hood-Schifino and let him grow behind Spencer Dinwiddie. Hood-Schifino is a gritty defender who can run the offense when he's the lone guard on the floor.
• NBADraft.net: No. 15 to Atlanta
• Yahoo Sports, Krysten Peek: No. 14 to New Orleans
Hood-Schifino is a strong guard with great feel who extended his game past the 3-point line and improved his read off the screen. He plays bigger than his size and has a quicker first step off the dribble than what meets the eye. Hood-Schifino had a slow ascent to a potential lottery option after battling with a minor back injury to start the season. He hit his groove late in the season and was the No. 1 option in Indiana's offense to close out the season.
• SBNation, Ricky O'Donnell: Not projected in top 30 picks
• USA Today, For The Win, Bryan Kalbrosky: No. 27 to Charlotte
He desperately needs to improve his jumper considering, per AI-Powered statistics provided by Stats Perform, he was just 8-for-36 (22.2 percent) on 3-pointers from NBA distance. But any freshman who is his size and who looks as comfortable as he does in ball screens is a sure-fire first-round draft pick.
• CBS Sports, Kyle Boone: No. 15 to Atlanta
NBA teams are always on the hunt for combo guard/creators like Hood-Schifino, and he flashed enough on both ends at Indiana to push for a potential lottery spot in this year's draft. Great frame, really good defensively, and knows how to attack and make plays off the bounce. His shot needs to become more developmentally consistent but the tools here are undeniable.
• Sporting News, Kyle Irving: No. 13 to Toronto
With Fred VanVleet facing a player option for the 2023-24 season, the Raptors need some guard insurance. Even if VanVleet picks up that player option, Toronto could still use another lead guard.

Hood-Schifino has skyrocketed up Mock Draft boards after a promising freshman season at Indiana. The 6-foot-6 playmaker is a pick-and-roll maestro, already proving his ability to operate one of the NBA's most-used actions at a high level. He's slithery off the bounce with a great change of pace and he has a confident midrange jumper and floater.

The 19-year-old was extremely inconsistent this year but there are few guard prospects in this class who I am more confident in their potential to be successful in the NBA. He'd be a perfect fit on a team like the Raptors, who have a rich recent history of player development.
Trayce Jackson-Davis
• ESPN.com, Jonathan Givony: No. 34 to Charlotte
• The Athletic, Sam Vecenie: No. 54 to Sacramento
• Bleacher Report, Jonathan Wasserman: No. 37 to Oklahoma City
Even if Jackson-Davis never adds a jump shot, the Thunder could still find use for his ability to create high-percentage shots from the post with his footwork and passing.
• The Ringer, Kevin O'Connor: No. 30 to the Los Angeles Clippers
Adding another center to support Ivica Zubac should be a priority this summer, whether it comes via the draft or other avenues. TJD would be a worthy bet on an athletic big man who could serve as a lob threat and a versatile weapon on defense.
• NBADraft.net: No. 23 to Portland
• Yahoo Sports, Krysten Peek: No. 26 to Indiana
Jackson-Davis made a strong statement to close out the season and showed how valuable he is in a two-man game off-ball screens and in high-low situations. He might not be the biggest forward in this draft class, but he has crafty footwork around the rim and a much improved midrange game.
• SBNation, Ricky O'Donnell: Not projected in top 30 picks
• USA Today, For The Win, Bryan Kalbrosky: No. 42 to Washington
• CBS Sports, Kyle Boone: No. 24 to Sacramento
Big men who don't shoot 3-pointers don't pop off the page as definite first-rounders, and yet Jackson-Davis by most measures appears to be an anomaly. He's a dominant interior scorer and rebounder who shows great touch and makes great plays as a passer.
• Sporting News, Kyle Irving: No. 29 to Indiana
The Pacers may look to add to their frontcourt depth chart, pairing Jackson-Davis with a younger Whitmore (No. 7 overall) to fill that void.

Jackson-Davis was been one of the most productive players in the NCAA, averaging 20.9 points, 10.8 rebounds and 2.9 blocks per game. He's a non-shooter from the perimeter — which is why you won't see him as a first-rounder in some mock drafts — but his skill, feel for the game, switchability on defense and activity on both sides of the ball should warrant consideration around this range.

It helps his case that Jackson-Davis played his college basketball right down the road at Indiana.
Here is the complete 2023 NBA draft order:
First round
1. San Antonio
2. Charlotte
3. Portland
4. Houston
5. Detroit
6. Orlando
7. Indiana
8. Washington
9. Utah
10. Dallas
11. Orlando (from Chicago)
12. Oklahoma City
13. Toronto
14. New Orleans
15. Atlanta
16. Utah (from Minnesota)
17. Los Angeles Lakers
18. Miami
19. Golden State
20. Houston (from LA Clippers)
21. Brooklyn (from Phoenix)
22. Brooklyn
23. Portland (from New York)
24. Sacramento
25. Memphis
26. Indiana (from Cleveland)
27. Charlotte (from Denver via New York and Oklahoma City)
28. Utah (from Philadelphia via Brooklyn)
29. Indiana (from Boston)
30. LA Clippers (from Milwaukee via Houston)
Second round
31. Detroit
32. Indiana (from Houston)
33. San Antonio
34. Charlotte (from Charlotte via Philadelphia and Atlanta)
35. Boston (from Portland via Atlanta, LA Clippers, Detroit, and Cleveland)
36. Orlando
37. Oklahoma City (from Washington via New Orleans)
38. Sacramento (from Indiana)
39. Charlotte (from Utah via New York)
40. Denver (from Dallas via Oklahoma City)
41. Charlotte (from Oklahoma City via New York and Boston)
42. Washington (from Chicago via Los Angeles Lakers and Washington)
43. Portland (from Atlanta)
44. San Antonio (from Toronto)
45. Memphis (from Minnesota)
46. Atlanta (from New Orleans)
47. Los Angeles Lakers
48. LA Clippers
49. Cleveland (from Golden State via Utah and New Orleans)
50. Oklahoma City (from Miami via Boston, Memphis, and Dallas)
51. Brooklyn
52. Phoenix
53. Minnesota (from New York via Charlotte)
54. Sacramento
55. Indiana (from Cleveland via Milwaukee and Detroit)
56. Memphis
— Chicago (from Denver via Cleveland; forfeited by Chicago)
— Philadelphia (forfeited)
57. Washington (from Boston via Charlotte)
58. Milwaukee
Filed to: Jalen Hood-Schifino, Trayce Jackson-Davis