Thursday notebook: NBA draft combine updates, Caleb Love will not attend Michigan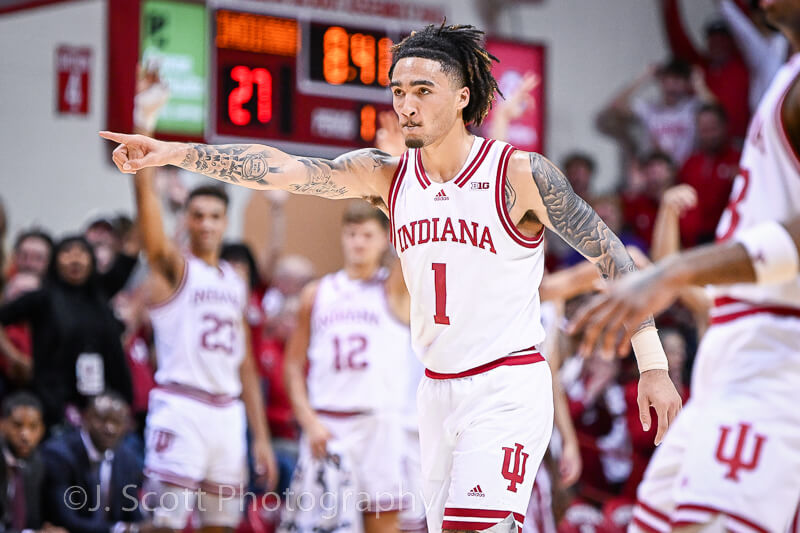 The NBA draft combined continued on Wednesday, which brought a slew of updates involving Jalen Hood-Schifino and Trayce Jackson-Davis.
Hood-Schifino, Jackson-Davis opt out of scrimmages
Hood-Schifino, a potential lottery pick and Jackson-Davis, a potential first round pick, both opted to sit out of the scrimmages this week in Chicago.
The full list of players who opted to not participate in scrimmages totaled 37 and includes several Big Ten players.
The Big Ten players not scrimmaging in addition to Hood-Schifino and Jackson-Davis include Jett Howard and Kobe Bufkin of Michigan, Purdue's Zach Edey, Iowa's Kris Murray and Ohio State's Brice Sensabaugh.
According to Jonathan Givony of ESPN.com, the only projected first rounder to participate in the scrimmages is UConn's Andre Jackson.
List of 37 players who have declined to play in the five-on-five portion of the NBA Draft Combine. Doesn't include three first rounders currently in Europe. Only one projected first rounder (Andre Jackson) currently participating in scrimmaging. pic.twitter.com/mMdK5gOnBx

— Jonathan Givony (@DraftExpress) May 17, 2023
Jackson-Davis meets with teams, schedules workouts
In his roundtable session with media in Chicago, Jackson-Davis revealed the list of teams he's met with in Chicago along with the workouts he'll participate in following the combine in the weeks leading up to the draft.
According to Adam Zagoria, Jackson-Davis has already met with New Orleans, Milwaukee, Charlotte, the Los Angeles Lakers, Toronto, Washington and Golden State this week.
In addition, Jackson-Davis told reporters that he has 15 post-combine workouts scheduled. Jackson-Davis is currently projected as a late first or second round pick in most mock drafts.
Hood-Schifino speaks with Andy Katz
Andy Katz is in Chicago and spoke with Hood-Schifino on Wednesday and we've put together a transcript of that quick interview.
On raising his game last season following Xavier Johnson's injury and putting himself in a position to be a first-round draft pick:
"I always put the work in and I feel like whenever Xavier went down, coach gave me the keys and I'm the type of player that, I'm never going to shy away from the bright lights or the moment. And as you see, whenever the ball is put in my hands, great things happen and it allowed me to take off and have a successful season and put me in the position to be a potential lottery pick and first round pick."
On being able to defer at times in the NBA and if he's ready for that:
"I'm really ready. I think that's what makes me so special. Obviously I'm able to play on the ball, but I'm versatile and big enough to play off the ball. And defensively, I'm able to guard multiple positions."
On reading passing lanes and how it can translate to the NBA:
"I think I'm going to need it. Coming in as a rookie, obviously you're not coming in to be a superstar. You gotta work your way in and earn minutes. I feel like for me, me being the defensive player that I am, that'll give me an edge over certain players and that will give me an opportunity to earn minutes right away."
On what he saw from Trayce Jackson-Davis last season:
"I didn't play with him his junior year, but I watched him a lot. He had a great year. But I feel like last year, he showed a lot of teams that he can do many things outside of doing what he normally does. He can handle the ball, he can lead guys, he can create for other players. He had a great year. I'm excited to see how the draft goes and where he lands."
On what Indiana will look like next season:
"I think we'll be really great. Added some good pieces, some big pieces. Coach Woodson and the rest of the staff are doing a great job of recruiting guys and getting guys. The program is just going upwards."
Where will @jalenhs go in the @NBADraft? ?@TheAndyKatz caught up with the @IndianaMBB star at the @NBA Combine in Chicago: pic.twitter.com/MEcRZtlZQ9

— Indiana On BTN (@IndianaOnBTN) May 17, 2023
Caleb Love will not attend Michigan
There was significant Big Ten roster news on Wednesday as it was revealed that North Carolina transfer Caleb Love will not play at Michigan next season.
After weeks of rumors hinting at the fact, the news was confirmed today. North Carolina transfer Caleb Love won't be attending Michigan next year.

Love was a true junior transferring out of North Carolina and announced his commitment to Michigan on April 7th. North Carolina's spring semester ended earlier this month. This is the third time in the Juwan Howard era that Michigan has faced significant admissions issues while recruiting a high-profile transfer.
The news led to a tweet from Zagoria stating that Indiana and Missouri are "teams to watch" for Love.
Indiana has one scholarship open for next season.
Filed to: Caleb Love, Jalen Hood-Schifino, Trayce Jackson-Davis