6-Banner Sunday: IU adds a walk-on, Mackenzie Mgbako visit, 2024 recruiting board introduction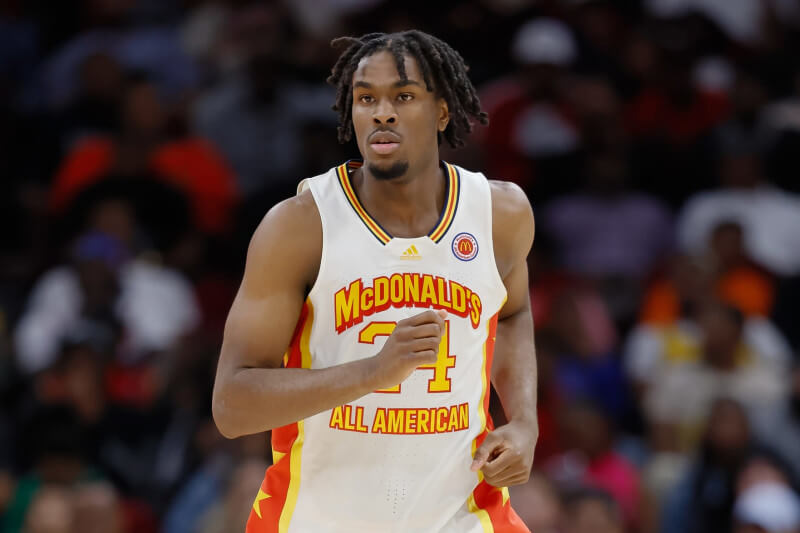 6-Banner Sunday is Inside the Hall's weekly newsletter in partnership with The Assembly Call. More than 9,000 Indiana fans receive the newsletter each week. In addition to appearing each week on the site, you can also opt to receive 6-Banner Sunday by email. A form to subscribe via email is available at the bottom of this week's 6-Banner Sunday.
Welcome to another edition of 6-Banner Sunday, a joint production between The Assembly Call and Inside the Hall, and presented by our friends at Trueblood Real Estate, where we highlight the five most essential IU basketball stories of the past week, plus take a look at how the other IU sports programs are doing.
After last week's explosion of major IU basketball stories, the news about the squad slowed down for now. With that said, several items of note still occurred over the last seven days.
First and foremost, Indiana announced a minor roster addition for next season. Also, some recruiting information, Inside The Hall's continued series wrapping up the season, and AC Radio were among the headlines over the previous few days. We will, as usual, conclude with a look at how other Hoosier teams are doing, led by many of the 24 sports' athletes graduating.
• IU adds a walk-on for next season
• Final 247Sports recruiting rankings for 2023
• 2024 Indiana basketball recruiting board
• Inside the Hall's That's A Wrap series
• AC Radio
• Hoosier Roundup
Banner #1 – IU adds a walk-on for next season
While fans are still hoping for big recruiting news (more below), the Hoosiers did announce a small roster addition for the 2023-2024 season this week. This came in the form of New Palestine's Ian Stephens.
Stephens will be a walk-on after averaging 15.2 points and 7.9 rebounds as a senior in high school. While his playing time will likely be limited, he will provide an important practice body and be a voice in the locker room.
Banner #2 – Final 247Sports recruiting rankings for 2023
247Sports became the latest service to release their final recruiting numbers for the Hoosiers' incoming freshman class. Jakai Newton came in at No. 119 in these rankings, while Gabe Cupps was 123. Both are considered four-star players.
Meanwhile, Mackenzie Mgbako comes in at No. 10 as the Hoosiers try to reel him in for this coming season. Mgbako was on a visit to IU Saturday, and this video and pictures were released of him during his time in Bloomington. He was initially signed with Duke but changed his mind this spring. St. John's, Kansas, and Louisville have joined Indiana as the schools so far expected to get him on campus to take a look at potentially playing there.
Banner #3 – 2024 Indiana basketball recruiting board
While IU is still trying to finalize its 2023 roster, the April evaluation period for 2024 players is already underway. Inside the Hall provided a first look at who the Hoosiers are after for two years from now.
The biggest names Indiana is looking at are Kokomo big man Flory Bidunga, Montverde Academy's Liam McNeely, Asa Newell, and Derik Queen, as well as IMG Academy's Bryson Tucker. All five of these players are ranked in the top-13 of their class and are five-star prospects. It should also be noted that departing freshman Jalen Hood-Schifino and rising sophomore Malik Reneau are from Montverde. Hence, the Hoosiers are familiar with recruiting from this Florida-based school.
Banner #4 – Inside the Hall's That's A Wrap series
While recruiting may be looking ahead to 2023 and 2024 right now, Inside the Hall continued to look back on the 2022-2023 season with their "That's A Wrap Series." Last week, ITH profiled Trayce Jackson-Davis, Xavier Johnson, and Race Thompson, as well as the offense and defense in general.
Banner #5 – AC Radio
Assembly Call was on the air with their normal Thursday Night Radio Show. Special guest Rocco Miller joined Andy Bottoms and Brian Tonsoni to discuss in detail how college basketball scheduling works.
Banner #6 – Hoosier Roundup
• With the 2023 spring commencement ceremony on Saturday, 118 IU athletes were among the thousands of students to graduate. The most notable names receiving their degrees were from the men's and women's basketball teams in the form of Grace Berger, Mackenzie Holmes, Jackson-Davis, Johnson, and Miller Kopp. It should be noted that Holmes and Johnson will still be playing for the Hoosiers in 2023-2024 while attending grad school. Meanwhile, the other three are moving on or had their eligibility expire. Outside of the basketball squads, the most notable names on the list were football offensive linemen Matthew Bedford and Zach Carpenter (both are returning to the team in the fall as grad students).
• 11 IU athletic programs earned perfect APR scores.
• Softball completed an undefeated week by sweeping Michigan and defeating Michigan State in their first two games of that series. The team is 39-15 overall and has all but clinched a spot in the NCAA tournament for the first time in 12 years.
• Baseball was swept by Maryland but rebounded with two victories over Northwestern. They also switched out their home game against struggling Southern Indiana this coming week for a road match at a solid Xavier squad to improve their case for an at-large bid to the NCAA tournament.
• Men's Golf finished fourth at the Big Ten Championship and was selected as an at-large bid to the NCAA tournament in Auburn.
• Track and Field competed at home in their final regular season event before the conference championship next weekend, which will take place in Bloomington.
• Water Polo lost to Arizona State to close their 2023 season.
• Women's Soccer announced its 2023 fall schedule.
• Men's Soccer will have an IU alumni team compete at the upcoming 2023 TST tournament in North Carolina. This event is similar to basketball's TBT, with the winning squad collecting one million dollars.
Thanks for your continued support for The Assembly Call and Inside the Hall. We'll be back next weekend with a new roundup.
Now go enjoy yourself a 6-banner Sunday.
Aaron (Ari) Shifron
Assembly Call Contributor
Filed to: