6-Banner Sunday: Xavier Johnson granted medical hardship waiver, Anthony Walker commits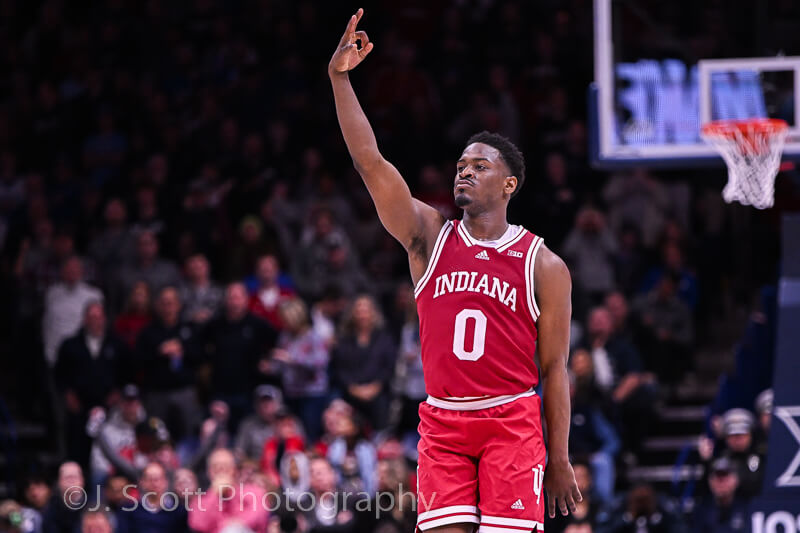 6-Banner Sunday is Inside the Hall's weekly newsletter in partnership with The Assembly Call. More than 9,000 Indiana fans receive the newsletter each week. In addition to appearing each week on the site, you can also opt to receive 6-Banner Sunday by email. A form to subscribe via email is available at the bottom of this week's 6-Banner Sunday.
Welcome to another edition of 6-Banner Sunday, a joint production between The Assembly Call and Inside the Hall, and presented by our friends at Trueblood Real Estate, where we highlight the five most essential IU basketball stories of the past week, plus take a look at how the other IU sports programs are doing.
Whether it was roster or schedule updates, this week saw an inordinate amount of Indiana basketball news for an off-season edition of 6-Banner Sunday. While stories related to these topics were the most significant items to occur in the last few days, other interesting tidbits also came to light.
This included Rivals.com releasing their final recruiting rankings, Inside the Hall continuing its series looking back on the player's seasons, and Assembly Call having shows as usual. We will, as always, conclude with a look at what other IU sports are doing led by softball picking up critical wins to likely cement a long overdue NCAA Tourney bid.
In a brief nugget, Jordan Geronimo committed to Maryland for this coming season, joining Logan Duncomb and Tamar Bates as former Hoosier players to find new homes this offseason.
• Roster updates
• Big Ten announces opponents and IU to play Auburn and Harvard next season
• Rivals final 2023 rankings include both incoming freshmen
• Inside the Hall's player wrap series
• AC Radio
• Hoosier Roundup
Banner #1 – Roster updates
After a brief lull in commitments and roster news, the last few days have seen an explosion of player-related stories.
First and foremost, the biggest piece of what could make for a successful season in 2023-2024 occurred when the NCAA approved Xavier Johnson's medical redshirt allowing him to return. This gives the Hoosiers another year with their best defender and lead ball handler, who is also a solid scorer and shooter. Johnson broke his foot in December against Kansas and never returned to the court, allowing him one last go around in college.
While Johnson being back in the fold trumps all else, Indiana also got a commitment out of the transfer portal when former Miami (FL) forward Anthony Walker pledged to the Hoosiers on Saturday. Walker is another big body in the frontcourt, where the team has many options. That said, it gives Indiana a veteran leader who has experienced success coming off a Final Four appearance. It also fills one of the three remaining scholarships that are still open for next season.
How IU might fill these final two spots on the roster is still up in the air. However, Indiana needs a wing or guard to shoot and space the floor. One possibility is former Duke commit Mackenzie Mgbako, who is scheduled to visit campus. Mgbako is a top-10 recruit per 247Sports and would fill exactly the role the Hoosiers need.
Other options may also become available later via another portal player or late freshman add. However, no trips to Bloomington by other uncommitted prospects have been reported to this point.
Banner #2 – Big Ten announces opponents and IU to play Auburn and Harvard next season
Roster updates for next season were not the only stories to come in bunches over the last few days. This is because some big schedule information was revealed as well.
The biggest piece to be made public is a matchup in Atlanta against Auburn on December 9. This gives the Hoosiers potentially the most challenging pre-Big Ten slate they have had in a long time, with Kansas joining the Tigers as a future opponent. Also, there will be showdowns against two of the following three squads in a tournament next November: Connecticut, Louisville, and Texas. IU may also participate in the Gavitt Games against the Big East. However, there will no longer be a Big Ten/ACC Challenge, as this was dropped after each league signed TV deals with different networks going forward.
One other bit of scheduling news came out as well. It was announced that Indiana will face Harvard on a still-to-be-announced date. While the Crimson are not the most challenging opponent, it does represent an upgrade of the so-called 'guarantee games' from the past. While most of this opposition has been ranked outside of the top 300, Harvard finished last season at 158 in KenPom. As a result, they will present a somewhat bigger obstacle than many of these contests have previously.
Finally, while specific dates were not announced, the Big Ten did reveal which opponents each squad will play once vs. twice. While it is a bit early to know exactly how everyone will fair, at first glance, it does appear the Hoosiers got off slightly easier than in 2022-2023. This is because they will get to face Minnesota, Nebraska, and Penn State twice, who are all predicted to finish towards the bottom of the conference. Also, not having to travel to potential league-favorite Michigan State and always pesky Iowa is a huge break.
Banner #3 – Rivals final 2023 rankings include both incoming freshmen
The Hoosiers know freshmen Gabe Cupps and Jakai Newton will join the team in the fall. With that said, their rankings by recruiting sites have fluctuated. However, rivals.com became the latest service to put out their final numbers for the 2023 class, and Newton comes in at 69 while Cupps is 116.
Also, looking down the road, Indiana put out several scholarship offers in this April evaluation period to prospects in future cycles who could be highly ranked.
Banner #4 – Inside the Hall's player wrap series
Looking ahead to next season is the primary focus. However, Inside the Hall continued to glance back on 2022-2023 as they carried on with their player wraps from last year.
The previous week week saw the following Hoosiers reviewed: Bates, Duncomb, Geronimo, Miller Kopp, and Anthony Leal,
Banner #5 – AC Radio
Assembly Call was on-air last week. AC Radio was live on Thursday, per usual to discuss Johnson's return, among other things. Also, an impromptu emergency podcast was done after Walker's commitment on Saturday.
Banner #6 – Hoosier Roundup
• Softball has a 12-year NCAA Tournament drought currently. However, an undefeated week with victories against Rutgers and Michigan will almost certainly end that long absence. Barring a collapse against basement dweller Michigan State at home next weekend, the Hoosiers will likely hear their name called during the selection show on May 14.
• Baseball beat Ohio to sweep that series and get a midweek victory over Ball State. However, two blowout losses to Maryland this weekend have set the Hoosiers back somewhat. While a Big Ten Championship is still in play and a trip to the NCAA Tournament is likely absent a collapse, the dreams of a Bloomington Regional almost certainly died with Friday and Saturday's defeats.
• Football's contest against Indiana State next September was moved from Saturday to Friday. Also, Cam Jones, Devon Matthews, Tiawan Mullen, Shaun Shivers, and Jaylin Williams all signed free-agent contracts following the NFL Draft.
• Men's Tennis beat Penn State to open the Big Ten Tournament. However, a loss to top-seeded Ohio State ended the season.
• Women's Tennis fell to Iowa in their Big Ten Tourney opener to end the 2023 campaign.
• Water Polo fell to Cal in their MPSF Tourney opener.
• Men's Golf sits in fourth currently at the Big Ten Championships with one day to go. This was after placing seventh at the Fighting Illini Collegiate.
• Women's Golf finished tied for 12th at the Big Ten Championships, likely ending their season.
• Rowing won the Dale England Cup for the sixth straight time.
• Track and Field competed at the prestigious Penn Relays.
• Wrestling will have eight Hoosier athletes compete at the U.S. Open and Under-20 Nationals.
Thanks for your continued support for The Assembly Call and Inside the Hall. We'll be back next weekend with a new roundup.
Now go enjoy yourself a 6-banner Sunday.
Aaron (Ari) Shifron
Assembly Call Contributor
Filed to: