6-Banner Sunday: Kel'el Ware and Chris Ledlum complete visits as transfer portal heats up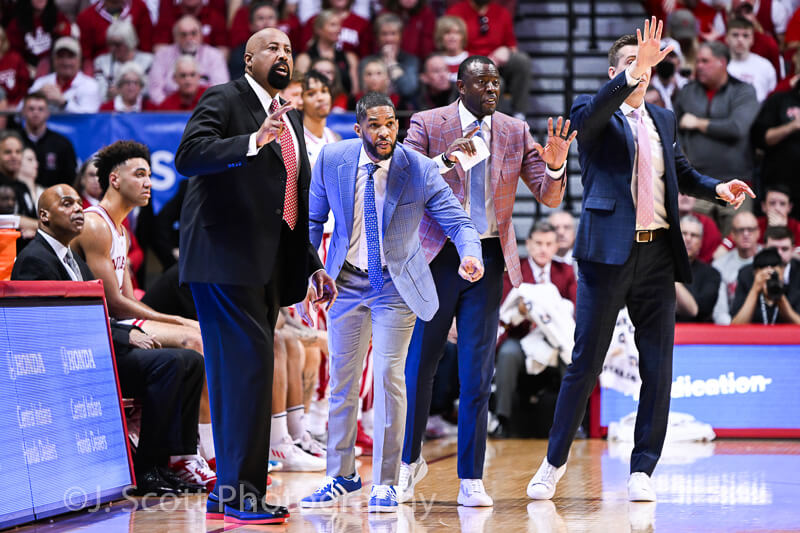 6-Banner Sunday is Inside the Hall's weekly newsletter in partnership with The Assembly Call. More than 9,000 Indiana fans receive the newsletter each week. In addition to appearing each week on the site, you can also opt to receive 6-Banner Sunday by email. A form to subscribe via email is available at the bottom of this week's 6-Banner Sunday.
Welcome to another edition of 6-Banner Sunday, a joint production between The Assembly Call and Inside the Hall, and presented by our friends at Trueblood Real Estate, where we highlight the five most essential IU basketball stories of the past week, plus take a look at how the other IU sports programs are doing.
With the offseason well underway now, the action in the transfer portal has heated up for the Hoosiers. While trying to finalize the roster for 2023-2024 remains the main story, several other news items did occur this week.
This included a big schedule announcement for next November, good health news on former IU coach Bob Knight, how former Indiana players are doing in the NBA, and the normal Inside the Hall and Assembly Call shows. We will as usual conclude with a look at how other sports are doing led by baseball and softball still on top of the Big Ten.
• Roster and transfer portal updates
• IU to play in the Empire Classic at MSG in November
• Bob Knight released from hospital
• Hoosiers in the NBA
• Podcast on the Brink and Assembly Call
• Hoosier Roundup – Baseball and softball still lead the Big Ten
Banner #1 – Roster and transfer portal updates
With Trayce Jackson-Davis officially off to the NBA, IU needs to find reinforcements for next year's roster in the transfer portal. While Payton Sparks is the only commitment out of the portal so far, progress was made this week.
Several players are on the Hoosiers' radar they are trying to reel in. VCU's Jalen DeLoach will visit on April 14 and discussed his process with Inside the Hall. They also had a Zoom meeting this week with Dalton Knecht of Northern Colorado.
However, the names most associated with Indiana are Oregon's Kel'el Ware and Harvard's Chris Ledlum. Both came to Bloomington this weekend for a visit. At the time of Six Banner being published, neither has committed to be a Hoosier next season and it is unknown if either will eventually. However, Ware canceled his only other scheduled visit to Alabama.
Inside the Hall has an article updating where IU stands with every transfer they are pursuing.
Banner #2 – IU to play in the Empire Classic at MSG in November
While it has been mentioned as a possibility for a while, Indiana confirmed it will indeed compete in the Empire Classic in New York for Thanksgiving week of 2023. The tournament will take place in Madison Garden on Nov. 19 and 20. It will allow the Hoosiers to play two of the three other squads participating in it which are Connecticut, Louisville, and Texas. Matchups will be announced at a later date and will feature two rounds with the winners and losers playing each other on the second night.
With these opponents confirmed, fans now know three of IU's non-conference games next season as the second showdown of the marquee series with Kansas will take place in Bloomington on Dec. 16.
Banner #3 – Bob Knight released from hospital
On April 2, it was reported that former IU coach Bob Knight had been hospitalized with an illness per Rick Bozich. However, on April 3 Pat Knight released a statement on behalf of his family saying his dad had been released and thanked everyone for their thoughts and prayers.
Per Dick Vitale, Knight battled pneumonia but was in good spirits.
Banner #4 – Hoosiers in the NBA
With the NBA season winding down six former Hoosier players are still competing there. This includes O.G. Anunoby, Thomas Bryant, Eric Gordon, Romeo Langford, Victor Oladipo, and Cody Zeller.
Anunoby has had the best season of these six and is averaging 17 points a game for a Toronto Raptors squad that will be in a play-in game for the Eastern Conference playoffs. Gordon at over 12 points per contest is having the next most success. His Los Angeles Clippers will either be in a play-in game as well or could go straight into the postseason if they finish in the top six of the Western Conference. Oladipo and Zeller will also be in a play-in game for the Miami Heat and are averaging roughly 10 and five points respectively there. Bryant is on the top squad in the west and averaging almost 10 points for the Denver Nuggets. Lastly, Langford is putting up just over seven points per contest on a struggling Spurs squad that is headed for the draft lottery.
Banner #5 – Podcast on the Brink and Assembly Call
Podcast on the Brink and Assembly Call both had new episodes this week. POTB spoke with coach Tony Adragna to discuss IU's pursuit of the players in the transfer portal. AC Radio was also on-air last Thursday to chat about the same topic.
Banner #6 – Hoosier Roundup – Baseball and softball still lead the Big Ten
• Baseball beat Penn State in a doubleheader last Sunday to win the series before splitting their first two with Iowa this weekend to remain on top of the Big Ten. They also lost a midweek game against Indiana State last Tuesday.
• Softball had their 23-game winning streak finally end Saturday against Minnesota. They remain in first place in the Big Ten after defeating the Golden Gophers on Friday and Ohio State last Sunday. They were also victorious against Western Kentucky in a non-conference contest last Tuesday.
• Women's Tennis defeated Iowa and Michigan State.
• Men's Tennis lost to Illinois and Nebraska but beat St. Louis.
• Water Polo lost to Michigan.
• Track and Field split their squad between the Tennessee Invite and Triton Invitational.
• Women's Golf competed at the Chattanooga Classic.
• Rowing competed at the Big Ten Invite.
• Field Hockey announced its spring exhibition schedule.
Thanks for your continued support for The Assembly Call and Inside the Hall. We'll be back next weekend with a new roundup.
Now go enjoy yourself a 6-banner Sunday.
Aaron (Ari) Shifron
Assembly Call Contributor
Filed to: