Oregon transfer Kel'el Ware to begin official visit to Indiana on Thursday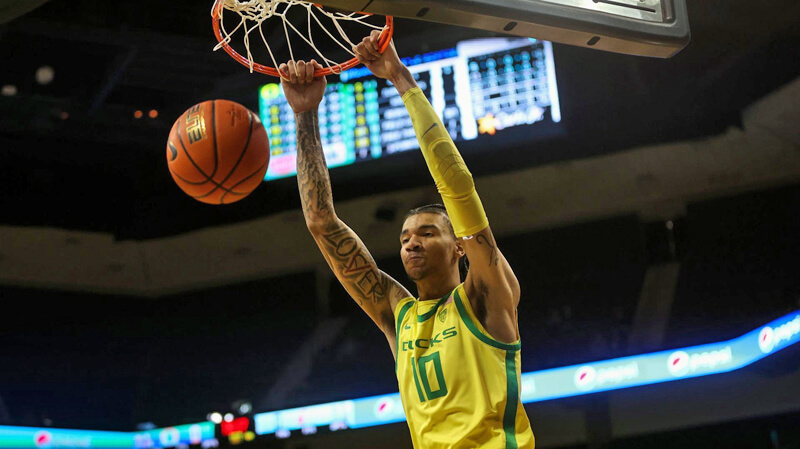 The dead period for college basketball recruiting ends Thursday at noon ET and Indiana is set to host one of the most talented transfer portal prospects for an official visit.
Oregon transfer Kel'el Ware, a former five-star prospect and McDonald's All-American, will begin his official visit to Indiana on Thursday afternoon, Inside the Hall has confirmed.
Ware's family will accompany him on the visit.
The 7-foot center has quickly become a priority transfer portal target for the Indiana coaching staff. Ware averaged 6.6 points, 4.1 rebounds and 1.3 blocks in 15.8 minutes per game last season at Oregon.
The North Little Rock, Arkansas native was rated the No. 6 prospect nationally in the final Recruiting Services Consensus Index (RSCI) rankings for the 2022 class.
Ware is a versatile big man who can step out to the perimeter and knock down 3-pointers and is also a lob threat.
The Athletic ranks Ware as the No. 17 prospect in the transfer portal. Here's what CJ Moore and Sam Vecenie wrote about him:
Seen as a potential one-and-done entering his freshman year at Oregon, the world was at Ware's fingertips. He's a 7-footer who moves like a wing, has legitimate length, and has potential to shoot it. The tools are tantalizing. But Ware has long been seen as a relatively polarizing prospect – even as a five-star recruit – due to production that has never necessarily matched the incredible potential. The downside of that unfortunately played out this year at Oregon, as Ware was beaten out for frontcourt roles by N'Faly Dante and Nate Bittle. Ware shot just 46 percent from the field and 27 percent from 3, averaging seven points, four rebounds and 1.3 blocks in 15 minutes per game. Ware will not enter the draft this year, and will be seen as a high-upside swing in the portal. More than anything, he should be looking for a role and situation that provides him offensive freedom. Too often, it didn't seem like Ware was being utilized to his best strengths this season. Was that his fault, or was that more of the coaching staff trying to fit a square peg in a round hole? We'll find out.
Indiana currently has four open scholarships for the 2023-24 season.
Harvard transfer Chris Ledlum will begin an official visit in Bloomington on Thursday evening.
Filed to: Kel'el Ware