6-Banner Sunday: Hoosiers knock off Illinois in dominant road performance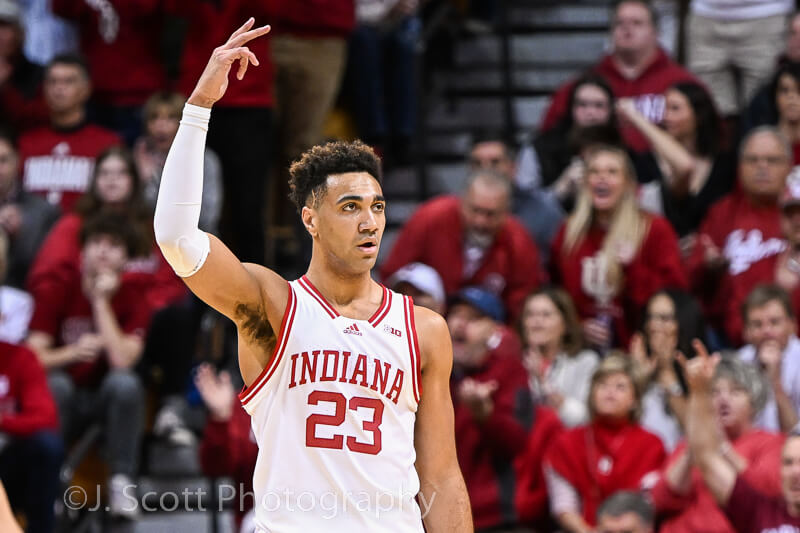 6-Banner Sunday is Inside the Hall's weekly newsletter in partnership with The Assembly Call. More than 9,000 Indiana fans receive the newsletter each week. In addition to appearing each week on the site, you can also opt to receive 6-Banner Sunday by email. A form to subscribe via email is available at the bottom of this week's 6-Banner Sunday.
Welcome to another edition of 6-Banner Sunday, a joint production between The Assembly Call and Inside the Hall, and presented by our friends at Trueblood Real Estate, where we highlight the five most essential IU basketball stories of the past week, plus take a look at how the other IU sports programs are doing.
It was one of the best weeks of the season for Hoosier basketball regardless of which team you follow. The men went to Champaign and soundly beat a good Illinois squad. Not to be outdone, the women got the better of the Fighting Illini on the road by double digits as their coach set the program mark for victories. This was after a thorough demolition of Wisconsin in front of a near-record number of fans in Bloomington.
Away from the court, updated bracketology was released, Inside the Hall and Assembly Call recorded new shows, and IU coach Mike Woodson had his weekly radio program. We will as usual conclude with a look at how other IU sports are doing, led by a big honor for a couple of former Indiana soccer players.
• Hoosiers knock off Illinois in Champaign
• Teri Moren sets win record as IU women beat Wisconsin and Illinois
• Updated Andy Bottoms bracketology
• Podcast on the Brink and Assembly Call
• Mike Woodson radio show recap
• Hoosier Roundup
Looking for tickets to upcoming Indiana games? Vivid Seats has you covered. This week Indiana hosts Michigan State on Sunday, travels to Minnesota on Wednesday, and hosts Ohio State on Saturday. Vivid Seats is a full-service provider – with an industry-leading customer service team, reachable by phone or online during extended business hours. (These links are Inside the Hall affiliate links, so a commission will be paid to ITH if you click and make a ticket purchase.)
Banner #1 – Hoosiers knock off Illinois in Champaign
After injuries and extended struggles, the season appeared to be slipping away. However, beating Wisconsin last weekend offered IU fans a glimmer of hope that things might be turning around. Questions remained whether the contest against the Badgers was a one-off or whether Indiana had found something.
The Thursday night's returns in Champaign were promising that the Hoosiers have turned a corner following a dominating 80-65 win over a red-hot Illinois squad. Illini coach Brad Underwood made the questionable decision to guard Trayce Jackson-Davis one-on-one. This worked perfectly in past years with a seven-foot, 300-pound Kofi Cockburn and allowed Illinois to dominate IU. However, with Cockburn now playing professionally overseas, this strategy worked considerably less well with a smaller six-foot-nine, 270-pound Dain Dainja. Because of this, Jackson-Davis (named to another mid-season watch list) torched Dainja by going through and around him for a season-high 35 points with multiple easy layups and thunderous dunks.
Unlike previous contests, where Indiana let opponents back into the game after building a huge lead, IU answered every Illini run and never let the advantage get below double figures after the first 30 seconds of the second half. Like the Wisconsin game, the Hoosiers were also excellent on defense and held double-figure scorer Matthew Mayer without a point. While the defending was top-notch, Indiana was helped by the fact that Illinois was a miserable 9-for-23 from the free-throw line.
With the victory, IU improves to 3-4 in the Big Ten and 12-6 overall and has a huge game against surging Michigan State today in Bloomington (Noon on CBS) as they look to get back to .500 in the league. The Hoosiers also have struggling Minnesota and Ohio State later in the week as they look to this stretch as a chance to string together several wins.
After the game Thursday against the Illini, Woodson and Underwood spoke, Ryan Corazza had his Minute After and Film Session, Alex Bozich penned Five Takeaways, while Amanda Foster wrote a column on Jackson-Davis.
Banner #2 – Teri Moren sets win record as IU women beat Wisconsin and Illinois
Men's basketball did not have exclusive rights to getting huge wins this week against the Illini. One night earlier in Champaign, the No. 6 IU women's team also won with a relatively one-sided victory over a ranked Illinois team. The Hoosiers fell behind early 19-10 but head coach Teri Moren called a timeout and made key defensive adjustments. From that point forward, Indiana turned the game around and took control to build a double-figure lead for most of the contest and held off one late run. Like Jackson-Davis, IU center Mackenzie Holmes torched the Fighting Illini inside for 30 points as the Hoosiers won 83-72 to complete the season sweep.
With the result, Moren set the all-time wins record for an IU coach with 189 in the middle of her ninth season (Jim Izard who had the mark previously took 12 full years to reach it). Assembly Call was one of the few IU media sites at the game and had an exclusive story in the community for its subscribers.
Sunday the team won in an even less dramatic fashion knocking off a struggling Wisconsin squad 93-56. The game was noteworthy for having the largest regular-season crowd ever at 10,422 and the second biggest overall. Assembly Call also had coverage for subscribers of the community for this one.
After the wins this week, the team improved to 17-1 overall and 7-1 in the league. They have a huge showdown at top-15 Michigan Monday night (8 p.m. ET on BTN). That contest though is not even the biggest one upcoming as the Cream and Crimson host undefeated and No. 2 Ohio State in Assembly Hall Thursday (8:30 p.m. ET on BTN). The Buckeyes are the only thing standing in the way of the Hoosiers being at the very top of the league and with two tough victories in the coming days, the team will find itself leading the conference.
Away from the court, both Yarden Garzon and Holmes were honored. Also, the squad's new team center had a major donor's name added to it.
Banner #3 – Updated Andy Bottoms bracketology
After the two big victories in the last week, the Hoosiers have a bit firmer hold on a spot in the NCAA tournament. Inside the Hall and Assembly Call's own bracketologist Andy Bottoms had IU as a 10-seed before beating Illinois and the team only solidified their spot in the field with that victory. Bottoms' current projection has Indiana facing seven-seeded San Diego State out in Sacramento with UCLA and Samford on the opposite side of the bracket in the 2 vs. 15 matchup.
Meanwhile, the women have a NET ranking in the top five and the biggest question is whether they can get a number one seed for the first time in program history. Bracketologist Charlie Creme projects just that as the team would face 16-seed Albany in the first game with Arkansas and Middle Tennessee opposite the Hoosiers in the 8-9 matchup. The first two rounds would be played in Bloomington for the second straight year in this scenario. However, home matchups until the Sweet 16 would still be the case even if Indiana failed to get on the top line as long as they stay a four seed or better, which would appear to be a high probability at this point.
Banner #4 – Podcast on the Brink and Assembly Call
Both Podcast on the Brink and Assembly Call had new episodes this week. POTB spoke with Ryan Phillips to discuss the victory over Illinois. Meanwhile, an AC Postgame show took place after the win over the Illini, while Doing The Work discussed both successful outcomes for the women's team.
Banner #5 – Mike Woodson radio show recap
Due to the Martin Luther King Holiday, the weekly program with the Hoosier's head coach was moved to Tuesday last week. On it, Woodson and Don Fischer discussed the victory over Wisconsin among other topics.
Banner #6 – Hoosier Roundup
• Recent IU Soccer stars Roman Celentano and Aiden Morris were called up to the US Men's National Team and will take part in training camp.
• Swimming and Diving defeated arch-rival Purdue after several athletes were honored by the conference earlier in the week.
• Women's Tennis swept Butler and Bellarmine in their inaugural matches of 2023.
• Men's Tennis defeated Dayton and Toledo to open their season before falling to Middle Tennessee.
• Water Polo opened their season 1-2 this weekend out in California.
• Wrestling fell to Minnesota.
• Track and Field competed in the Gladstein Invitational and had a Big Ten Track Athlete of the Week.
• Women's Soccer announced a change of assistant coaches.
• Softball announced an additional signee to their 2023 recruiting class.
• IU is hosting a National Girls and Women In Sports Day Clinic on Jan. 29.
• Because of NIL, fans can now purchase jerseys of players with names on the back through IU and Adidas.
Thanks for your continued support for The Assembly Call and Inside the Hall. We'll be back next weekend with a new roundup.
Now go enjoy yourself a 6-banner Sunday.
Aaron (Ari) Shifron
Assembly Call Contributor
Filed to: