News and notes from Mike Woodson's radio show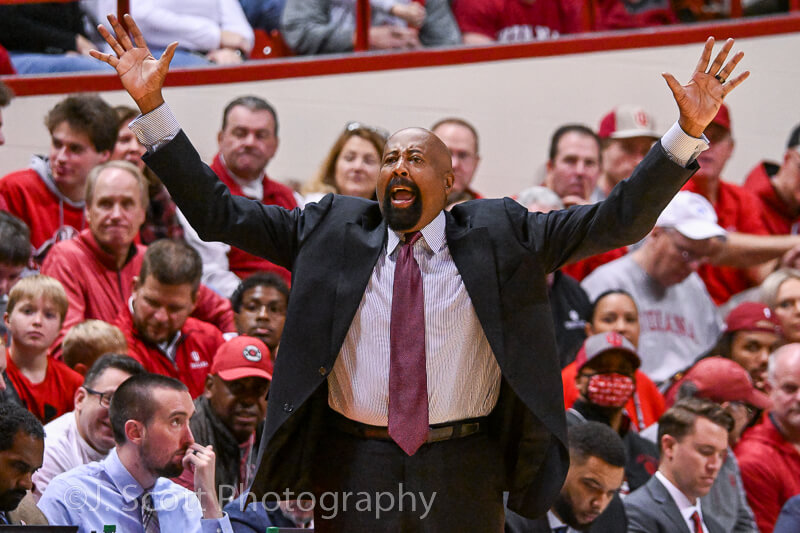 Mike Woodson joined Don Fischer on Tuesday this week for his weekly radio show.
Coach Woodson discussed Indiana's rough outing at Penn State and the upcoming Big Ten slate. Here are some news and notes from this week's show:
· On Wisconsin: "Defensively, we set the tone right off the bat…we've had our moments like that…I thought the difference leading into that game, our practices were pretty intense. We talked about really getting up and touching guys and making hard for guys to move, cut and pass the basketball."
· Woodson touched on the injuries to Race Thompson and Xavier Johnson. "We're missing both of those pieces…and you've gotta keep playing." He added that the injuries aren't an excuse.
· On Penn State: "Penn State was just awful…after a while when they smacked us we just didn't answer the bell."
· "Trayce is our leader," Woodson said. Coach added that Jackson-Davis held a players-only meeting ahead of the win over Wisconsin.
· Woodson said Malik Reneau wasn't doing what he's capable of before the Wisconsin game. "This last game he played as hard as he's played in an Indiana uniform."
· Fischer and Woodson joked about when he chooses to pull players out of the game. "Certain guys have a longer rope…I probably shouldn't be saying that."
· On mistakes: "You're going to make mistakes…it's minimizing them. We can't let them just spread. You've got to shrink game plan mistakes," Woodson said.
· Again on coaching style and being coached by Bob Knight: "He pushed me, he was demanding. I knew he did it from his heart and that he wanted nothing but the best for Mike Woodson and his team," Woodson said.
· Woodson told a story on how, while coaching the Knicks, JR Smith was disappointed and pushed back on the idea of coming off the bench. Woodson said Smith eventually led the league in scoring off the bench that season and was named the sixth man of the year. Smith invited Woodson to his wedding. "I basically got him into golf."
· After talking about Smith, Fischer asked Woodson about dealing with players' parents. "I think back to when I played for coach Knight…If I had ever gone home to my mother and complained about coach Knight, I probably would have been kicked out of the house…you challenge young players today and you might hear it from the parents. I get it, it's a part of it, but you trust me with your son and I'ma coach him the best I think I can. And I'ma be honest and fair with them."
· Before the Wisconsin game, freshman forward Malik Reneau was really struggling. Woodson said the Montverde product wasn't doing what he was capable of and specifically mentioned effort and rebounding. But, the Wisconsin game had a different result.
· Jordan Geronimo also had his best game of the season against Wisconsin. Woodson said he was particularly hard on him in practice. "The day before the game I was probably on him the hardest…I kinda lit into him," Woodson said. He added that how Geronimo played on both ends of the floor is how he felt he was playing at the end of last year.
· Woodson mentioned how happy he was with how Indiana followed the game plan against Wisconsin. "Practice was heated last week…I thought last week we really pushed to get off this slide."
· Woodson closed the show by saying, "let's see if we can compete at a Wisconsin level against Illinois."
Filed to: Mike Woodson