Teri Moren is reinforcing Indiana basketball culture, one win at a time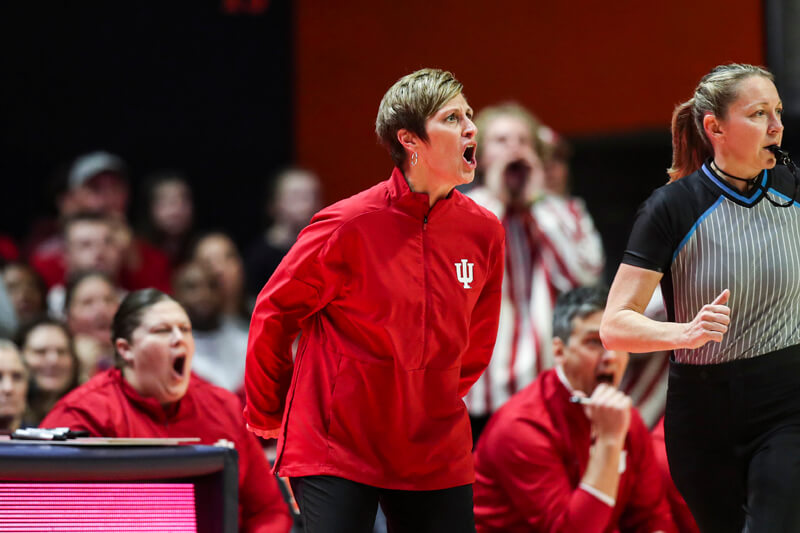 As she walked into the locker room, Teri Moren let out an emphatic yell of victory and was promptly doused with water. Her players, prepped with full water bottles and celebratory T-shirts, surrounded her, cheering, for the second time that night.
The first time came on the court after the final buzzer sounded, sealing Indiana's fourth win over a ranked team and Moren's 189th win as head coach of Indiana women's basketball.
The Hoosiers took down No. 21 Illinois at the State Farm Center in Champaign 83-72 Wednesday night, and the win was the perfect representation of the culture of Indiana basketball.
With the win, Moren set the program's all-time record for wins as a head coach, and Indiana's 17-1 start to the season is the best record through 18 games since the team's inaugural season in 1971-72.
"When I was recruited here, I could see the vision that Coach Moren had for this program," Mackenzie Holmes said postgame. "She's one of the most competitive people I've ever met and she hates to lose way more than she loves to win, and I think that's evident with her passion on and off the court for the game, for us. It's a really special thing that I'm able to play for her while she gets this milestone."
Special T-shirts were made featuring Moren wearing a crown, commemorating her accomplishment. The back read "189 wins and counting". Current and former players flooded social media with posts about the game and their experiences playing under Moren.
Grace Berger took to Twitter, writing "Best decision I ever made was to play for her! Truly the best there is."
Former Hoosier Tyra Buss, before the win, wrote "Loved playing for [Teri Moren] and knew this place was going to be special with her at the helm!" After the win, she kept it simple, tweeting the goat emoji.
While the victory on its own represents the monumental strides Indiana women's basketball has taken under Moren, so did the way the game was played.
Night in and night out, Moren preaches "sharing the sugar" and playing together. The Hoosiers did that against the Illini, with 16 assists on 30 made shots and four players scoring in double figures.
Holmes, one of the faces of Indiana basketball, seemed to embody exactly what Indiana basketball was, and not for the first time. She recorded her eighth double-double of the season with a whopping 30 points and 10 rebounds, alongside two blocks, two steals and a career-high six steals.
Like Moren, Holmes will be in the Hoosier record books, as she is now eighth all-time with 18 career double-doubles.
"Certainly Mack is uber-talented, as we all know," Moren said. "Mack obviously can show she has great footwork, great hands; can score with either hand. She's just a little bit different."
"A little bit different" is the perfect way to describe Holmes, and the rest of Indiana women's basketball. This season especially, there's something about Indiana that you can't quite put your finger on.
Players like Holmes, Berger, Sydney Parrish and Chloe Moore-McNeil show up and show out in just about every game. They, alongside every other player who steps foot on the court, give their all. But statistics can only say so much, and there are only so many words to try to describe the way the Hoosiers are built and how they play.
Sometimes, a simple explanation is the best one. And in this case, that might just be one word: culture.
"There's something just so special about Bloomington and Indiana," Moren said at Hoosier Hysteria in October. "It just means more."
It's no secret that Moren wants to lead Indiana to a championship, whether a Big Ten title or a national one. Obviously, to come even remotely close to reaching either of those goals, regular season success is crucial. Any team has to be a well-oiled machine, full of passion, skill and determination, to put a banner on the wall.
So far, that's the product Moren and her players are putting out on the floor. Wednesday's win was, to them, really just like any other. They celebrated and recognized the milestone, but have bigger goals in mind. And that, right there, is what Indiana basketball is.
"It's one of those snapshot moments, those pictures that you take in your mind and you'll remember it for the rest of your life," Moren said. "I'm glad it's over, right? We can move forward."
(Photo credit: IU Athletics)
Filed to: