What to Expect: Michigan State at Indiana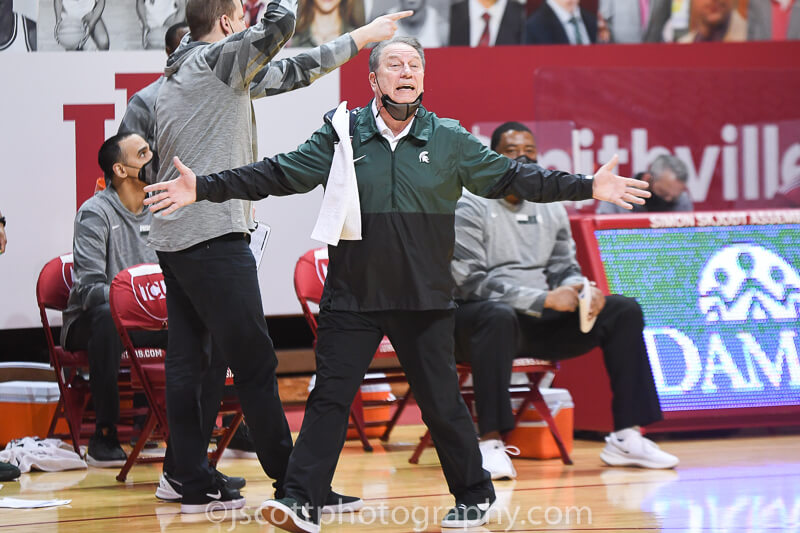 Indiana will seek its third straight conference win when it hosts Michigan State on Sunday afternoon at Assembly Hall. The Spartans are 13-6 overall and 5-3 in the Big Ten.
Sunday's game will tip at 12 p.m. ET on CBS:
Indiana's 1-4 start in Big Ten play cast serious doubt on whether it could weather the storm of injuries to its starting lineup. Trayce Jackson-Davis was hobbled with a back injury in early January and was sitting out of practices and only participating in games. Xavier Johnson (foot) and Race Thompson (knee) departed the lineup. The Hoosiers weren't defending at the level needed to win in a rugged conference.
But Jackson-Davis has looked far more healthy recently, Jordan Geronimo has filled in capably for Thompson the last two games and Jalen Hood-Schifino is proving to be one of the nation's best freshman guards. The Hoosiers have also re-engaged defensively and the result has been consecutive wins over Wisconsin and Illinois.
Indiana will look to keep the momentum going on Sunday against one of the Big Ten's best defensive teams in Michigan State. The Spartans have several notable wins and some head-scratching losses on their resume. Like Indiana, Michigan State is also dealing with a key injury (Malik Hall). The Spartans have lost two of three following a seven-game winning streak that featured a wins at Penn State and Wisconsin and a home triumph over Michigan.
MEET THE SPARTANS
Michigan State will go with a three-guard set featuring Tyson Walker, Jaden Akins and AJ Hoggard.
Walker, a 6-foot-1 guard, is the team's leading scorer and best shot maker. In his second season in East Lansing after transferring from Northeastern, Walker leads the Spartans in scoring at 14.6 points per game. He shot 47.3 percent a season ago on 3s and made 35 triples, a mark he's already tied entering Sunday's matchup. Walker is 35-for-83 from distance this season, good for 42.2 percent.
Akins is a 6-foot-4 sophomore from Farmington, Michigan who averages 8.2 points in 24.7 minutes per game, but is shooting just 33.8 percent on 2s. Akins is a stellar 21-for-51 on 3s (41.2 percent), but has the lowest offensive rating on the roster among the regular guards. He is, however, the best athlete in the backcourt and a stellar defender.
Hoggard is the best assist man in the Big Ten and among the best in the country. His assist rate in conference play of 41.5 is tops in the conference. Hoggard is a below-average 3-point shooter (30.4 percent), but has been solid in conference play at 7-for-17 (41.2 percent). His bread-and-butter, however, is facilitating for others. Hoggard has two games with 10 assists and 10 games with eight or more assists.
Guard depth is thin as freshman Tre Holloman is the only regular contributor off the bench. Holloman plays 10.3 minutes off the bench and has 25 assists compared to just six turnovers this season.
Joey Hauser starts at the four and is joined in the frontcourt by Mady Sissoko. Hauser was a major disappointment in his first season at Michigan State (2020-21), but has come into his own the last two seasons. He's second on the roster in scoring at 13.4 points per game and is tied with Walker for the team lead in made 3-pointers at 35. Hauser is a good passer, and one of the better defensive rebounds in the league and his ability to shoot at his size (6-foot-9, 220 pounds) makes him one of the better frontcourt players in the Big Ten.
Sissoko barely played the last two seasons but is one of the best rebounders in the Big Ten as a junior. The 6-foot-9, 240-pound center from Bafoulabe, West Africa ranks third in the Big Ten in defensive rebounding percentage and ninth in offensive rebounding percentage.
The majority of the backup minutes in the frontcourt will go to sophomore Pierre Brooks and freshman Jaxon Kohler. Brooks is a 6-foot-6 wing who has made more 3s (22) than 2s (14) this season. Kohler is a 6-foot-9, 240-pound freshman who barely played in the Illinois and Purdue losses, but came off the bench and posted a double-double in Thursday's win against Rutgers. Kohler had 12 points, 11 rebounds and three blocked shots in 23 minutes.
TEMPO-FREE PREVIEW
All stats are conference-only through Friday's games.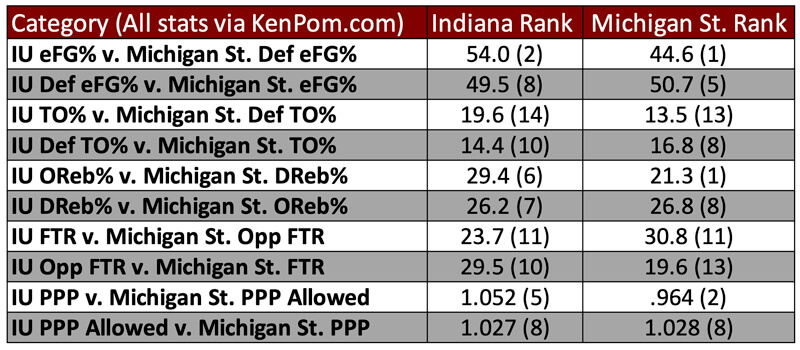 This might not be a Michigan State team capable of a Final Four run, but Tom Izzo does have this group defending at a level well enough to win a lot of Big Ten games.
The Spartans are the league's best defensive-rebounding team. Big Ten opponents are grabbing only 21.3 percent of their missed shots. Michigan State doesn't gamble for turnovers and forces its opponents into tough shots in the halfcourt. The Spartans are playing at the third-slowest pace of any Big Ten team and will force Indiana to grind out shot attempts late in the shot clock.
Offensively, Michigan State is the league's best free throw shooting team, a huge asset in close road games. The Spartans are below average on 2s in conference play at 48.1 percent and aren't particularly good at taking care of the ball (16.8 TO%) or offensive rebounding (26.8 OR%).
WHAT IT COMES DOWN TO
The KenPom projection is Indiana by four with a 67 percent chance of a Hoosier victory. The Sagarin ratings like Indiana by 3.5 points.
While Michigan State may not double-team Trayce Jackson-Davis every possession, the Spartans are going to throw plenty of different looks at the post to try to force him to give the ball up or make tough, contested shots. Sissoko is a better defender than Dain Dainja of Illinois and the Spartans are a connected team defensively that will have a much better plan than the Illini did on Thursday.
Mike Woodson has frequently talked this season about his team needing to be tougher and Sunday will be an excellent litmus test. Michigan State won't overwhelm the Hoosiers with talent. What the Spartans will do is make Indiana earn it on every possession by playing with the tenacity Izzo demands. To win, Indiana has to match the defensive focus and intensity it exhibited in recent wins over Wisconsin and Illinois.
Filed to: Michigan State Sparatans