Trayce Jackson-Davis leads Indiana to crucial road win against Illinois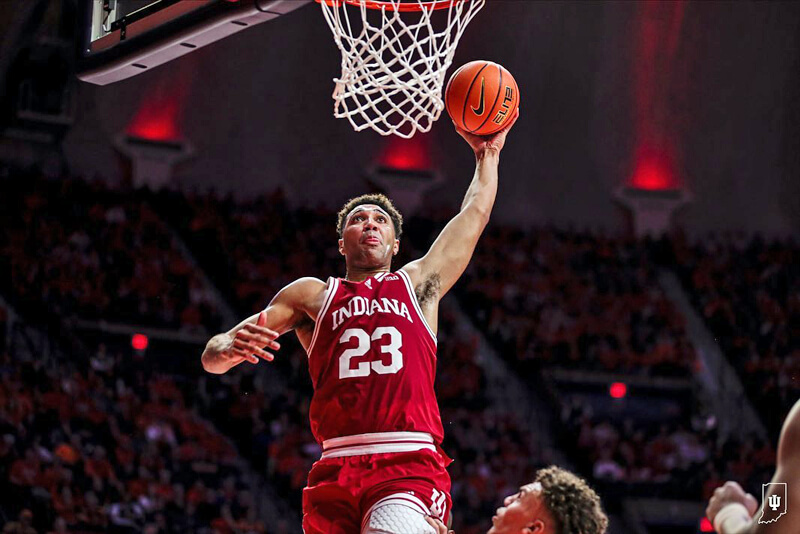 It's incredibly rare for the key moment in a basketball game to come less than two minutes after tipoff.
But Thursday night, that's exactly what happened.
At the State Farm Center in Champaign, Indiana started slow and off its game. Two turnovers came in less than one minute, and Illinois — taking advantage of those mistakes — looked on the verge of completely grabbing momentum, forcing Mike Woodson to call a timeout.
The clock read 18:07, and Illinois led 4-0.
At halftime, Indiana led 43-33.
When the final buzzer sounded, the scoreboard read 80-65, in Indiana's favor.
It was perhaps the most important road test for Mike Woodson in his tenure as head coach at Indiana, and one of the most important games for the Hoosiers to regain footing and prove they can win on the road. In short, they did.
"Any time you win on the road in the Big Ten, it's special," Woodson said postgame. "It's not easy winning out on the road in the Big Ten."
Immediately after Woodson's early timeout, Trey Galloway charged in for a layup for Indiana's first points of the night. The Hoosiers went on a 12-0 run to seize momentum, and continually silenced the Illini fans throughout the first half with multiple scoring runs and slam dunks.
And of course, who else would bring those dunks but Trayce Jackson-Davis?
In arguably his best performance in a Big Ten game, Jackson-Davis finished with 35 points, nine rebounds and five assists. Those 35 points marked the second-highest point total of his career, and the most points scored against a conference opponent. Every single one counted.
With a 10-point lead entering the second half, the onus was on the Hoosiers to sustain the energy and tenacity they showed in the first half. Thanks to Jackson-Davis, that wasn't too much of a problem.
He scored 13 points on a perfect 6-for-6 from the field in the first half, and came out even stronger in the second half to put up 22 points on 9-for-13 shooting. At no point in the game did Jackson-Davis ever struggle against the Illini defenders, who seemed to forget what he was capable of.
"My thing is to put him in [a] position to be successful," Woodson said. "Tonight, we went to him. I rode him. Pretty much 80, 90 percent of the plays were geared to get him the ball. And I would have been foolish not to do that."
Frustration was evident on the faces of the Illini players, but nothing they attempted was successful in stopping the All-American or his teammates.
"My teammates put me in a position to score and [Illinois] didn't send the double, so I had to make them pay," Jackson-Davis said.
Illinois barely double-teamed any Hoosier, much less Jackson-Davis, and Indiana essentially had its way underneath the basket the whole night. The Hoosiers, able to maneuver around and find open shots with ease, outscored the Illini 54-32 in the paint.
In December, Jackson-Davis was playing through significant back pain, to the point where he wouldn't even participate in practices. He still played extensive minutes, but at times looked beat up and not himself. Now, he's almost fully healthy, practicing and reaping the benefits.
"This week was the first time that I've actually practiced in about a month and a half," Jackson-Davis said. "Just being able to get touches on the floor, being able to run up and down a little bit."
Jordan Geronimo once again had a standout night, building off his double-double against Wisconsin and benefitting from a healthy Jackson-Davis. Geronimo finished with 13 points and eight rebounds, and while he did commit four turnovers and had three fouls, he looked comfortable and confident for the majority of the time he was on the court.
"Getting a lot more time on the floor, I've been able to read what [Jackson-Davis] does," Geronimo said. "I know where to be, when to cut, when to steal, try to score the ball. He's been doing a great job finding me."
The next test for Jackson-Davis and the Hoosiers will come against Michigan State on Sunday in Bloomington, as they try to extend their winning streak to three games.
(Photo credit: IU Athletics)
Filed to: Illinois Fighting Illini, Trayce Jackson-Davis