The Minute After: Illinois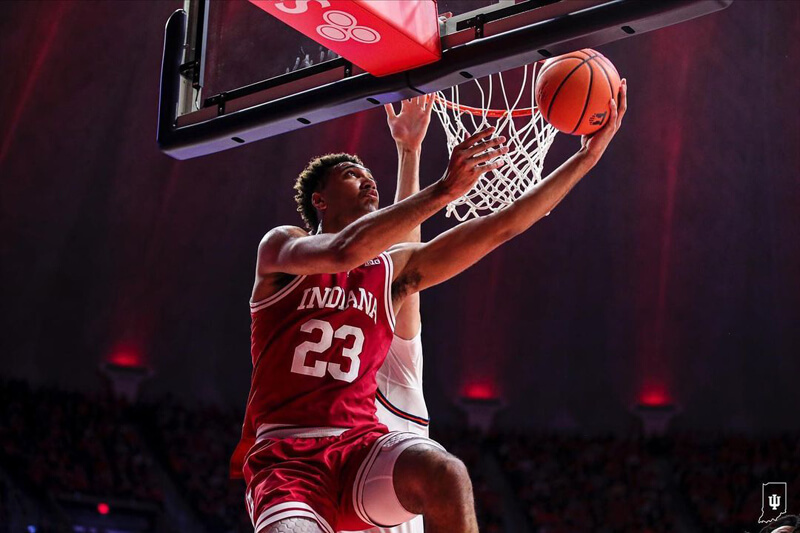 Thoughts on an 80-65 win against the Illini:
The Hoosiers have been here before in the Mike Woodson era.
A season ago in Madison, Indiana's 22-point advantage in the first half crumbled into a five-point loss. In Iowa City earlier this month, IU's 19-point lead against the Hawkeyes melted into a two-point defeat.
But in Champaign tonight? The script flipped.
Indiana's first couple of possessions were shaky. But after Woodson called a rare early timeout to calm the waters, the Hoosiers got things going and really never looked back. An early four-point deficit became a 19-point advantage with 4:20 left in the first half. Illinois got it to 10 at halftime and then eight on the first basket of the final 20 minutes of action.
But Indiana didn't panic, eventually pushing the lead back out to even more (21 points) with 10:19 to play. Despite a full-court press that Indiana didn't handle well on a couple of possessions, the Hoosiers continued to take care of business for the duration of this one, eventually settling on a 15-point victory.
Make no mistake: This was an impressive road win. The Illini have been riding high on a four-game win streak, a change to the offense making things tick after a rough December. They have a ton of talent, entering the game No. 19 on KenPom and sporting a top-five offense and defense in Big Ten play.
So how'd Indiana get it done?
The defense continues to impress after tough outings against Northwestern and Penn State. As Alex noted in What to Expect, Matthew Mayer has been great over the last 10 games for the Illini. But the Hoosiers absolutely shut him down this evening. He missed all four of his shots attempts and didn't score a point. He looked dejected on the bench in the second half. Brad Underwood did mention after the game that Mayer was under the weather.
Indiana, as it did against Wisconsin, did a nice job of heating up the ball and getting into the Illini's airspace on the perimeter. Trayce Jackson-Davis (three blocks) and Jordan Geronimo (three blocks) were active at the rim. There weren't many glaring mistakes or blown coverages. The Hoosiers held the Illini to .95 points per possession for the game.
On offense, Jackson-Davis had a special evening, scoring 35 points on 15-of-19 shooting. Those 35 points are a career-best in Big Ten play. When Illinois didn't double him — which was most of the contest — he made Dain Dainja look downright silly on several possessions, spinning and dunking with ease. Time and again, Indiana fed Jackson-Davis and he just kept putting the ball in the hole. And when the Illini brought more pressure to him, he handled it well, finding teammates diving to the rim or open on the wing for 3-pointers to the tune of five assists.
Jalen Hood-Schifino continues to be an elite shotmaker, hitting some tough buckets on his way to 10 points on 5-of-11 shooting in the first half to help Indiana gain its large advantage. He did get into foul trouble in the second half and seemed to hurt his wrist a bit as well on a hard fall. Indiana's freshman point guard took just one shot after the break.
But Indiana was able to win going away even without his offense in the second half because of its supporting cast. Miller Kopp (six points), Trey Galloway (six points) and Malik Reneau (three points) combined for 15 points. It was a theme for the contest. Jordan Geronimo went a perfect 6-of-6 from the floor in the first half on his way to 13 points for the game. Galloway also scored in double-digits (11 points, 4-of-5 shooting) tonight.
After a couple game stretch where all was lost, Indiana's defense has stepped it up, holding its last two opponents under a point per possession. In a conference where so much seems up for grabs behind Purdue, continued defense at this high a level could go a long way for the Hoosiers to get back into the thick of it.
(Photo credit: IU Athletics)
Filed to: Illinois Fighting Illini