What to Expect: Indiana at Illinois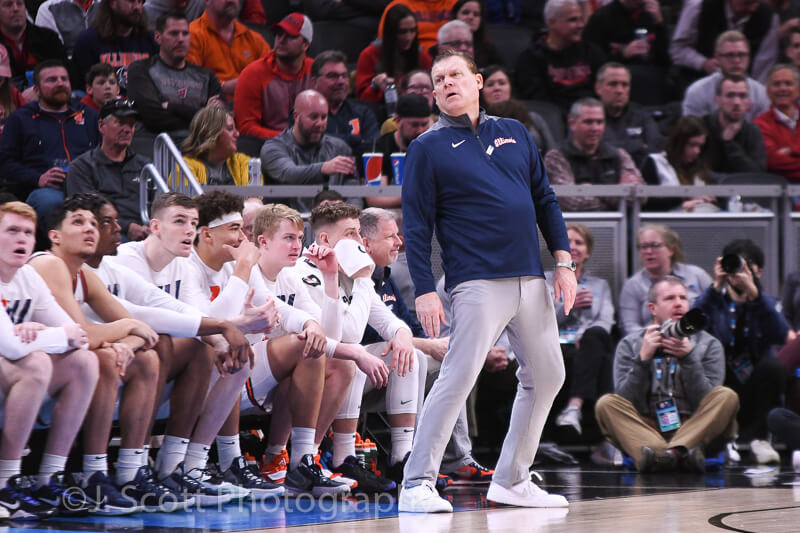 Indiana returns to action on Thursday when it takes on Illinois at the State Farm Center. The Fighting Illini have won four straight and are 13-5 overall and 4-3 in the Big Ten.
Thursday's game will tip at 8:30 p.m. ET on BTN:
Indiana snapped a 3-game losing streak last weekend with a comfortable 63-45 win against Wisconsin in Bloomington on Saturday. We'll quickly learn if the defense exhibited in its win over the Badgers was a one-game thing or the beginning of a turnaround.
Illinois, one of the preseason favorites to win the Big Ten, went 3-4 in a stretch of games from Dec. 2 through Jan. 4 that included three losses by 13 or more points. The Fighting Illini have since won four straight and are close to reentering the Associated Press top 25.
MEET THE FIGHTING ILLINI
The Illinois roster underwent significant changes in the offseason. Trent Frazier, one of the league's best defenders, graduated. Kofi Cockburn left to pursue a professional career. Andre Curbelo transferred to St. John's and Jacob Grandison transferred to Duke. Alfonso Plummer left to play professionally.
The only returning players in the current rotation are Coleman Hawkins and RJ Melendez.
The backcourt rotation is more settled as freshman Skyy Clark stepped away from the team after a 73-60 loss at Northwestern on Jan. 4. Illinois is 4-0 since Clark left the team.
Freshman Sencire Harris and Texas Tech transfer Terrence Shannon have been starting in the backcourt with freshman Jayden Epps logging major minutes off the bench.
There may not be a more talented guard in the Big Ten than Shannon. The Chicago native played three seasons for Chris Beard in Lubbock before transferring back to his home state. Shannon's 17.6 points per game lead the Illini and his 3.2 assists per game are second on the roster. He's also averaging 5.7 rebounds in 31.2 minutes per game.
Shannon gets to the line frequently, ranking 89th nationally in free throw rate (FTA/FGA) as of Wednesday morning. Shannon has attempted 118 free throws in 18 games and is connecting at a 78 percent clip. At 6-foot-6 and 225 pounds, Shannon is a matchup problem for smaller guards and loves to go left.
Harris is a 6-foot-4, 160-pound guard from Ohio who was a top-100 recruit. He's averaging just 3.9 points on 44.2 percent shooting on 2s and 34.5 percent on 3s.
The 6-foot-2 Epps has been one of the best freshman guards in the Big Ten. In 24.9 minutes per game, the Norfolk, Virginia native averages 9.7 points and shoots 37.3 percent on 3s.
Melendez, a 6-foot-7 sophomore from Puerto Rico, comes off the bench and takes a lot of perimeter shots. According to KenPom Plus, Melendez is shooting 25.8 percent on 3s, 41.2 percent on long 2s and 69.6 percent on short 2s.
Freshman Ty Rodgers is also in the wing rotation off the bench and averages 2.2 points in 14.9 minutes per game. The 6-foot-6 wing is a native of Saginaw, Michigan.
The Illinois frontcourt has incredible size with the 6-foot-10 Hawkins, 6-foot-9 Matthew Mayer and 6-foot-9 Dain Dainja. Indiana fans will remember Hawkins for his incredible performance in last season's Big Ten tournament. He dropped 18 points and made four 3s in a narrow loss to the Hoosiers. The Sacramento native is only a career 30.5 percent 3-point shooter, but can get hot quickly. Hawkins averages 9.7 points, 6.1 rebounds and 3.3 assists in 30.2 minutes per game, which shows his impressive versatility.
Mayer won a national championship and played four seasons at Baylor before his arrival in Champaign last summer. As UMHoops points out below, Mayer has been terrific over the last 10 games:
Illinois wing Matthew Mayer is starting to figure it out.

He's avg 15.4 PPG, 59.1% on twos and 43.5% on threes over the last 10 games. That's a 126.1 ORtg on 22.4% usage compared to 101.2 on 18.2% to start the year. pic.twitter.com/Q2OOVvnbGX

— Dylan Burkhardt (@umhoops) January 17, 2023
For the season, Mayer is shooting 37.4 percent on 3s in 23.1 minutes per game.
Dainja sat out last season after transferring from Baylor and is a legitimate post-scorer. In 18.9 minutes per game, he's averaging 10.4 points and 5.8 rebounds and is shooting 71.8 percent on 2s.
TEMPO-FREE PREVIEW
All stats are conference-only and are through Tuesday's games.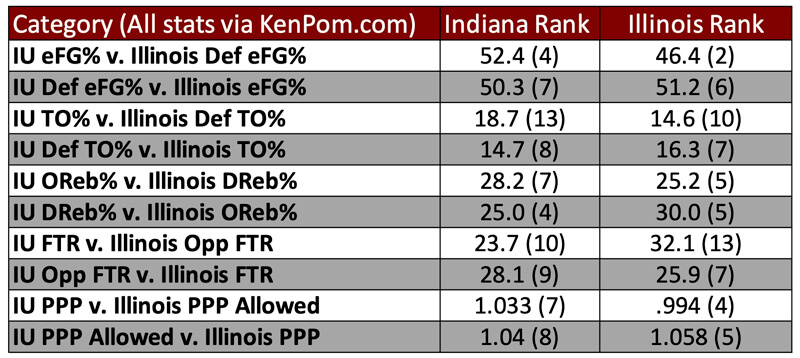 The Illini have the league's fifth-best offense and fourth-best defense through seven conference games.
Illinois is shooting 53.1 percent on 2s in league play, which leads the league, and just 32 percent on 3s, which is 13th.
Defensively, Illinois allows league foes to shoot only 44.5 percent on 2s and has the highest block percentage in the conference at 17.2 percent. The Illini switch frequently on defense.
Keeping opponents off the free throw line has been challenging for Brad Underwood's team. Illinois has the second-worst opponent free throw rate (FTA/FGA) in the conference at 32.1 percent. The Illini don't force many turnovers, but their size and versatility in the frontcourt make it difficult for opponents to get clean looks near the basket.
WHAT IT COMES DOWN TO
The KenPom projection is Illinois by four with only a 34 percent chance of an Indiana victory. The Sagarin numbers like Illinois by close to 5.5 points.
Illinois is arguably the most talented team in the Big Ten and appears to be figuring things out at the right time. Clark's leave of absence has settled others into more defined roles and the frontcourt trio of Dainja, Hawkins and Mayer is a matchup problem for most of the league. Throw in Shannon as arguably the most talented wing playmaker in the conference and Thursday is an uphill battle for an Indiana team down two starters.
The Hoosiers have been a poor road team for most of Mike Woodson's tenure in Bloomington. The Hoosiers only have one true road win against a team ranked better than 83rd in KenPom under Woodson and that came earlier this season at Xavier.
Filed to: Illinois Fighting Illini