6-Banner Sunday: Indiana beaten soundly at Kansas for third loss in last four games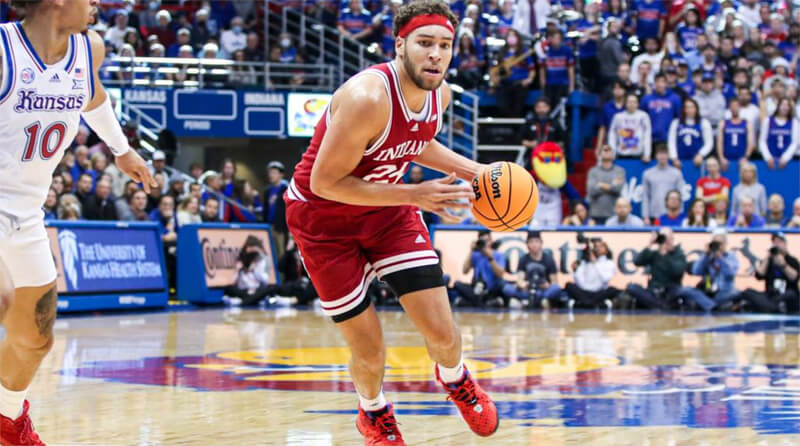 6-Banner Sunday is Inside the Hall's weekly newsletter in partnership with The Assembly Call. More than 9,000 Indiana fans receive the newsletter each week. In addition to appearing each week on the site, you can also opt to receive 6-Banner Sunday by email. A form to subscribe via email is available at the bottom of this week's 6-Banner Sunday.
Welcome to another edition of 6-Banner Sunday, a joint production between The Assembly Call and Inside the Hall, and presented by our friends at Trueblood Real Estate, where we highlight the five most essential IU basketball stories of the past week, plus take a look at how the other IU sports programs are doing.
After a week off for finals, IU looked rusty and was easily handled by an elite squad for the second straight week. This time it was defending national champion Kansas who defeated the Hoosiers raising some questions about how good this team is.
Off the court, some better news came for Indiana's potential NCAA tournament projection, especially on the women's side. Also, Podcast on the Brink and Assembly Call had new shows this week as did head coach Mike Woodson. We will conclude with a look at how former IU basketball players are performing in their professional careers, as well as how the Hoosiers are currently doing in other sports.
• Hoosiers lose at Kansas and Xavier Johnson is injured
• Current Bracketology for men's and women's teams
• Podcast on the Brink, AC Radio and Doing The Work
• Mike Woodson radio show recap
• Hoosiers in the pros
• Hoosier Roundup – Men's soccer falls in national championship thriller
Looking for tickets to upcoming Indiana home games? Vivid Seats has you covered. This week Indiana hosts Elon on Tuesday and Kennesaw State on Friday. With students on winter break, it's a great opportunity to attend a game and get lower-level seats at an affordable price! Vivid Seats is a full-service provider – with an industry-leading customer service team, reachable by phone or online during extended business hours. (These links are Inside The Hall affiliate links, so a commission will be paid to ITH if you click and make a ticket purchase.)
Banner #1 – Hoosiers lose at Kansas and Xavier Johnson is injured
For the second straight week, many IU fans made the trip to a venue besides Assembly Hall. However, the result was similar both times, as the Hoosiers were manhandled by a much better Jayhawks team seven days after Arizona did much the same to Indiana. While IU was able to get back into the game last week against the Wildcats on a neutral court, they had no such luck in a true road environment in Lawrence on Saturday as they fell 84-62.
Also, while the Hoosiers saw the return of one of their point guards in Jalen Hood-Schifino, they may have lost another for an extended period as Xavier Johnson went down with a foot injury in the first half and did not return. Johnson did tweet after the game that he expects to be back soon despite being seen with crutches and a walking boot when returning to the bench. However, how quickly he returns to the court remains to be seen. IU's next game against tough competition is not for almost three weeks when the team returns to Big Ten play for good against Iowa on Thursday, Jan. 5.
Afterward, Mike Woodson and Kansas coach Bill Self spoke, Ryan Corazza had his Minute After, William McDermott penned Five Takeaways, and Amanda Foster had a column about the defeat.
Banner #2 – Current Bracketology for men's and women's teams
With IU's major non-conference games now in the books, the question remains, how good is this team? In the aggregate, a couple of bracketologists in Joe Lunardi and Delphi have IU as a four-seed. Also, the all-important NET ranking which is the biggest metric the selection committee uses to determine seeding in March Madness is at 16 (these numbers are all from before the loss to the Jayhawks).
The Hoosiers have noteworthy wins over No. 38 Xavier on the road and No. 32 North Carolina at home, and both of those contests are aging well for the NCAA tournament resume. However, the blowout losses away from Assembly Hall to No. 45 Rutgers, as well as top 15 Arizona and Kansas, raises plenty of questions about this squad. The Hoosiers certainly have been tested before Big Ten play for the first time in several years, but the results are mixed and it still has not been answered if this will help Indiana be tougher for conference play.
Also, the squad now sits at No. 17 in the KenPom rankings and No. 27 in Bart Torvik (these rankings are current after the defeat to Kansas).
Meanwhile, on the women's side, it is all roses so far as the Hoosiers remain undefeated at 10-0 and number four in the NET with noteworthy wins over No. 18 North Carolina, No. 23 Tennessee, No. 32 Illinois, and No. 49 Bowling Green. Bracketologist Charlie Creme has the Cream and Crimson as a No. 1 seed.
Banner #3 – Podcast on the Brink, AC Radio and Doing The Work
Podcast on the Brink and Assembly Call both had new episodes this week. POTB spoke with William McDermott about the season so far.
Meanwhile, Assembly Call had a Thursday radio show previewing the match with Kansas and a postgame episode recapping the defeat to the Jayhawks. Meanwhile, Doing The Work had a show last Wednesday recapping the December 8 win over Penn State by the IU women.
Banner #4 – Mike Woodson radio show recap
Mike Woodson had his normal radio show last Monday. The episode recapped the win over Nebraska and the loss to Arizona. Woodson also talked about a charity golf outing he hosted in Las Vegas the day after the Hoosiers were defeated by the Wildcats.
Banner #5 – Hoosiers in the pros
Several former Indiana basketball players continue to compete in careers professionally. Per the ProBallHoosiers Twitter account from last Sunday, Eric Gordon scored nine points in a game for the Rockets last week, while Bryant put up five points for the Lakers. Also, Yogi Ferrell had a terrific outing overseas with 18 points for his team in Slovenia. In separate tweets that day from the account, it was revealed Devonte Green has found a new team in Sweden and Romeo Langford had a career-high 19 points for the Spurs, while Victor Oladipo chipped in 11 for the Heat.
A tweet from ProBallHoosiers on Tuesday had scoring stats for Langford, Oladipo, and a couple of others. Also, Green was not the only one to latch onto a squad overseas as Freddie McSwain Jr. has signed to play in Australia.
More results for current Hoosiers playing professionally in basketball and other sports can be found regularly on this account.
Banner #6 – Hoosier Roundup – Men's soccer falls in national championship thriller
• Men's Soccer suffered a heartbreaking loss in penalty kicks for the national championship against Syracuse. Assembly Call was one of only two non-student independent IU media outlets to be on-site with coverage in North Carolina. A detailed recap of the match for subscribers is available in the Assembly Call Community.
• Jaylin Lucas was one of the few bright spots as a freshman for IU football this season and earned All-American honors.
• Women's basketball returns from their ten-day break to face Morehead State today.
• Softball announced its schedule for the upcoming spring season.
• Field Hockey had 11 players named to the Academic All-Big Ten team.
• More than 20 IU athletes took part in the universities' December graduation.
Thanks for your continued support for The Assembly Call and Inside the Hall. We'll be back next weekend with a new roundup.
Now go enjoy yourself a 6-banner Sunday.
Aaron (Ari) Shifron
Assembly Call Contributor
(Photo credit: IU Athletics)
Filed to: