In 22-point loss to Kansas, Indiana faces the same problems from loss to Arizona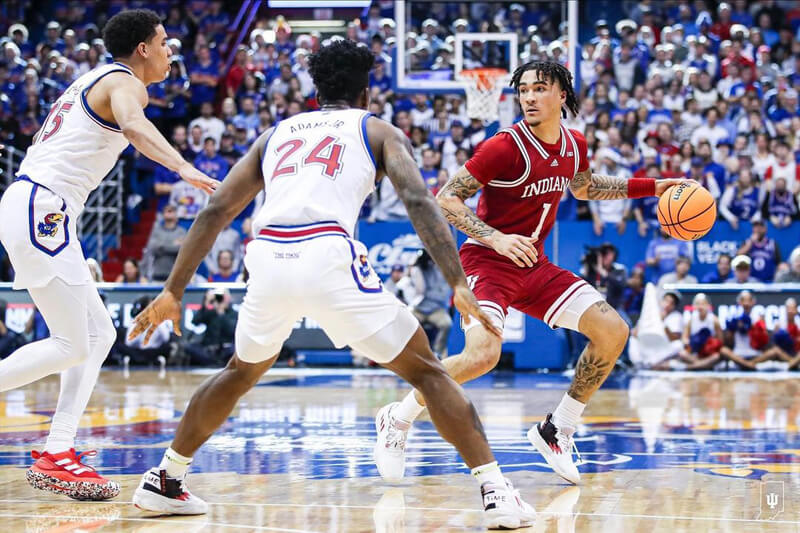 What happens in Vegas doesn't stay in Vegas, at least not for Indiana basketball.
Seven days ago, the Hoosiers started flat against Arizona, struggling with turnovers, making shots and containing the opposing frontcourt. The 89-75 loss felt dismal to everyone and left much plenty of questions entering Indiana's matchup against Kansas.
With a week to prepare for the Jayhawks, the expectation was that the Hoosiers could learn from their performance against Arizona and work to avoid the same mistakes.
To put it bluntly, Indiana didn't.
"It hurts, because I thought this week's practice was very competitive," Mike Woodson said postgame. "We just weren't in the game."
Despite a return from Jalen Hood-Schifino, Indiana played its worst game yet in its 84-62 loss to Kansas on Saturday afternoon. The story was the same as a week ago: a slow start, too many turnovers, not enough made shots and dismal defense.
"We played from behind in both the games," Trayce Jackson-Davis said. "In this game, we really didn't have a chance because that crowd took over."
From the jump, there was a clear discrepancy between the energy and intensity of the two teams. Kansas, backed by a home crowd, got out of the gate quickly. Indiana, while supported by a healthy contingent of Hoosier fans, did the opposite.
Throughout the game, the Hoosiers couldn't find energy on either end of the floor, and lacked the motivation to follow through in challenging situations. Unlike Arizona, the Jayhawks didn't outmatch Indiana in height, but they might as well have with the way they controlled the game.
Jackson-Davis, continuously double and triple-teamed, was effectively shut down until less than two minutes left in the first half, when he put up his first points of the night. And while the forward found his footing in the second half to finish with 13 points, six rebounds and a career-high nine blocked shots, it — once again — wasn't enough.
"Guys around him, they've just got to step up and be able to make shots and make plays," Woodson said. "There's nothing scientific about it. If (they) double-team your best player, somebody else has got to step up and make plays."
When Jackson-Davis was shut down by Arizona, his teammates stepped in to keep the game relatively competitive. But against Kansas, no one could provide the spark Indiana so badly needed.
Jackson-Davis was one of four Hoosiers to finish the game with two turnovers, and Hood-Schifino, despite putting up eight points and four assists, turned the ball over three times.
The Hoosiers' continued lackadaisical style of play combined with an aggressive Kansas defense led to a total of 23 Hoosier turnovers. In the entire game, Indiana only made 20 shots.
"We've got to be more assertive, we've got to be more ready to play," Jackson-Davis said. "[The coaches] had a great game plan going into the game but we didn't execute it."
The 20-of-53 shooting was detrimental to Indiana, clearly, but the Kansas defense was the dominant factor behind Indiana's rhythm. The Jayhawks capitalized on almost every opportunity, scoring 28 points off Indiana's turnovers alone.
In yet another theme continued from Indiana's bout with Arizona, the Hoosiers struggled to find points in the paint while simultaneously failing to prevent their opponent from dominating in the same area.
Kansas was able to smoothly and efficiently slide past a weak Indiana frontcourt to score 50 points in the paint to Indiana's 24. While the Jayhawks' style wasn't quite that of Arizona, which manhandled its way to the basket, it was just as effective.
"You've got to have a defensive mentality (on the road)," Woodson said. "It starts on the defensive end, and then offensively you just can't give buckets, and that's what we did tonight."
In two recent chances the Hoosiers have had to prove themselves on a national level against top-tier teams, they haven't. There's not one specific area that was the pitfall in both games; both losses came from a lack of effort in just about every area.
The Hoosiers have just two more non-conference games to rediscover their rhythm before they begin Big Ten play, where their mettle and talent will be tested again.
(Photo credit: IU Athletics)
Filed to: Kansas Jayhawks