The Minute After: Kansas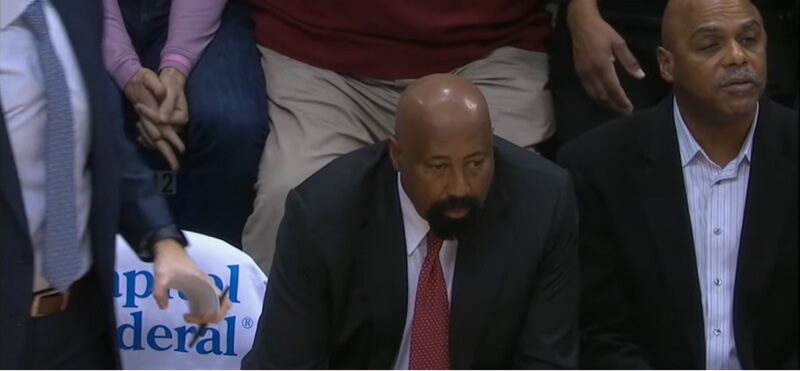 Thoughts on an 84-62 loss to Kansas:
The first half of Indiana's challenging four-game non-conference slate showed promise.
The Hoosiers picked up a nice road win against Xavier. And they looked sensational against a reeling North Carolina, defending with vigor in front of a raucous home crowd.
But in the back half of that schedule against genuinely elite competition, one thing is clear: Indiana isn't at that level. Save for a second-half stretch in the Arizona game where the Hoosiers cut it to single digits and showed some fight, they look like a team that doesn't belong in the conversation as one of the nation's best. The results have been poor and concerning. And with today's loss, they are flirting with tumbling out of the top 25, a team treading water and trying not to sink instead of swimming ahead confidently.
From the jump, Indiana's body language wasn't great. The Hoosiers looked lethargic and disinterested. And so of course Kansas jumped on top of this one and never really let go. While the Jayhawks don't have the true size of Arizona's frontcourt, their length and athleticism on defense bothered Indiana and it showed. The Hoosiers played tentatively on offense and missed good looks when they got them. And they turned the ball over on a whopping 30 percent of their possessions in this one, allowing the Jayhawks to feast in transition. One-third of Kansas' points (28) came via transition this afternoon. The Hoosiers started this season dominating the points in the paint battle. But just like against Arizona, that wasn't the case today. The Jayhawks more than doubled up the Hoosiers there, 50-24.
"We just didn't compete," Mike Woodson said after the game. "That's all I can say."
Kansas shared the ball well and looked like a connected, unselfish team. The scoring numbers show a balanced attack. Gradey Dick continues his strong freshman season, leading the way with 20 points. From there, Kansas had three players score 11 points (Jalen Wilson, Kevin McCullar and KJ Adams) and two score 10 (Dajuan Harris and Bobby Pettiford).
Indiana's offense, on the other hand, limped to .82 points per possession. That's the fourth-worst offensive output of the Woodson era, behind losses to Northwestern (.81) and St Mary's (.78) last season and against Rutgers (.72) this season.
Kansas sent double teams at Trayce Jackson-Davis to take him out of the game, though his lack of energy in the first half didn't help. TJD finished with 13 points on 4-of-8 shooting and had an impressive nine blocks. Jalen Hood-Schifino returned to the lineup today after a back injury sidelined him for the last three games. He didn't look affected by back issues but shot just 2-of-11 from the field.
Perhaps most concerning coming out of today's loss is Xavier Johnson's foot injury. He seemed in a ton of pain in the first half when he went down, returning to the floor in a walking boot and crutches after exiting the game.
If Johnson is out for a significant period, Indiana's hopes of a Big Ten title will be tougher to achieve. But beyond Johnson's injury, this team has plenty of other problems right now.
Its offense looks like the worst of the last several seasons, with teams defending them the same way game after game and daring them to shoot. The defense, the backbone of Woodson's system, isn't looking stout anymore. And the collective spirit is heading in the wrong direction.
If the Hoosiers are going to look like this against the non-conference schedule's toughest tests, how will they fare against the likes of Purdue and Illinois with conference season looming?
From all available evidence thus far, the results may not be pretty.
Filed to: Kansas Jayhawks