News and notes from Mike Woodson's radio show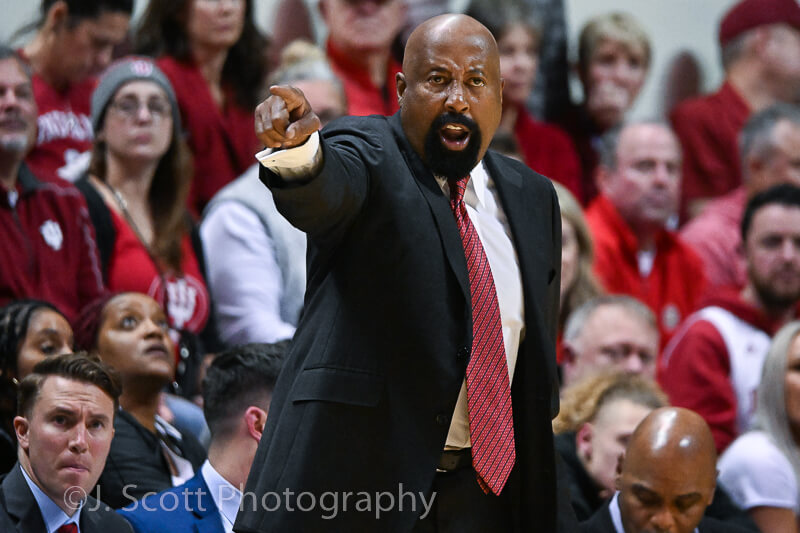 This week's "Inside Indiana Basketball with Mike Woodson" recapped IU's Big Ten win over Nebraska and Saturday's loss against Arizona in Las Vegas.
Here's a recap of what Woodson had to say:
• Woodson talked about the charity golf tournament he hosted on Sunday in Las Vegas and said the money was donated to the Boys and Girls Club in Las Vegas. The event was sold out and it went "extremely well," per Woodson. Due to the weather, it only went nine holes.
• Woodson said Indiana is shooting the 3-pointer well over its last two games. "When you've got good looks, you've got to feel good about shooting it and making it." Woodson singled out the recent hot shooting of Miller Kopp and Tamar Bates and said Race Thompson "finally found his stroke" in the Arizona game.
• On the play of Trey Galloway against Nebraska: "He's been solid, man. I'm somewhat playing him out of position based on the fact that we're shorthanded with not having Jalen (Hood-Schifino) around. We kind of prepared and groomed him for this moment when we started this journey five or six months ago and started letting him handle the ball a little bit more and being a playmaker."
• On Tamar Bates: "You could see it in our workouts that it was coming. And he is starting to figure it out." Woodson mentioned that he's gotta get Bates better defensively.
• On the Arizona game: "They smacked us early. And I was kinda shocked based on how we'd been playing."
• Woodson said Indiana made a lot of "gameplan" mistakes in the Arizona game early on.
• Woodson said Indiana gave effort, but after reviewing the tape and seeing the mistakes IU made from a gameplan perspective, that's what gets you beat.
• Woodson said turnovers and free throws were a major difference on Saturday. "I was surprised we were really in the game."
• Indiana had a "grueling" practice on Monday. "They're probably not happy with me tonight."
• Woodson said Kopp is "comfortable now" and has "finally figured out what Indiana basketball is all about." Woodson described Kopp's comfort level as "sky high."
• On Jalen Hood-Schifino: "He's back on the floor a little bit now shooting and moving around a little bit. Kind of gingerly, but just the fact that he's on the floor … I couldn't even get him on the floor these past few games. It was kind of nice to see him shooting and moving around a little bit."
• Woodson said it will be nice for Indiana to get Hood-Schifino back "eventually." He continued: "We're not rushing it. Just got to take it a day at a time and see how he feels but he is feeling much better and that's good for our ball club."
• On Malik Reneau: "I've got to find more minutes for him." Woodson said that he may not take Reneau out with two fouls anymore because Indiana has depth at that position. "I'm not sure if they're (the officials) picking on him or not."
• Woodson said in a physical game like Saturday's that Indiana has to shoot more than nine free throws versus 25 for Arizona. "That's so not right. I might get a phone call about making that statement, but I really don't care. That's just too lopsided for a game with that much contact going on, it can't be that lopsided."
• Woodson called Arizona a "great team" and said "there's a reason they're ranked top 10."
• Woodson said he talks to his players about their academics all the time. "It's vital." Woodson said he doesn't want to bust anybody's bubble, but most of the players aren't going to be playing in the NBA.
• Woodson said he "wishes the players could do away with social media, but that's wishful thinking." He says the players have to be smart about what they do or say in terms of social media. "I just tell our guys that we have to be careful."
• Woodson said a lot of players "grab their phone" after the game before they even get in the shower.
• Woodson said he knows Bill Self "very well" and that they used to do some clinics together. "They're (Kansas) well coached and they're talented."
• Woodson said Kansas struggled with physicality against Tennessee and mentioned that IU has to do a better job rebounding moving forward.
• Woodson said IU put the bubble on the basket today at practice to work on rebounding. When Fischer asked if he was worried about injuries, Woodson said no. "Bob Knight never worried about it."
• Brian Walsh has the scout against Kansas, Woodson said.
Filed to: Mike Woodson