2022-23 Indiana basketball player profile: Tamar Bates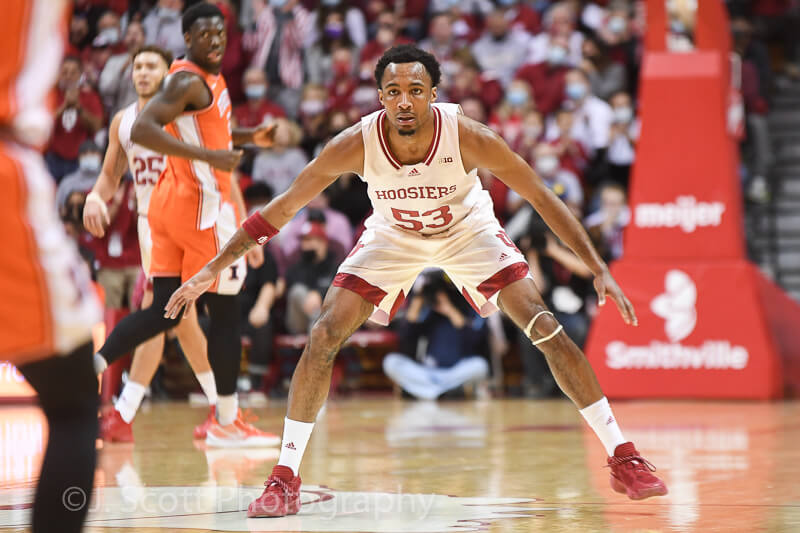 With the start of college basketball season on the horizon, we've transitioned from our look at other Big Ten programs to our player-by-player previews of the 2022-23 Indiana roster.
Today, our player profiles continue with a look at sophomore Tamar Bates.
Previously: Malik Reneau, CJ Gunn, Jalen Hood-Schifino, Kaleb Banks
Tamar Bates' freshman campaign started out with promise.
During Indiana's two exhibition games in the Bahamas, he scored a total of 25 points off the bench. And in Indiana's third win of the season against St. John's, Bates came up big with 11 points on 5-of-10 shooting to help the Hoosiers eek out a two-point victory. Bates followed up the St. John's performance with 10 points against Louisiana. A week and a half later, Bates scored in double-digits again (13 points) in Indiana's first game of the Big Ten season, a win against Nebraska.
But as the season went on, Bates, a 5-star recruit who came in with high expectations, started to fade from the rotation. After logging 24 minutes in that Nebraska win, Bates played 24 minutes in total during a January stretch of Big Ten games against Penn State, Ohio State, Minnesota and Iowa. And he only scored in double-digits once more the entire season, posting 13 points against Michigan State in a loss on Feb. 12.
So what must Bates improve upon this season to be a consistent contributor in the rotation?
More sound play on the defensive end of the floor is a good start. Mike Woodson demands a certain level there from his players and Bates struggled with concepts and general awareness at times as a freshman, which meant Woodson trusted him less than others. Bates has put on weight this offseason, which could help him be more impactful on defense in a rough-and-tumble Big Ten. A full year-plus in Woodson's system could also be of benefit.
"I feel just like having that experience, that year under my belt, will just help with everything," he said this offseason.
Bates never lacked confidence shooting the ball last season, but the numbers weren't great. He had the lowest offensive rating on the team among regulars besides Rob Phinisee and Khristian Lander, who both transferred this offseason. While he was a strong free-throw shooter (20-of-24, 83.3 percent), Bates shot just 37 percent on 2s and 29.8 percent on 3s for the season. In conference, those numbers dipped to 25.6 percent and 27.3 percent, respectively.
Save for its end-of-season jump, Indiana's offense could get stale last season. Bates' ability to freelance did at least give Indiana another option, but the numbers proved it wasn't an efficient option. And he often wasn't helped by substitution patterns, as he played with the second unit instead of getting easier looks in a lineup with a majority of starters. Playing with the second unit allowed defenses to pay more attention to Bates.
But what Bates can become on offense makes him perhaps the biggest X-factor on the team heading into the 2022-23 campaign. A big jump from the IMG Academy product as a sophomore could go a long way to Indiana fulfilling its preseason projections. The Hoosiers have needed wing talent the last couple seasons and have lacked players that can create their own shots, put it on the deck, play make and score at all three levels. Bates has the skillset and ability to grow into such a role.
Bottom Line: With a 3-point contest win under his belt this offseason, Bates has flashed some improvement. But to fulfill his expectations, the lefty will need to raise his game on both sides of the ball during real game action. If Woodson trusts him more on defense and he's able to play in a lineup with multiple offense threats, the situation will be there for Bates to shine. But it'll be up to him to punch through to the next level and prove he can be a consistent rotation piece as a sophomore.
Quotable: "As soon as I saw her, it was kinda just like a flip switched. Cause it's like now, everything that I'm doing, all of the work that I'm putting in, it's not just for me anymore. I'm trying to provide for her and my family. So getting up on those early mornings, late nights, doing everything that I have been doing, but just with a lot more focus, just because, I have a new purpose, I would say." — Bates in late July talking about his daughter's impact on him
Filed to: 2022-23 season preview, Tamar Bates