Tamar Bates opens up about fatherhood: 'I have a new purpose'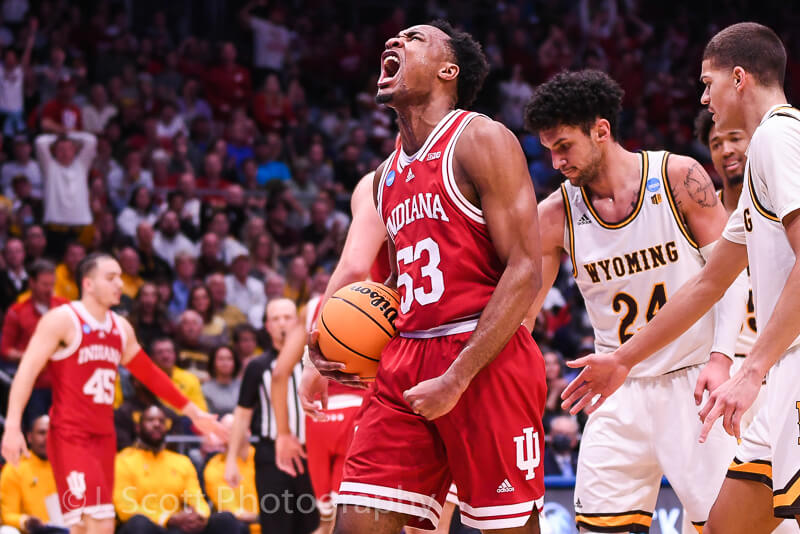 Tamar Bates left early in the morning. He flew from Portland to Utah and then home. That was on March 18. The day before, Indiana's 2021-22 season came to a close. For Bates, his first season at IU wasn't linear. As a team, Indiana had put together an exciting run toward the end of the season. Indiana had beaten Wyoming in the First Four, marking the Hoosiers' first NCAA tournament victory since 2016. Then Indiana lost to Saint Mary's in the Round of 64. That was on March 17. Bates left early the next morning, flying from Portland to Utah and then home.
On March 20, Bates became a father when Leilani Nicole Bates was born.
"As soon as I saw her, you know, it was kinda just like a flip switched," Bates said Thursday via Zoom. "Cause it's like now, you know, everything that I'm doing, all of the work that I'm putting in, you know, it's not just for me anymore. You know, I'm trying to provide for her and my family. So, you know, it's just like, getting up on those early mornings, late nights, you know, doing everything that I have been doing, but just with a lot more focus, just because, you know, I have a new purpose, I would say."
This is Bates, having been a father for more than four months now. He has the chance to be a key part of Indiana's success during the 2022-23 season, and is a candidate to be a breakout player. For someone that has often presented himself with wisdom beyond his years, Bates seemed to speak Thursday with even more perspective.
"I mean, I feel like just like the basic things and especially like being a dad, like I'm learning as I go," Bates said. "And you know, she's four months old, so there's only so much that she can do. But, you know, as she continues to get older, and, you know, I'm her dad and I'm just teaching her, you know, just like simple stuff and like things that we want to live by like as a family."
Ranked 30th nationally in the 2021 class, according to the 247Composite, there were high expectations for Bates entering his first season at IU. In high school, Bates had originally signed with Texas but reopened his recruitment after Shaka Smart departed from the Longhorns for the head coaching job at Marquette. Bates' commitment to IU marked a major recruiting win for Mike Woodson and his staff.
But Bates' first season at IU was riddled with underwhelming production and challenges. Bates missed the Dec. 18 Crossroads Classic game against Notre Dame to go home for a family funeral. In February, Bates was one of five IU players that were suspended for Indiana's game at Northwestern. By the end of the season, Bates had largely fallen out of playing major minutes. Still, there were moments throughout the season where Bates flashed his potential. Bates had 11 points in Indiana's November win over St. John's. He had 13 points in Indiana's February road loss to Michigan State.
"I mean, I feel like the only thing that could really prepare you for college basketball is college basketball," Bates said. "…So I feel like, you know, just going through that storm and, you know, I came out…obviously just a stronger basketball player but just I came out just stronger mentally… So I feel just like having that experience, that year under my belt, will just help with everything. Because other than that, you know, I'm a basketball player and like I said, 'shooters shoot.'"
Bates can be an important part of Indiana's potential success for multiple reasons. For one, he could help Indiana's 3-point shooting, which has been a recurring struggle over recent seasons. Bates' 29.8 percent shooting from deep last season likely doesn't do justice to the production he could put up. It's not only shooting but also, from a broader perspective, his ability to score the ball at a high level. Should Bates become a reliable scoring option, it would be a significant development.
Bates was recently talking with one of the graduate assistants about the role of Andrew Wiggins, who won a 2022 NBA Championship with the Golden State Warriors. Bates said they talked about how Wiggins' career and role have been "put under a brighter light now" because he had a large role on a winning team.
"He (a graduate assistant) was just asking me, you know, 'how can you have a role like that to impact a winning team?' I feel like, you know, just doing… what I do," Bates said. "Like not getting outside of myself. And like I said… I can be really good offensively, be good defensively. But I feel like, you know, one of my biggest skills is just… having… energy and just always being ready to compete, you know, just my competitive spirit."
Another promising sign is that Bates said he's up to 200 pounds. Bates said this summer his daughter hasn't been with him in Bloomington, rather she has been home with her mother and Bates' parents. Indiana has a legitimate chance to win a Big Ten title during the 2022-23 season. Perhaps Bates, who has a"new purpose", could be a difference-maker for the Hoosiers.
"I feel like, you know, just me saying that I have a new purpose… cause before, I was just — all my motivation and everything, obviously like from losing family members and just like, you know, me wanting to accomplish my dreams," Bates said. "But now my dreams become her dreams, so and the rest of my family's, and you know, just knowing it's not just myself that I'm trying to do this for. You know, I'm doing this for not only Leilani but my girl, my family, my parents. And, you know, the fact that she's mine — like, you know, I already have my family — but this, she's my responsibility. So, you know, it's on me to make sure that she's taken care of."
Filed to: Tamar Bates