2022-23 Indiana basketball player profile: CJ Gunn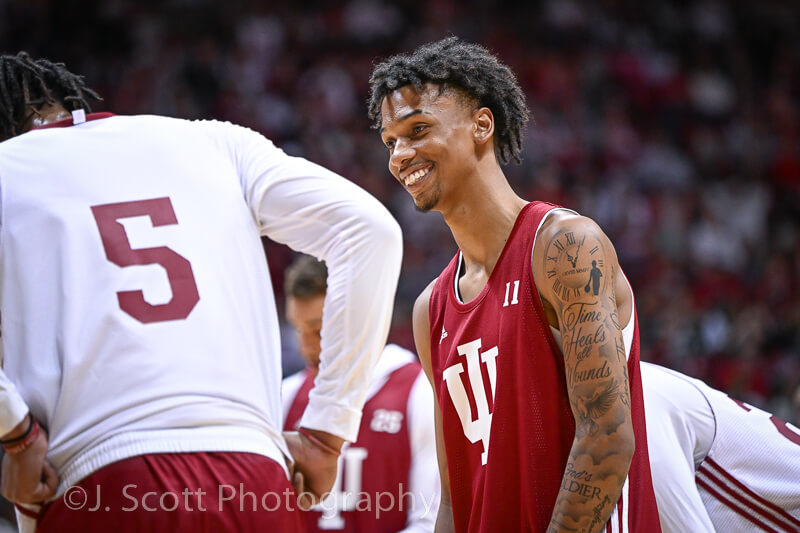 With the start of college basketball season on the horizon, we've transitioned from our look at other Big Ten programs to our player-by-player previews of the 2022-23 Indiana roster.
Today, our player profiles continue with a look at freshman CJ Gunn.
Previously: Malik Reneau
It was just a bike ride away.
CJ Gunn remembers him and his sister, Lauren, riding to an elementary school playground in Fishers, Indiana. For the next two or three hours, CJ and Lauren would exchange in heated one-on-one matchups officiated by their father, Chris — most of which ended in tears, bloodshed or scratch marks. The older Lauren typically got the best of him.
Gunn has had that hard-nosed competitive itch his whole life. And now he brings it to Indiana.
Gunn enters his freshman season as the last remnant of Archie Miller's tenure at Indiana. Gunn, who committed to Indiana in February of 2021, never wavered after Miller's firing and stayed true to his commitment when Mike Woodson was brought on board. Gunn was Miller's lone commitment in the class of 2022.
Towards the end of Miller's tenure, you wouldn't have thought Indiana would end up with 2022's ninth-best recruiting class in the country, according to 247Sports. After Woodson's arrival, Gunn was joined by three top-100 recruits — Jalen Hood-Schifino, Malik Reneau and Kaleb Banks. All four newcomers should provide quality depth on Indiana's roster.
The Indianapolis native and Lawrence North product became a consensus top-200 prospect nationally after averaging 23.5 points and 5.5 rebounds while being named an Indiana All-Star in 2021-22. Gunn's scoring drastically improved from his junior to senior season.
As a junior, he averaged 13.9 points a game, making his scoring average nearly a 10 point increase year over year. Gunn shot 37.4 percent from beyond the arc his senior season and left Lawrence North as the all-time leader in points per game average.
In the Indiana-Kentucky All-Star game, Gunn was named MVP after scoring 21 points and leading his team to a 101-81 victory over the Bluegrass state.
With a 6-foot-6, 186 pound frame, Gunn has the size to be a lethal three-level scorer. Over the summer, Gunn mentioned how Indiana's weight-training staff wants him to get up to 200 pounds at the start of the season. While he has a freshman body, Gunn could easily find time in the rotation if he's knocking down shots.
Gunn told Inside the Hall at media day that his biggest challenge so far this year has been learning how to bring the ball up and working around ball screens.
"We're going to see hundreds of ball screens during a game, so learning how to guard and be a part of the ball screens is going to be an important thing," Gunn said.
Gunn's lengthy frame should help him defend reasonably well as a two-guard and he says it's important to him to be a two-way player. The guard's defense might be the most underrated part of his game. Gunn averaged 1.5 steals his senior year and has excellent lateral quickness when keeping with defenders. But when asked what ways he and the other freshmen can improve in most, he mentioned defense.
"I grew up always having that dog in me on both ends of the floor," Gunn said. "It's really important to me to be a two-way player and not only be the best player on the offensive end, but to also guard the best player on the other team."
Gunn's adjustment to Bloomington has been full of trips to the bowling alley and Madden tournaments with his teammates. But, in a couple of years, we could see Gunn as one of the best scorers in the Big Ten and more than just a shooter.
Bottom line: Gunn's ball skills will need to improve if he wants to become a true three-level scorer in his time at IU, but he gets a ton of elevation on his jumpers and uses his quickness well when coming off of ball screens. Strength will be an issue when attacking the rim, but it is for most freshmen in the Big Ten. If Gunn can defend at a high level and shoots at a high clip, it'll be hard not to have him see time off the bench.
Quotable: "The only time I had questioned was the time period when Archie got fired and before we knew who the head coach was gonna be…but once we heard Mike Woodson was going to be the coach there was no doubt in my mind that I wanted to play for him…I believe he can turn me into my best version of myself." – Gunn on a media availability over this past summer.
Filed to: 2022-23 season preview, C.J. Gunn