CJ Gunn's two-way skill set makes him an intriguing part of Indiana's future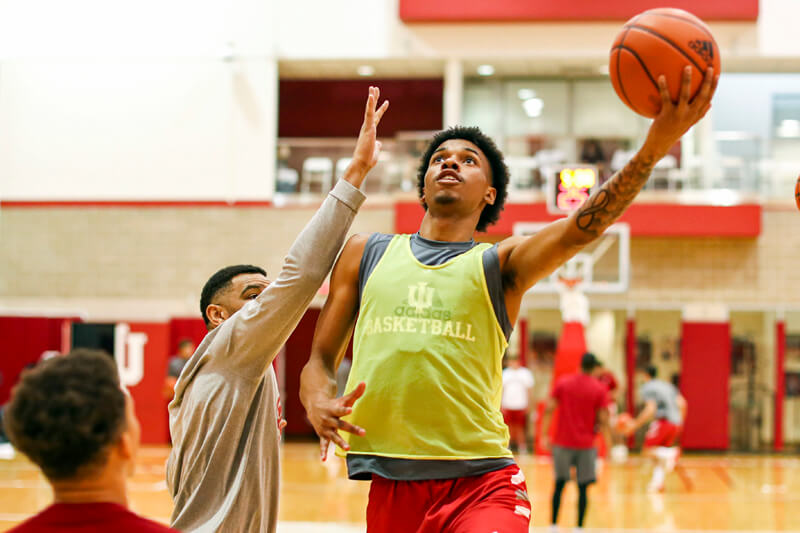 CJ Gunn wanted to guard Emoni Bates. Indy Heat 17U head coach Ryan Owens knew it, because Gunn told him so. It was April 2021, in between Gunn's junior and senior high school seasons. Gunn's Indy Heat team was playing against Bates and his squad, Bates Fundamentals. Bates, for those that don't know, was a highly-touted recruit and had been on the cover of Sports Illustrated. Gunn, though, wanted to guard him. "Like 'Coach, put me on him. I got him,'" Owens recalled Gunn saying. Owens said Gunn wanted to guard the opposing team's best player every game.
That game against Bates Fundamentals, Gunn and his teammate Tae Davis were the main players that guarded Bates. During a defensive possession, Bates, who was shadowed by Gunn, went right, but Gunn walled up to prevent a drive. Bates spun left, but Gunn was there again. Then Bates picked up his dribble and pirouetted, attempting a shot over his right shoulder, but the ball was knocked away by Gunn. Bates gathered the ball back but was surrounded by Gunn and one of his teammates. Bates subsequently turned the ball over. "He did a fantastic job," Owens said of Gunn's overall defensive performance that game against Bates. Indy Heat won that game.
"I just remember him really, really looking forward to the challenge," Owens said. "And it wasn't even about scoring points. It was just all about getting stops with CJ. That's when I knew he had a chance to be special. Most kids at his age think about points, how many shot attempts they can get, how many dunks. He was thinking about how many points his opponent was getting… Not every kid has that type of mentality."
Gunn is now preparing for his first season at IU. The shooting guard from Lawrence North High School in Indianapolis has racked up numerous achievements, including being the program's all-time leader in points per game average. However, Gunn — ranked 172nd in the 2022 class, according to the 247Sports Composite — comes in with less hype nationally than others in his recruiting class. Regardless, Gunn's two-way skill set makes him an intriguing part of Indiana's future.
"I grew up always having that 'dawg' in me on both ends of the floor," Gunn said Thursday via Zoom. "And I feel like it's really important to me to be a two-way player and not only be the best player on the offensive end, but to also guard the best player on the other team."
Gunn said his competitiveness was instilled by his father, Christopher. Growing up, Gunn and his older sister, Lauren, played one on one at an elementary school playground. "Probably for about two, three hours out there," Gunn said. They scratched each other. They made each other bleed and cry. They stirred about calls. When Gunn was "probably around like 12," he said, Lauren wouldn't beat him anymore.
"He (Christopher) taught… me and my sister growing up to always be competitive," Gunn said. "And I feel like that competitive drive, even going against my sister when I was little, that competitive drive that I've always had just growing up that he's implemented in me, it has definitely stayed with me to this day."
You can learn a lot about Gunn from watching him play basketball. You can also learn about Gunn from when he's not playing basketball. In July 2021, Gunn broke his wrist while playing with the Indy Heat. But even when he was sidelined from playing, Gunn still attended the games. He helped with the scouting reports. He watched film. He yelled from the sideline during games.
"He just put on a different helmet, a different hat to help the team," Owens said.
Even before getting to IU's campus this year, Gunn already had to deal with change in the program. He initially committed to IU in February 2021, when Archie Miller was still the head coach. But Miller was fired after Indiana's 2020-21 season. Gunn said the only time he questioned his decision was in the time between when Miller was fired and when Woodson was hired. But not long after Woodson was hired, Gunn's commitment was reaffirmed.
"We know some of coach Woodson's family through friendships and relationships," Gunn said. "… Once we heard Coach Woodson was going to be the coach, there was no doubt in my mind that I wanted to play for him, as he's a legend at IU, and just a legend, a legendary NBA player, NBA coach. So I believe he can… turn me into the best version of myself."
It's difficult to forecast exactly how much playing time Gunn will get during the 2022-23 season, especially since he's a freshman and part of what could be a competitive backcourt rotation. But Gunn's versatility seems to make him an important part of Indiana's future — whether that be in the short or long term. He has the potential to help alleviate Indiana's shooting woes, which have been a recurring issue in recent seasons. During his senior season at Lawrence North, Gunn shot 37.4 percent from three.
"Not all days are good days. Not all days are bad days," Gunn said. "But it's just all about lifting each other up and keeping a positive mindset and looking at the end goal. And just treat every day to get better."
Filed to: C.J. Gunn