6-Banner Sunday: Is Jordan Geronimo poised for a breakout season?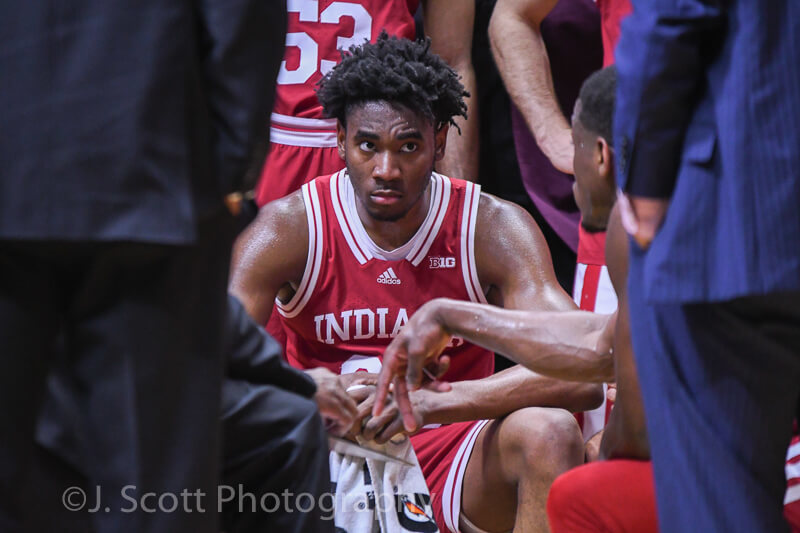 6-Banner Sunday is Inside the Hall's weekly newsletter in partnership with The Assembly Call. More than 9,000 Indiana fans receive the newsletter each week. In addition to appearing each week on the site, you can also opt to receive 6-Banner Sunday by email. A form to subscribe via email is available at the bottom of this week's 6-Banner Sunday.
Welcome to another edition of 6-Banner Sunday, a joint production between The Assembly Call and Inside the Hall where we highlight the five most essential IU basketball stories of the past week, plus take a look at how the other IU sports programs are doing.
We're one week closer to the fall semester getting underway in Bloomington which means we're one week closer to the start of another season of Indiana basketball.
In this week's 6-Banner Sunday, we'll take a look at several of IU's non-conference opponents for next season and also bring you the latest on Jordan Geronimo, who should be a pivotal piece of Indiana's frontcourt rotation next season.
• Is Jordan Geronimo ready to breakout?
• 2023 Indiana Basketball Recruiting Board update
• Non-conference opponent previews
• Potential changes to transfer rules in Division I
• Assembly Call Radio and Doing the Work
• Hoosier Roundup
Banner #1 – Is Jordan Geronimo ready to breakout?
This summer, we've heard from several of IU's returning players as well as all four freshmen. This past week, it was time for Jordan Geronimo to meet the media and discuss his offseason progress.
In a 15-minute press conference, Geronimo discussed how he's expanding his game, his position for next season, why he opted to come back next season and several other topics.
Inside the Hall's Tyler Tachman recapped a lot of what Geronimo had to say and also attempted to answer a question on the mind of many IU fans: Is Jordan Geromino ready to breakout?
Banner #2 – 2023 Indiana Basketball Recruiting Board update
Inside the Hall updated its 2023 Indiana Basketball Recruiting Board on Tuesday, which included some reshuffling of the order of prospects, some updated notes, updated recruiting rankings and more.
The Hoosiers are already off to a strong start in 2023 with commitments from Jakai Newton and Gabe Cupps, but are still heavily pursuing several prospects to round out the class.
At this point, Indiana is heavily recruiting five guys in the class of 2023: Jamie Kaiser Jr., Arrinten Page, DeShawn Harris-Smith, TJ Power and Xavier Booker.
Kaiser Jr., Page and Harris-Smith are all scheduled to visit Indiana soon. The Hoosier staff is hoping to get Power on campus next month and Booker, the talented Cathedral big man, is set to announce his top list of schools on July 25.
Banner #3 – Non-conference opponent previews
Indiana released its full non-conference schedule back on July 1 and Inside the Hall is going team-by-team through the opponents this summer.
To begin the series of non-conference opponent previews, Amanda Foster took a look at Morehead State while William McDermott gave insight on Bethune-Cookman and Xavier.
The most notable of those opponents, of course, is Xavier. The Hoosiers will travel to Cincinnati on November 18 to take on the Musketeers in the 2023 Gavitt Tipoff Games. It could be an opportunity for a top 25 win.
Banner #4 – Potential changes to transfer rules in Division I
In what could be a major change in college sports, the NCAA Division I Council endorsed a plan that would eliminate a blanket rule that prohibits transferring more than once.
The proposal still has to be adopted by the Division I Board of directors in August.
If that happens, it would allow student-athletes to transfer an unlimited number of times without sitting out if certain conditions are met. Current rules allow for one transfer without sitting out or requesting a waiver.
Banner #5 – Assembly Call Radio and Doing the Work
Both Assembly Call Radio and Doing the Work had new episodes this week.
On Assembly Call Radio, Jerod Morris, Brian Tonsoni and Ryan Phillips were joined by Chris Williams, who runs the IU Artifacts Twitter account, for some Hoosier Trivia.
On Doing the Work, Kathy Amos and Jeff Marlow were joined by Austin Render, the play-by-play voice of IU women's basketball.
Banner #6 – Hoosier Roundup
• Baseball had several MLB draft picks including right-handed pitcher Jack Perkins, who went in the sixth round to the Oakland Athletics. Right-hander Bradley Brehmer was taken in the 12th round by the Baltimore Orioles and right-hander Reese Sharp was also picked by the Orioles in the 20th round.
• Running back Shaun Shivers was named a preseason candidate for the Doak Walker Award. Quarterback Jack Tuttle was nominated for the American Football Coaches Association GOod Works Team.
• Wrestling's Tyler Lillard earned All-American honors in the 2022 U.S. Marine Corps junior national championships.
• Sixteen women's water polo athletes were named to the ACWPC All-Academic team.
• Rowing's Laura Feinson, the Big Ten rowing athlete of the year, was named to the Pocock Racing Shells Honorable Mention All-America team.
• Two breaststroke swimmers with ties to Indiana swimming and diving were named to USA Swimming's 2022 Duel in the Pool roster last week.
Thanks for your continued support for The Assembly Call and Inside the Hall. We'll be back next weekend with a new roundup.
Now go enjoy yourself a 6-banner Sunday.
Alex Bozich
Filed to: