Jordan Geronimo is expanding his skill set. Is he primed to have a breakout 2022-23 season?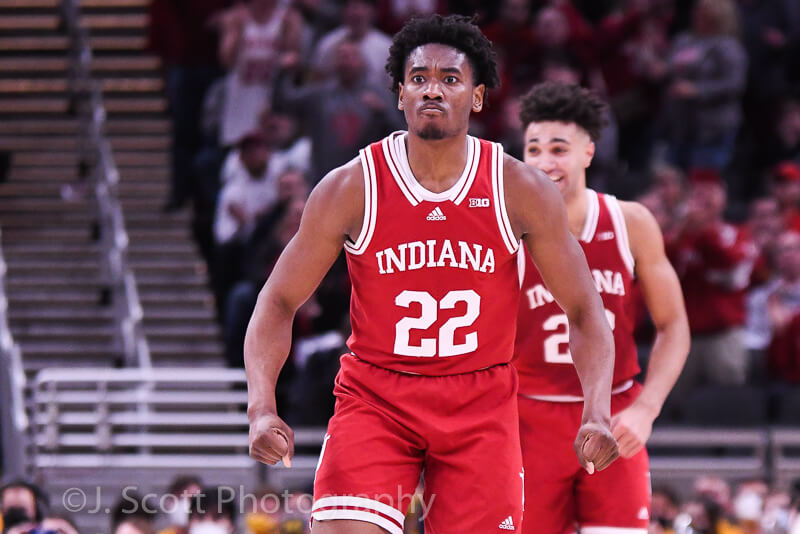 There have been these moments. You may have seen them. Take, for instance, Indiana's win at Iowa in January 2021. Jordan Geronimo, in his first college season, was an important part of Indiana's upset, bringing energy, scoring seven points and guarding Luka Garza. Then last season, Geronimo's second season in college, there was Indiana's First Four game against Wyoming in the 2022 NCAA tournament. Geronimo, had 15 points and seven rebounds off the bench to help Indiana win its first NCAA tournament game since 2016. The Hoosiers may not have won that game against Wyoming without Geronimo's performance.
Those are just some examples. There are more.
As he enters his third season with the Hoosiers, there are many reasons to be excited about Geronimo. He has incredible athleticism. He's listed on IU's roster at 6-foot-6 and 220 pounds. That frame, too, is chiseled. And there have been flashes of what Geronimo can do. It hasn't, however, been on a consistent basis. This has been the story. Potential, potential and more potential.
Perhaps the big question is: will Geronimo have a breakout 2022-23 season?
The key to reaching his full potential, Geronimo said, is more from a "mental kind of standpoint."
"I'm already athletic," Geronimo said Tuesday via Zoom. "I feel like if I was to always just be consistent and keep pushing myself and play hard every single time, that athleticism is going to like, shine, you know what I mean. So I feel like the next step into improving my game or showing my actual game is just being positive, always having like a battery, always just trying to, you know, make the extra play, you know what I mean. I feel like that would really show my potential."
What makes this storyline intriguing, too, is that Geronimo is working to expand his skill set. He spent most – if not all – of the first two seasons at IU playing as an athletic, stretch four. But now, Geronimo is working on expanding his game "to the point where I can play the three and the four," he said.
"During this off-season, I'm really just working on — or I have seen improvement in just making the right decision on the perimeter and just, you know, also my jump shot has been… getting better," Geronimo said. "Also, you know, handles getting better."
Geronimo later added: "On-ball, meaning like I'm getting better at just, you know, knowing when to try to attack, knowing when to shoot the ball, knowing when to pass the ball, you know what I mean. And that's the on-ball kind of stuff. Off-ball, just knowing when to cut, knowing when to set some actions like down screens, off-ball screens, something like that… Those are the kind of improvements that I mean when I say… I'm getting better in decision-making."
Strictly based on his physical build and athleticism, Geronimo fits right into what has become the modern, versatile wing. Geronimo said he likes to watch De'Andre Hunter of the Atlanta Hawks. Geronimo said he also watched Hunter during his time at UVA.
In order for Geronimo to effectively be able to play the three, he'll need to display those improved perimeter skills. We haven't seen him handle the ball much in games. During his college career, he is a 33.3 percent 3-point shooter on 39 attempts. There is also the matter of doing more guard-centric movements. For instance, Geronimo said, stopping the ball in transition and fighting over ball screens. Regardless of what position Geronimo plays the most during the 2022-23 season, Indiana has a lot of competition for playing time.
The fact that Geronimo is here, at Indiana, is a win for the program. Following Indiana's 2020-21 season (Geronimo's first season in college), Archie Miller was fired. Geronimo entered the transfer portal, but ultimately decided to stay at Indiana. Geronimo could've also left the program after playing 12.6 minutes per game last season. But he didn't even enter the transfer portal following the 2021-22 season, electing to stay at Indiana.
"Well, the ultimate factor of me coming back was I have trust in, you know, Mike Woodson and I have trust in the program that, you know  — like it's bigger than myself, really," Geronimo said the decision to return for his third season at IU. "Like, you know, I want the program to be successful and to — we're fighting for a championship. We're fighting for that, you know what I mean. So I want to be a part of that program, and seeing other players that came in, everybody that's coming back, and I'm like, I feel like it's something I… (can't) be… not a part of. And so, I trust the coach and I trust the staff, the players, and I feel like it's a good decision to come back."
Geronimo's career statistics at IU aren't overly impressive: 3.5 points and 2.9 rebounds per game in 55 appearances and zero starts. But there is enough evidence to suggest that Geronimo is capable of much, much more. The extent to which Geronimo's development comes to fruition could be among the factors that decide whether the Hoosiers capture a Big Ten title.
Filed to: Jordan Geronimo