6-Banner Sunday: Indiana-North Carolina set to headline Big Ten-ACC Challenge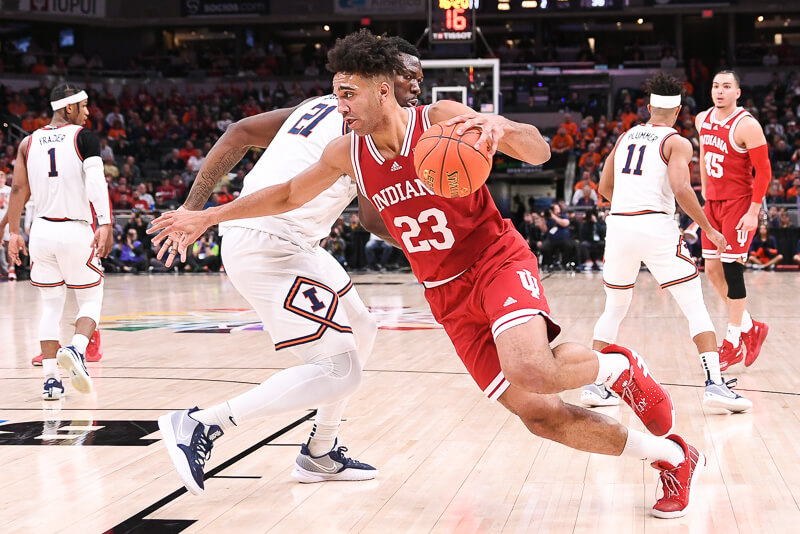 6-Banner Sunday is Inside the Hall's weekly newsletter in partnership with The Assembly Call. More than 9,000 Indiana fans receive the newsletter each week. In addition to appearing each week on the site, you can also opt to receive 6-Banner Sunday by email. A form to subscribe via email is available at the bottom of this week's 6-Banner Sunday.
Welcome to another edition of 6-Banner Sunday, a joint production between The Assembly Call and Inside the Hall where we highlight the five most essential IU basketball stories of the past week, plus take a look at how the other IU sports programs are doing.
One story stood way out above the rest this week. The announcement of IU's opponent in the Big Ten-ACC Challenge occurred and it is a matchup that will very much excite Hoosier fans with another top-flight non-conference game.
Besides this, some other minor news items happened in the last few days. This included a newcomer to the program meeting with the media for the first time, Inside The Hall taking an in-depth look at another freshman, a couple of recruiting nuggets, and Assembly Call's weekly radio show.
We will conclude with a look at headlines from other IU sports led by some news from the women's basketball program.
• IU to face UNC in Big Ten-ACC Challenge
• Jalen Hood-Schifino meets with the media
• Freshman Focus: Kaleb Banks
• Recruiting news
• AC Radio
• Hoosier Roundup
Banner #1 – IU to face UNC in Big Ten-ACC Challenge
Although the Hoosiers have the worst winning percentage among all teams in the event, the Big Ten-ACC Challenge has had some really exciting matchups for IU before conference play. Also, the Cream and Crimson have done far better in the event at Assembly Hall as a result of raucous environments.
This year will be another exciting atmosphere when potential preseason number one and ACC favorite UNC visits Big Ten favorite Indiana on Wednesday, Nov. 30. IU has had a lot of success with the Tar Heels in the challenge going 3-1 against them in the event. While good North Carolina teams have come to Bloomington before, the one next year may be the best yet as four of the five starters from last year's national runner-up squad are back.
The featured matchup will be at center where arguably the two best in the whole country at their position will battle. While they may be good friends off the court, UNC's Armando Bacot and the Hoosiers' Trayce Jackson-Davis will be the focal point for both sides that night. Besides Bacot, UNC also returns Caleb Love, RJ Davis, and Leaky Black who all played a huge role in the Tar Heels' deep tournament run last season.
With the addition of North Carolina to the schedule, Indiana now has at least three top-notch opponents on their non-conference slate as a result of the previously known games against Arizona and Kansas. IU may have one more big contest in November to add to their pre-Big Ten opponents when the Gavitt Tipoff Games matchups between the Big East and Big Ten are announced in the coming weeks.
Banner #2 – Jalen Hood-Schifino meets with the media
Fans have high expectations that incoming five-star recruit Jalen Hood-Schifino will play a big role and contribute immediately as IU chases a Big Ten title in 2022-2023.
This week Hood-Schifino met with the media for the first time to discuss his adjustment to the college game and the team's high expectations. Also, Inside The Hall's Tyler Tachman had a feature story about him after his Zoom availability on Thursday.
Banner #3 – Freshman Focus: Kaleb Banks
Inside The Hall continued its' Freshmen Focus series this week. The newcomer detailed this time by Alex Bozich was the incoming Kaleb Banks.
The article discusses assistant coach Yasir Rosemond's role in getting Banks to come to IU and the relationship between the two. It also talks about his high school career and what his role on Indiana's team could be next season.
Banner #4 – Recruiting news
The offseason is always a big time for recruiting and two of IU's top targets for the future were featured.
A highlight video of 2023 prospect Coen Carr was released this week. Carr is a priority for the Hoosiers in this class as he ranks in the top 60 according to 247Sports and would fill a position of need in the frontcourt.
Another prospect to have highlights come out in the last few days is Jamie Kaiser Jr. who IU is also after. Kaiser ranks in the top 80 nationally per 247Sports and has many power-five offers already. Also, Tachman had a Q & A with Kaiser this week to get more insight on him.
Banner #5 – AC Radio
After missing the reveal of IU's Big Ten opponents by one day on the previous show, Assembly Call Radio broke that down this week as Brian Tonsoni and Andy Bottoms were joined by special guest Griffin Gonzalez.
Podcast On The Brink and Doing the Work took time off and did not have new episodes.
Banner #6 – Hoosier Roundup
Women's basketball took center stage this week with a couple of big stories that occurred.
• Women's basketball announced a major renovation to their team center. Also, head coach Teri Moren won a gold medal as an assistant coach for Team USA's U18 squad.
• IU Athletics is celebrating 50 years of Title IX this upcoming season.
• The athletic department also announced academic achievement awards that will benefit its athletes financially.
• Former Hoosier swimming and diving star Lily King won a world title.
• Track and Field kicked off their summer competition.
• Nine IU rowers became CRCA Scholar-Athletes
Thanks for your continued support for The Assembly Call and Inside the Hall. We'll be back next weekend with a new roundup.
Now go enjoy yourself a 6-banner Sunday.
Aaron (Ari) Shifron
Assembly Call Contributor
Filed to: