Jalen Hood-Schifino brings competitiveness, versatility to Indiana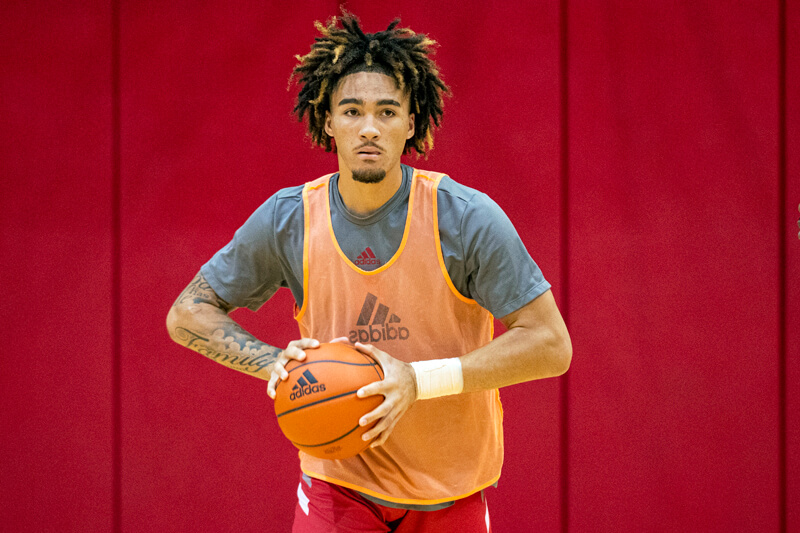 Growing up, Jalen Hood-Schifino played basketball in his grandparents' backyard. He played against his older cousins, Sherron and DeAndre Schifino. DeAndre Schifino would end up being a member of the University of Pittsburgh's football team. Sherron Schifino would end up playing college basketball (and still currently is). Sherron and DeAndre Schifino's friends — who were also older than Hood-Schifino — played with them, too. "I was always the young kid," Hood-Schifino explained on Thursday via Zoom. When he was younger, Hood-Schifino got dominated by the older competition.
Eventually, though, Hood-Schifino caught up. Hood-Schifino said when he was 12 years old, he was able to compete with them. Then, Hood-Schifino said, probably when he was in eighth and ninth grade, he started to win some games.
"It got to a point where, you know, I got good and I was able to compete with them," Hood-Schifino said. "So it just helped me and it like really bred me into who I am now."
And now?
"It's like, you know, I don't lose no more," Hood-Schifino said with a laugh.
Hood-Schifino, who is now preparing for his first season at IU, is a highly-touted prospect. He arrived at IU with an already impressive basketball résumé. He helped Montverde Academy win back-to-back GEICO Basketball Nationals titles (2021 and 2022). He played in the 2022 Jordan Brand Classic. In the spring, he spent some time working out in California with professionals, including the Los Angeles Clippers' Paul George. As Hood-Schifino has begun his transition to IU, his two seasons at Montverde have helped the adjustment.
"The everyday grind at Montverde, people don't really know what's, you know, put into it, like the practices," Hood-Schifino said. "It's almost like a college practice; you're practicing three-plus hours every day, so it really prepared me for now… Now going through college, it's almost like I'm at Montverde but at a college level."
Part of the intrigue of Hood-Schifino's game is his versatility. He's a two-way player. Some of that can be traced back to those games in his grandparents' backyard when he'd get dominated. "I always took it to heart," Hood-Schifino said. "So as I, you know, growed up, I always wanted to, you know, be the best defender and make sure no one ever got the best of me."
Hood-Schifino also already has a physical frame — he's listed on IU's roster at 6-foot-6 and 215 pounds. He has the potential to play both on and off the ball. He said he likes looking at Jason Kidd's and Kobe Bryant's highlights along with current players Chris Paul, Devin Booker and Luka Doncic.
"I'm definitely a true point guard," Hood-Schifino said. "But at the end of the day, I'm a basketball player. I'm versatile. I can play wherever the coach needs me to play, but, you know, I'm definitely a point guard. I love getting my teammates involved, love leading."
There is the potential for Hood-Schifino to play alongside Xavier Johnson, which could make for a dynamic duo. Johnson played some stretches of phenomenal basketball last season. Before Hood-Schifino arrived at IU, the two already had a prior relationship. Hood-Schifino is originally from Pittsburgh, Pennsylvania and Johnson played three seasons at Pittsburgh before transferring to IU. Hood-Schifino said they had previously been in contact through Instagram and also had played pickup together.
"For me, you know, playing alongside Xavier Johnson — that'd be great," Hood-Schifino said. "I think we both compliment each other's games pretty well."
Intangibles can sometimes be somewhat of a buzzword, but it seems like Hood-Schifino possesses them. He speaks with maturity. On Thursday, he acknowledged the importance of being vocal at the point guard position in college. Hood-Schifino said he has watched film of other members of his recruiting class, how Mike Woodson coaches and the different schemes.
"Last year, I like to, you know, see how they played, you know, how Coach Woodson coaches and everything just to see where I can fit in," Hood-Schifino said. "And I still watch the games now to make sure I'm on top of everything, just looking at some of the defensive schemes, looking at the offense."
The combination of tangible and intangible characteristics could potentially make Hood-Schifino an invaluable part of an Indiana team that is among the favorites — if not the favorite — to win the Big Ten. Whether Hood-Schifino will perform up to expectations during the 2022-23 season is unknown, but right now there seem to be many promising indications.
"I'm still young, so I have to get better at everything," Hood-Schifino said. "I'm nowhere… near as good as I can be. Just keep working on everything. I think the next, you know, thing I really have to showcase is probably my 3-ball, which I'm in the gym every day working on it."
(Photo credit: Andrew Mascharka/Indiana Athletics)
Filed to: Jalen Hood-Schifino