Q & A: Class of 2023 wing Jamie Kaiser Jr. talks recruiting process, possible Indiana visit and more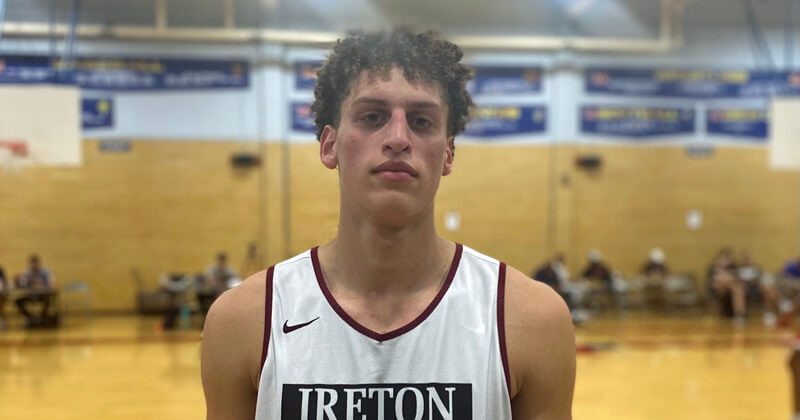 Class of 2023 wing Jamie Kaiser Jr. is "supposed to be taking" a visit "to Indiana soon" he told Inside the Hall.
The 6-foot-6, 200-pound wing attends Bishop Ireton High School in Virginia and plays for New World Basketball on the 3SSB (adidas) circuit. Kaiser Jr. is rated as a three-star prospect and ranks 168th in the 2023 class, according to the 247Sports Composite.
On June 5, Kaiser Jr. announced a top nine list that included Virginia, Indiana, Miami, Boston College, Iowa, Wake Forest, West Virginia, Maryland and Wisconsin. But UCLA has now been added to the mix, Kaiser Jr. said.
Mike Woodson was among the head coaches to have recently watched Kaiser Jr. play.
Inside the Hall spoke with Kaiser Jr. about his recruitment and more:
How has your recruitment gone overall?
"It's actually really blown up. It came — it all came in like the past two months. So it's really exciting."
Why do you think your stock has risen a lot?
"I mean, I played in one of the tougher conferences in the country (Washington Catholic Athletic Conference) and I did real well. I was the leading scorer in the conference and then I went to the adidas Gauntlet and did really good in those first two live periods and then that's when things started."
You announced a top nine list (Virginia, Indiana, Miami, Boston College, Iowa, Wake Forest, West Virginia, Maryland, Wisconsin), are those still the schools you're focusing on?
"I mean, yeah. UCLA jumped in the mix yesterday. So they'll be added on there. But that's the final list."
Who have you recently been in contact with?
"Indiana, Virginia, just mostly the schools in that top nine."
Where have you taken visits and when did take them?
"In the first week of May, I took one to Harvard and I took one to Wisconsin. And then I took one to Virginia and then I took one to Maryland."
Blessed to receive an offer to play basketball at Indiana University! #AGTG @MikeWoodsonNBA @IndianaMBB @gridironjrj @B_Walsh2 @coachjuan30 @Mikelew22 pic.twitter.com/HX26570Z2w

— Jamie Kaiser Jr (@J_Kaiser53) May 14, 2022
Are you planning on taking any more visits?
"Yeah, I'm supposed to be taking one to Indiana soon."
Do you know exactly when?
"No."
Do you have an idea for a timetable for a decision?
"Sometime in the fall."
How long have you been in contact with Indiana?
"Probably since early May."
Who do you talk with the most from Indiana?
"Coach (Brian) Walsh and coach (Kenya) Hunter."
What do you like about what they've been talking about and the relationship that you've been able to grow with them?
"That they got a lot of guys leaving so they got a bunch of spots open in my class, especially at my position. And they said I could play right away and, you know, have a big impact on the big stage."
Is there anything else that sticks out to you about the program?
"I mean, coach (Mike) Woodson, he's been in the NBA for 30-something years. He just, he knows what he's doing, so yeah."
Have you talked with him?
"Yeah, I talk to him all the time. Probably like twice a week."
What do you like about him?
"He's just (a) straight-forward guy. No BS. He likes to get to the point and just let me know what the word is."
How would you describe your game?
"Kind of like Devin Booker-ish, but like a little more intense."
Intense in what way?
"In like, you know, a little bit more physical, rebound a little bit more. But offensively, I think that's the kind of play style I have, you know… knock down open jumpers, get to the midrange, get to the basket, use my dribbling and, you know, just my skillset to get by people and just get to my spots. But I'm really aggressive on (the) defensive end and rebounding."
Do you have any interests outside of sports?
"Yeah, I mean, I like to go hang out with my friends, you know, go fishing. Just the usual, chill out, play some video games, watch Netflix."
Do you have any shows that you're watching now that you like?
"I started watching Stranger Things. I'm not finished with it yet, though."
Filed to: Jamie Kaiser Jr.