Freshman Focus: Kaleb Banks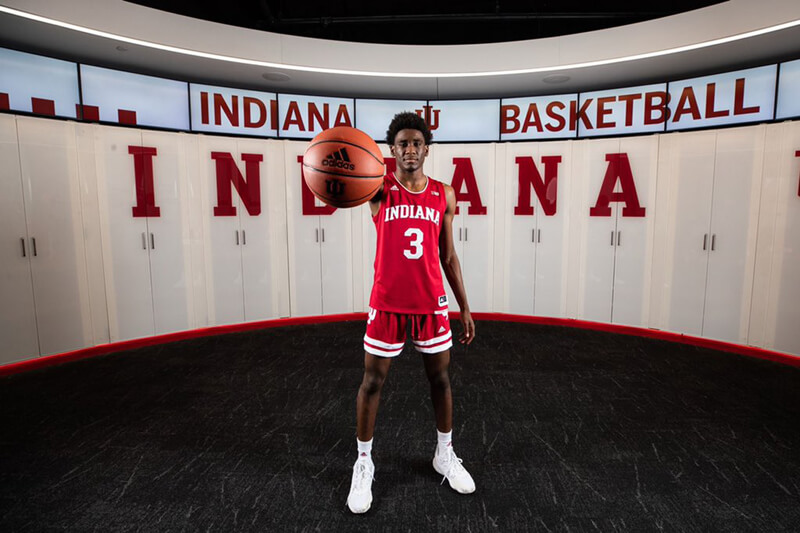 Less than four days after Indiana formally announced the hiring of Yasir Rosemond to the coaching staff, Kaleb Banks was already mentioning his relationship with Mike Woodson's new assistant as a primary reason for his interest in the Hoosiers.
Rosemond was announced as Indiana's third assistant coach on April 14, 2021. Less than two days later, Rosemond and Woodson were already on the phone, offering a scholarship to the rising senior from Hampton, Georgia.
Rosemond was touted as a high-level recruiter with deep connections in the south when he was hired. Banks was the first example of a recruit with who Rosemond had already established a strong bond before he was even hired at Indiana.
"Me and coach Rosemond have had a relationship for a year and a half now," Banks said. "He's someone I really trust. He used to train me a lot. He's easy to talk to and easy to relate to. He's always encouraged me and has always told me things I need to improve with my game. He's very knowledgeable about the game. He's given me a lot of advice about basketball and we've built a bond off of that."
The deep-rooted relationship between Banks and Rosemond quickly paid dividends for Indiana. In June of 2021, the Georgia wing made his first trip to Bloomington for an official visit.
It was clear that experience, coupled with the relationship with Rosemond, vaulted the Hoosiers to the top of his list of suitors.
"The facilities are state of the art. I love the intimate feel of Assembly Hall," Banks told Inside the Hall in June of 2021. "It's very unique. The other facilities are all state of the art and close together. I like that. A player's dream."
Just over five weeks later, Banks became the second class of 2022 prospect to offer his pledge to the Hoosiers, joining CJ Gunn of Lawrence North.
Gunn had committed during Archie Miller's tenure as Indiana's coach, which made Banks the first prep prospect to commit to Woodson in Bloomington.
The family atmosphere Indiana was able to present during the official visit was a major reason the Hoosiers were able to land a commitment from Banks, according to his mother, Kendra.
"Everybody we came in contact with, everybody just felt genuine," Kendra Banks told Inside the Hall last July. "And for him, I guess he felt like it was a place where he was at home and a place that he would want to learn and grow."
After a successful senior season at Fayette County High School where he was a part of a state championship runner-up team, Banks now must make the transition to college in a program with a lot of returning production in the frontcourt.
The process for integrating the freshmen, according to recent comments from Woodson, is going to be sped up as IU's second-year coach plans to rely on his newcomers to help win a Big Ten title next winter.
"They come from high school and are trying to learn the college game," Woodson explained in late May at Huber's Winery. "So I've got to help them speed the process up. I think that they are… they will play next year. They will be a big part of our rotation."
The 6-foot-7 forward averaged 23 points and 10 rebounds as a senior at Fayette County and was named the Class 4A player of the year in Georgia.
According to the most experienced Hoosier on the roster – Race Thompson – Banks is already standing out in early workouts this summer after arriving on campus in early June.
"Kaleb is a great player," Thompson said last Thursday. "Again, didn't really see him play in high school, didn't really know what to expect when he got here. He is very talented, big, big wing that can defend, can really shoot the ball, and score the ball at all three levels. I think that he'll be a really fun player to watch, and he's going to be really fun to play with because he can make shots and he can make plays for his teammates.
The key to Banks earning early minutes might be dependent on what he can bring as a shooter.
The 2022-23 roster is already well-stocked at the four and five positions, but Indiana needs better and more consistent shooting on the wing.
Miller Kopp is back as a potential starter and there's been talk of playing Jordan Geronimo at the three as well. Banks could also emerge as an option for minutes if he's able make perimeter shots with consistency.
As a senior at Fayette County, Banks shot 63 percent from the field and made 40 3-pointers.
"He's really impressed me a lot just how comfortable he is," Thompson said of the freshman. "How confident he is in himself being able to make plays, so I think he'll be a lot of fun to watch."
Filed to: Kaleb Banks