6-Banner Sunday: Big Ten opponents announced for 2022-23 season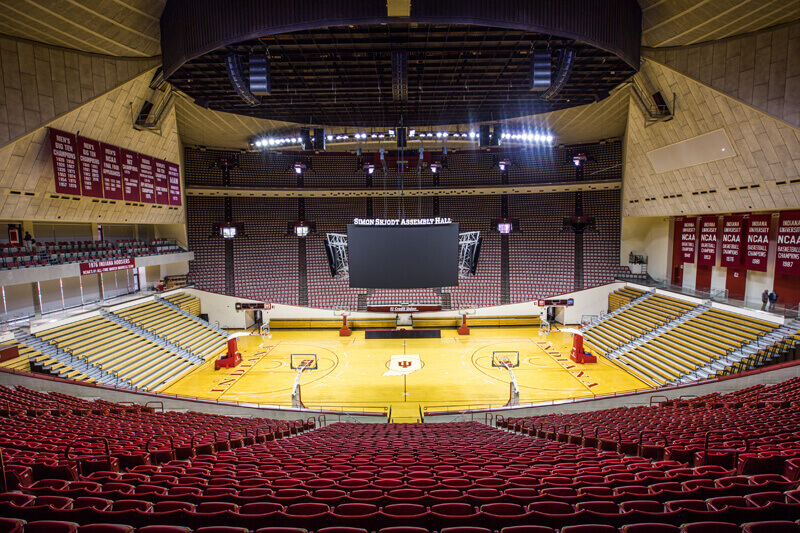 6-Banner Sunday is Inside the Hall's weekly newsletter in partnership with The Assembly Call. More than 9,000 Indiana fans receive the newsletter each week. In addition to appearing each week on the site, you can also opt to receive 6-Banner Sunday by email. A form to subscribe via email is available at the bottom of this week's 6-Banner Sunday.
Welcome to another edition of 6-Banner Sunday, a joint production between The Assembly Call and Inside the Hall where we highlight the five most essential IU basketball stories of the past week, plus take a look at how the other IU sports programs are doing.
Despite being the offseason, this was one of the biggest news weeks for the IU program in a while. Several major stories came to light including another piece of the schedule being known, a top recruit visiting campus, and an important contributor going under the knife to fix a nagging injury that is not expected to impact his availability next season.
In addition to all of that, the team got good news academically and a top player met with the media. We will as always conclude with a quick look at how other Hoosier sports are doing led by the women's basketball team learning about their conference opponents as well.
In brief news, Inside The Hall did a Big Ten Power Ranking for 2022-203, as well as thoughts on next year's roster, and Podcast On The Brink. Also, Assembly Call Radio had an episode last Wednesday.
• Big Ten opponents announced for 2022-23 season
• Xavier Booker visits IU
• Trey Galloway undergoes groin surgery
• Men's basketball achieves perfect APR score
• Race Thompson meets with the media
• Hoosier Roundup – women's basketball Big Ten opponents announced
Banner #1 – Big Ten opponents announced for 2022-23 season
With a Big Ten title within reach, the conference did IU no favors when they announced which teams the Hoosiers would play once vs. twice next season.
IU drew expected bottom feeders Maryland, Minnesota, and Penn State only on the road and a struggling Nebraska squad just at home. The other cities the Hoosiers will not have to travel to are Columbus and Madison. While the team has struggled mightily in these venues (including not winning in the Kohl Center in 24 years), both Ohio State and Wisconsin lost a lot of star power from last season and 2022-2023 might have given the Cream and Crimson a chance to reserve their misfortunes at those places.
By the same token, besides Northwestern, Indiana will have to play every team expected to finish in the top half of the league twice. If the Hoosiers are to hang a 23rd banner as the class of the conference they will have to earn it with the competition they drew.
The upside to this draw is there will be very few opportunities for bad losses on their NCAA tournament resume.
Banner #2 – Xavier Booker visits IU
With his recent rise in the recruiting rankings, Xavier Booker is now being sought out by every top program in the nation. The Cathedral High School big man would be another huge recruiting coup for IU coach Mike Woodson as he is now ranked fourth in the nation for 2023 by 247Sports and second by rivals.com.
Booker took another unofficial visit to Bloomington this week as the Hoosiers try to convince him to stay home rather than go to another blue blood team out of state or skip college altogether and head straight to the NBA G-League. Also, Woodson was at his game on Saturday night as Indiana makes a major push for him.
Inside The Hall had an article about Booker back in March and with his stock at an all-time high now, it would be an even bigger win if he were to suit up for the Cream and Crimson in just over a year.
Banner #3 – Trey Galloway undergoes groin surgery
Trey Galloway has turned into one of IU's most reliable rotation players. However, a nagging groin injury limited his effectiveness and caused him to miss several games towards the end of last year.
Now hopefully the problem has been taken care of for good and there are no further complications after Galloway had surgery last Tuesday to correct the issue. While the operation will likely cause him to miss valuable training time this summer, he is expected to be healthy for the start of the 2022-2023 season in plenty of time.
Banner #4 – Men's basketball achieves perfect APR score
At the end of the Tom Crean era, IU's academic progress rate scores fell to the point of nearly making them ineligible for the NCAA tournament. However, for all his issues from a win-loss perspective, former coach Archie Miller did get IU's APR issues as well as the team's academics in order.
The Hoosiers achieved a perfect score of 1000 in the most recent rankings. They also now have a cumulative score of a nearly flawless 995 when averaged out over the last four seasons the data is available.
Men's basketball was not alone in this area of success as 12 other IU programs also achieved this feat of an unblemished 1000. This included other more followed teams in the athletic department such as women's basketball, men's soccer, softball, volleyball, and wrestling. Furthermore, baseball and football were very close to the top with scores of 991 and 987 respectively.
Banner #5 – Race Thompson meets with the media
Another huge season is expected from sixth-year senior Race Thompson. If he can continue to develop his jump shot which is something he knocked down more later in the season, it will be a huge boon for the Hoosiers as they try to maximize their success in 2022-2023.
Last Thursday, Thompson met with the media for the first time since making his announcement that he would be back in Bloomington for one more campaign. Also, Inside The Hall's Tyler Tachman had a feature story after the availability.
Banner #6 – Hoosier Roundup – women's basketball Big Ten opponents announced
• Women's Basketball also learned who they would play once vs. twice next season in conference play. For them, it was a mixed bag as they got the break of not having to travel to fellow Big Ten title contenders Nebraska and Maryland as well as getting to play struggling (but improving) Illinois and Purdue teams for a home-and-home. They did however draw top-notch Iowa, Michigan, and Ohio State squads twice and bottom feeders Minnesota, Penn State, Rutgers, and Wisconsin just once.
• Baseball's star freshmen were honored again. This time as NCBWA Freshman All-Americans.
• Volleyball announced its 2022 schedule.
• Swimming and Diving had several athletes at the FINA World Championships.
Thanks for your continued support for The Assembly Call and Inside the Hall. We'll be back next weekend with a new roundup.
Now go enjoy yourself a 6-banner Sunday.
Aaron (Ari) Shifron
Assembly Call Contributor
Filed to: