'He is what IU is looking for': 2023 Indiana target Xavier Booker helps Cathedral win Class 4A state title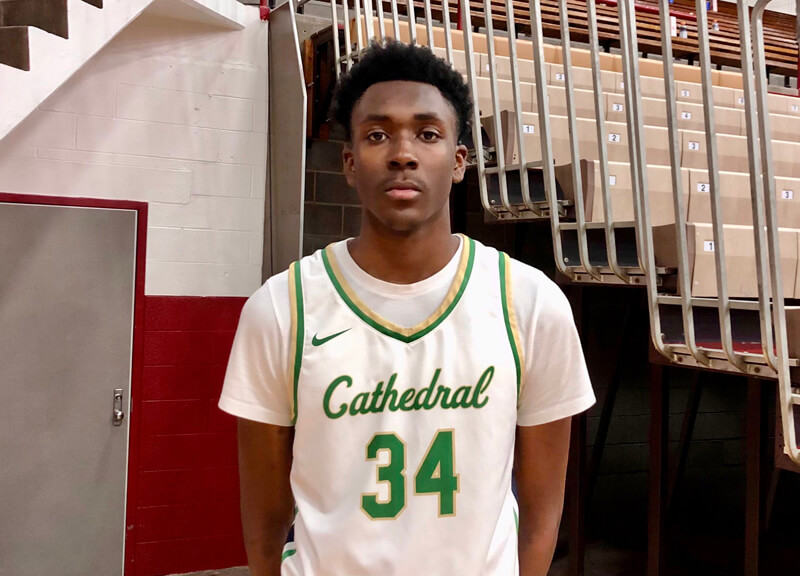 INDIANAPOLIS — Xavier Booker saw the play developing. Coming off a down screen from a teammate, the 6-foot-11, 210-pound center darted to the right wing and caught the basketball in rhythm for a catch-and-release 3-pointer.
Nothing but net.
It was a simple play, but it showed a glimpse of Booker's unique skill set. The long range basket came midway through the fourth quarter Saturday on the state's biggest stage for an Indiana high school player — the IHSAA State Finals.
Several high-major college coaches, including Indiana's Kenya Hunter, Purdue's Matt Painter and Michigan State's Tom Izzo, were at Gainbridge Fieldhouse to see Booker, who helped Indianapolis Cathedral run away with the Class 4A state title in dominating fashion.
Booker, despite missing a majority of the second quarter with two fouls, finished with 13 points (6-for-12 shooting), nine rebounds and four blocked shots in 25 minutes of action as Cathedral (26-6) topped previously-unbeaten Chesterton (29-1), 65-31 — a state finals record for margin of victory in 4A. It is the first state championship for the Irish since 1998 and first as a 4A program.
Booker, a four-star recruit who received a scholarship offer from Indiana last summer, is No. 4 among all players in the state's class of 2023 rankings and is No. 9 among all centers nationally (84th overall), according to the 247Composite.
His numbers improved across the board this season despite playing on a team loaded with Division I talent. Booker entered Saturday's state championship averaging 12.4 points, 6.6 rebounds and 2.2 blocks while shooting 36 percent from behind the arc (35-for-97). As a sophomore, he averaged 4.0 points, 3.2 rebounds and 1.2 blocks and did not make a 3-pointer.
The junior, who is not a traditional back-to-the-basket big, had a strong postseason, reaching double figures in six of the team's seven games. Booker finished with 19 points, 14 rebounds and nine blocks against Ben Davis in the regional championship on March 12 before totaling 12 points, 15 rebounds and three blocked shots in a semistate win over Bloomington North on March 19.
He is a frontcourt player who can pick-n-roll, pick-n-pop and make plays in transition. On one play Saturday against Chesterton, he snatched a defensive rebound off the rim, took one dribble and threw an outlet pass to a teammate. Booker's teammate rewarded him for sprinting down the floor with an alley-oop.
According to Cathedral head coach Jason Delaney, who is the first boys basketball coach in IHSAA history to win a state title with three different programs, says Booker is "what IU is looking for."
"(Indiana) needs a big that can shoot the 3 and do some other things," Delaney said. "I don't know if they have that right now, but I think that is what they are trying to get to. With today's game, being able to run in transition and do things in transition will really help (Booker) out (at the next level)."
Delaney described Booker as "an extremely humble and quiet kid." However, he started to become more vocal during the course of the season, which helped his confidence grow.
"This was his first year of actually being relied on," Delaney said. "I think it is being consistent. When he plays with that fire, he is a monster. He is going to add weight and all those things. He is still coming along.
"The other piece for him is continuing to learn the game. We want him to move and come off screens. When you are that tall, you haven't been asked to do those things. But we want him to be a basketball player… know the reads and know the game. We expect all five (starters) to be able to do everything. So, he handles the ball, shoots the ball, can go inside and we expect him to be able to guard all five positions. Down the road, I think that is going to make him a better player."
Following a loss to Saint Mary's in the NCAA tournament, IU head coach Mike Woodson was asked about areas of improvement for his program. He immediately mentioned shooting.
"We have to get better in that area," Woodson said. " I would be foolish to say we don't."
In Booker, he would get a capable shooter and a versatile offensive threat — plus a rim protector.
Booker, a recent Underclass All-State "Supreme 15" selection by the Indiana Basketball Coaches Association (IBCA), said he appreciates how caring Woodson is when the two of them speak.
"He is a really caring dude and is down to earth," Booker said. "He always gets straight to the point with me and keeps it real with me. He never sugarcoats anything and tells me what I'm doing wrong and what I need to improve on."
Booker, who said he watched IU play during the Big Ten tournament, said he could see himself "fitting in well" with all the coaches at Indiana.
"It is really everything; I feel like I fit in with every aspect of the school," he said. "And the coaches, they bring versatility to the table. The coaches tell me all the time they want me there. They want someone who can stretch the floor, shoot the ball, block shots… everything, really."
Booker's latest offer came from Michigan on March 14, which was two days after Cathedral's regional championship. Prior to that offer, he took an unofficial visit to Michigan State on March 6. Purdue was the first Big Ten program to offer Booker, which came on June 7, 2021. Ohio State and Indiana followed with offers later in June while Illinois (August), Michigan State (September) and Iowa (October) also extended offers prior to the start of his junior campaign. In all, Booker has 20 Division I offers, according to 247Sports.
If Booker does commit to IU, he would join a 2023 recruiting class that already includes guards Jakai Newton and Gabe Cupps. Indiana's current 2023 recruiting class, without Booker, is ranked No. 4 nationally and No. 2 in the Big Ten behind Purdue, according to 247Sports.
As for his AAU plans, Booker said he will play with George Hill All Indy 2023 again this spring and summer. In addition to bulking up and adding muscle, his focus over the offseason will be on his energy level.
"It is about my energy," Booker said. "If I give a consistent energy, no one can really stop me."
Notes: Booker was selected to participate in the USA Men's Junior National Team minicamp from April 1-3 in New Orleans. Booker was one of 48 athletes chosen to attend the minicamp, which is in conjunction with the 2022 NCAA Final Four. You can stay up to date with Booker (@realxman23) and his AAU team (@g3risingstars) on Twitter.
Filed to: Xavier Booker