Race Thompson wants to keep building — himself and the program — at Indiana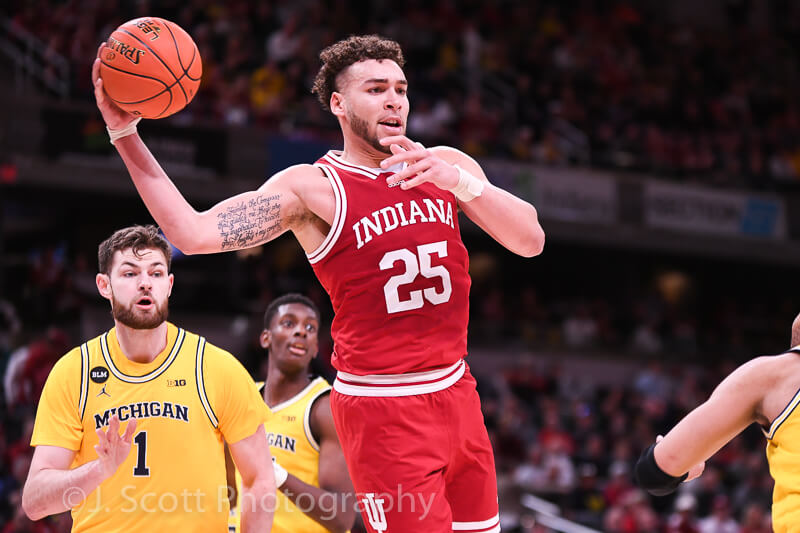 In more than one instance, the verbiage that Race Thompson used seemed fitting. "Stepping-stone," Thompson said during a Zoom call with reporters on Thursday. Earlier in the Zoom call, Thompson also mentioned "building" on what he had accomplished personally over the last two seasons. "Stepping-stone" and "building" are notable because parallels can be drawn from them. Both seem to be fitting not for only the current state of the IU basketball program heading into the 2022-23 season, but also for the trajectory of Thompson's collegiate career.
Thompson has now been in the IU program since 2017. There was a redshirt freshman season. There were injuries and inconsistencies, but also moments of potential. During the 2020-21 season, Thompson became a starter. But then Archie Miller was fired. Thompson entered the transfer portal before Mike Woodson was hired. Thompson ultimately decided to return to Indiana. Last season, Thompson was among the most improved players on the IU roster, averaging 11.1 points and 7.5 rebounds per game, while also being a key part of Indiana's success with both his tangible and intangible characteristics.
After all of that, Thompson still has one season of eligibility left. At some points, whether he would use it or not was unknown. But on April 14, Thompson announced his return to Indiana.
"I mean, just meeting with the coaches and then just having that relationship that we've built over this past year, I really trust them," Thompson said. "I believe in them. They believe in me, and they're trying to make me the best player I can become."
Thompson later added: "…It was just kind of like the question of I don't really know like where I would go, the question of if I was to go pro, where would I be. I don't know. I felt like if I came back here I was able to keep building on what I've built the past two years of really playing real minutes, and hopefully with that, I can hopefully get some type of contract in the next year."
Perimeter shooting was among the improvements Thompson made last season. He made 15 3-pointers last season, in comparison to the six total he had made in the prior three seasons combined. He only shot 27.3 percent from deep last season, but his willingness to take that shot was key to helping Indiana maintain offensive floor-spacing. On Thursday, Thompson mentioned ways that he's continuing to improve his shot like having his hand behind the ball ready to shoot when he catches it and not having to make a lot of movements with the ball when he shoots it.
In Thompson's decision to return to IU, there's also the aspect of being able to continue to push the program in the right direction. During his career at IU, winning at a consistent clip hasn't always been present. During his first two seasons on the active roster, Indiana had a combined record of 39-28. In the following season, Indiana was 12-15. Miller was fired. A program that has won five national championships was plummeting downward. But Woodson has helped change the energy around the program. Last season, Indiana made the NCAA tournament for the first time since 2016.
Now, for the first time in recent seasons — at least outside of the program — winning a Big Ten championship seems realistic for Indiana. The Hoosiers are currently among the favorites — if not the favorite — to win the conference. It's in part due to returnees, such as Thompson and Trayce Jackson-Davis, who will likely both be among the best — and among the most experienced — frontcourt players in the Big Ten.
"Our goal is to win the Big Ten championship and national championship," Thompson said. "We talked about that last year and we almost got to the Big Ten championship in Indy. We fell short and we don't want to feel that again. And we kind of got that feeling where the ball started rolling our way in the Big Ten tournament a little bit and, I mean, that's a feeling that we want to feel all year."
Whether Indiana accomplishes those heights will likely also hinge on the improvements and roles of incoming and returning players. Team 3-point shooting, which has been a weakness in recent seasons, will likely need to be improved. Players like Tamar Bates, Miller Kopp, Jordan Geronimo, Jalen Hood-Schifino, Anthony Leal and CJ Gunn, among others, have the potential to improve that category for the Hoosiers this season.
"We're already shooting the ball better than we shot it last year around this time," Thompson said. "We have like warm-up drills where we keep track of how many makes we get, and we've like already bested what we started at last year. I mean, like our first time we got like 25 and our first time last summer we got like 12 or something like that, so, I mean, we doubled that on the first day."
First-year player Malik Reneau, an important addition to Indiana's 2022 recruiting class, could provide a boost to Indiana's frontcourt. In the past two seasons, Indiana has largely lacked a big man to put up solid production on a consistent basis off the bench. Reneau, a highly-touted prospect, has the potential to fill that role for Indiana during the 2022-23 season.
"He hit like a little shimmy one-foot fadeaway that was pretty nasty that kind of turned my head a little bit," Thompson said of Reneau. "…He had a Euro step yesterday on like two people that was really nice. So I've been really impressed with him."
This IU roster has arguably the most talent and experience as any since Thompson has been playing for the Hoosiers. Although it's June, the expectations have already been set high.
"I think that unfinished business is definitely something that we talk about," Thompson said, "and we kind of just made one step on that stepping-stone and we need to continue to make more steps there."
Filed to: Race Thompson