IU men's basketball multi-year APR score rises to 995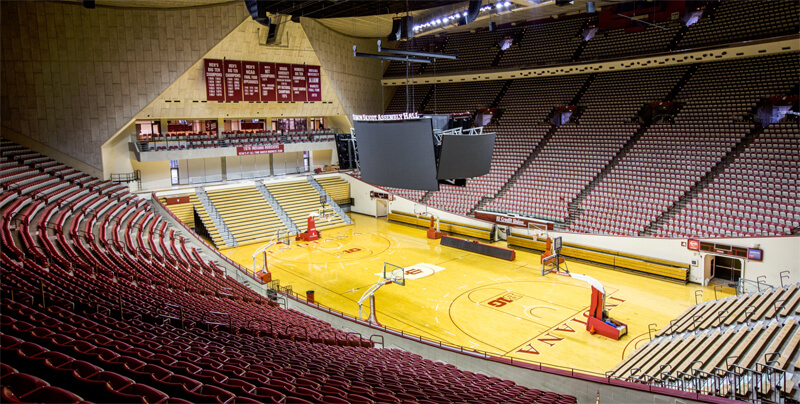 The NCAA released updated academic progress rate (APR) scores this week and Indiana's multi-year score for men's basketball rose again.
After its multi-year APR fell to 944 in the 2017-18 academic year, IU men's basketball now has a multi-year APR score of 995.
The multi-year score released this week includes the 2017-18, 2018-19, 2019-20 and 2020-21 academic years, which are the four years Archie Miller served as Indiana's head coach.
For the 2020-21 academic year, IU men's basketball was one of 13 athletic programs at the university to earn a perfect APR score of 1,000.
Among Big Ten men's basketball programs, Illinois has the lowest multi-year APR score at 938. Academy Progress Rate is a real-time measure of eligibility and retention of student-athletes competing on every Division I sports team.
Here are the current multi-year APR scores for Big Ten men's basketball programs:
Northwestern, 1000
Michigan, 1000
Indiana, 995
Purdue, 984
Michigan State, 980
Rutgers, 980
Nebraska, 979
Ohio State, 979
Wisconsin, 974
Minnesota, 966
Iowa, 964
Maryland, 957
Penn State, 954
Illinois, 938
According to the NCAA:
To compete in 2022-23 championships, teams must achieve a 930 four-year APR. NCAA members chose the 930 standard because that score predicts, on average, a 50 percent graduation rate for a given team.
Historical APR data is available in the NCAA's database. Full APR numbers for each of IU's athletic programs are available below:
IU Athletics Program – 2020-21 APR/Multi-Year APR (2017-18 thru 2020-21)
Baseball: 991/971
Men's Basketball: 1000/995
Women's Basketball: 1000/995
Men's Cross Country: 951/980
Women's Cross Country: 1000/995
Field Hockey: 967/986
Football: 987/976
Men's Golf: 1000/1000
Women's Golf: 1000/1000
Rowing: 993/996
Men's Soccer: 1000/992
Women's Soccer: 973/991
Softball: 1000/997
Men's Swimming and Diving: 1000/997
Women's Swimming and Diving: 1000/998
Men's Tennis: 1000/985
Women's Tennis: 1000/1000
Men's Track and Field: 935/961
Women's Track and Field: 986/989
Volleyball: 1000/986
Water Polo: 949/986
Wrestling: 1000/979
Filed to: Academic Progress Rate