6-Banner Sunday: Jackson-Davis earns combine invite, IU to reportedly play Arizona in Las Vegas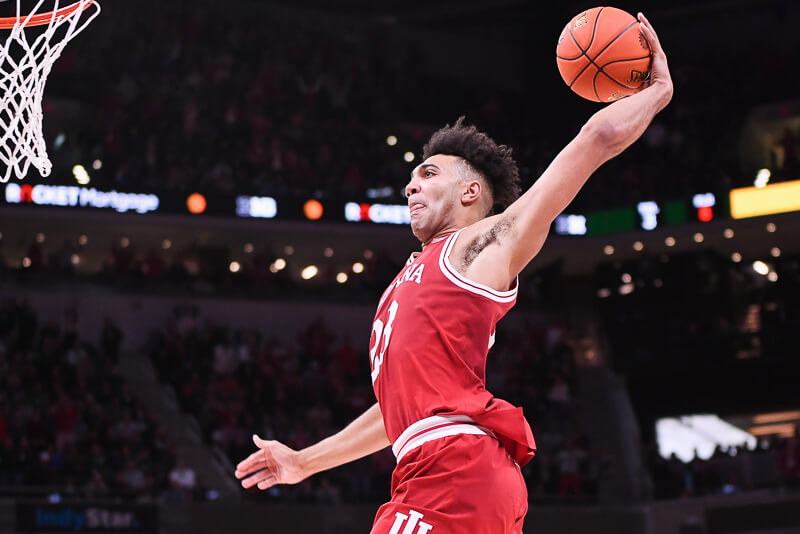 6-Banner Sunday is Inside the Hall's weekly newsletter in partnership with The Assembly Call. More than 9,000 Indiana fans receive the newsletter each week. In addition to appearing each week on the site, you can also opt to receive 6-Banner Sunday by email. A form to subscribe via email is available at the bottom of this week's 6-Banner Sunday.
Welcome to another edition of 6-Banner Sunday, a joint production between The Assembly Call and Inside the Hall where we highlight the five most essential IU basketball stories of the past week, plus take a look at how the other IU sports programs are doing.
A widely expected step in the process was confirmed for Trayce Jackson-Davis as he continues to explore his NBA draft status. Also, an important schedule detail for next year was announced, IU has its new public address announcer, and the final presumed player target for 2022-2023 having Indiana on his list of six schools were other news items of note this week.
Finally, Podcast on the Brink returned this week and we will as usual conclude with a look at how other IU sports are doing.
In a couple of smaller topics, former coach Archie Miller gave an interview where he finally identified the issue that plagued his tenure and the Hoosiers are in contention for the best recruiting class in the Big Ten.
• Trayce Jackson-Davis headed to NBA draft combine
• Hoosiers reportedly headed to Vegas to play Arizona next season
• Jeremy Gray named permanent PA announcer to replace Chuck Crabb
• Dexter Dennis has Indiana jn top six schools
• Podcast on the Brink and Doing the Work
• Hoosier Roundup
Banner #1 – Trayce Jackson-Davis headed to NBA draft combine
With 60 players invited to the NBA Draft Combine each year, it was widely expected that Trayce Jackson-Davis would be one of them and that was confirmed this week.
While Jackson-Davis is not expected to be a first-round pick at the moment he is an intriguing prospect to many NBA teams. A good combine might move him up further in the draft. Already a video emerged of him this week shooting outside jump shots during workouts with little difficulty. While this is never something he has done in a game, it is a skill he will need to succeed at the next level given his size.
Right now his draft stock is all over the place with some mock drafts having him going early in the second round, while others have him undrafted. Jackson-Davis has previously said he would like to go no later than early in the second round if he is to remain in the draft but he could change his mind as he talks to NBA teams. Previously, roughly 90 percent of players invited to the combine have stayed in the draft but this is the first season where NIL is legal and players can go back to school and make money which introduces a new aspect to the decision.
Either way Jackson-Davis has to decide by June 1 if he is returning to IU or will stay in the draft. With the combine invite now in place a decision will likely come closer to the deadline.
Banner #2 – Hoosiers reportedly headed to Vegas to play Arizona next season
Many Hoosier fans complained about the lack of a tough non-conference schedule last season. However, next year this will not be an issue as IU coach Mike Woodson appears to be keeping his promise to beef up the early games before the Big Ten season.
A game at defending national champion Kansas was already known, but now another top-flight matchup was revealed this week with it reported that IU and Arizona are finalizing a contest at a neutral site in Las Vegas next December.
The Wildcats finished last year 33-4 as the Pac-12 champs before losing in the Sweet 16 and they are widely projected to be a top-five team heading into 2022-2023. The Hoosiers also have a presumed home game in the Big Ten-ACC Challenge where a top team is likely to come to Assembly Hall and a possible road showdown in the Gavitt Games against a Big East opponent near the beginning of the season.
Either way, IU will be plenty battle-tested heading into conference play with the way the competition is shaking up next season.
Banner #3 – Jeremy Gray named permanent PA announcer to replace Chuck Crabb
When legendary public address announcer Chuck Crabb retired towards the end of last season, Senior Associate Athletic Director Jeremy Gray took over on an interim basis for the last few weeks. Now the move is permanent as IU announced Gray would take over the duties full time in addition to his regular job.
Gray served as the play-by-play announcer for both women's basketball and baseball before moving into his current administrative role away from the microphone. However, with PA duties for men's and women's basketball now, his voice will be heard again to Hoosier fans in a different role.
Banner #4 – Dexter Dennis has Indiana in top six schools
At the moment IU has all 13 scholarships tied up for next season if Trayce Jackson-Davis withdraws from the draft and returns to IU. However, if he remains in the draft, a scholarship will open up.
With the May 1 deadline now past for entering the transfer portal for immediate eligibility next season, IU appears to have at least 12 players committed to the team for 2022-2023. However, should Jackson-Davis' scholarship open up, Wichita State transfer Dexter Dennis has the Hoosiers in his final six schools for next season.
Dennis took a visit to Indiana last month but a final timeline for his final decision on where he will go is unclear.
Banner #5 – Podcast on the Brink and Doing the Work
Inside The Hall's Podcast on the Brink returned this week with a familiar face as Assembly Call's Brian Tonsoni joined the show to look back at last season and preview the next one.
Also, while Assembly Call Radio took the week off, Doing the Work did have a show to discuss the team and they brought on special guest Seth Tow who is the IU women's basketball beat reporter for the Herald Times.
Banner #6 – Hoosier Roundup
• Baseball took the series from Illinois last Sunday and have gone 1-1 to start the weekend against Michigan to remain in contention for the Big Ten Tournament.
• Softball won a thrilling series finale against Illinois and split their first two games with Nebraska this weekend.
• Men's Golf finished ninth at the Big Ten Championship but still received an invite to the NCAA Tournament.
• Track and Field competed at home in their final-regular season meet.
• IU honored its athletes graduating as part of the school's regular graduation.
Thanks for your continued support for The Assembly Call and Inside the Hall. We'll be back next weekend with a new roundup.
Now go enjoy yourself a 6-banner Sunday.
Aaron (Ari) Shifron
Assembly Call Contributor
Filed to: