Wichita State transfer Dexter Dennis includes Indiana in top six schools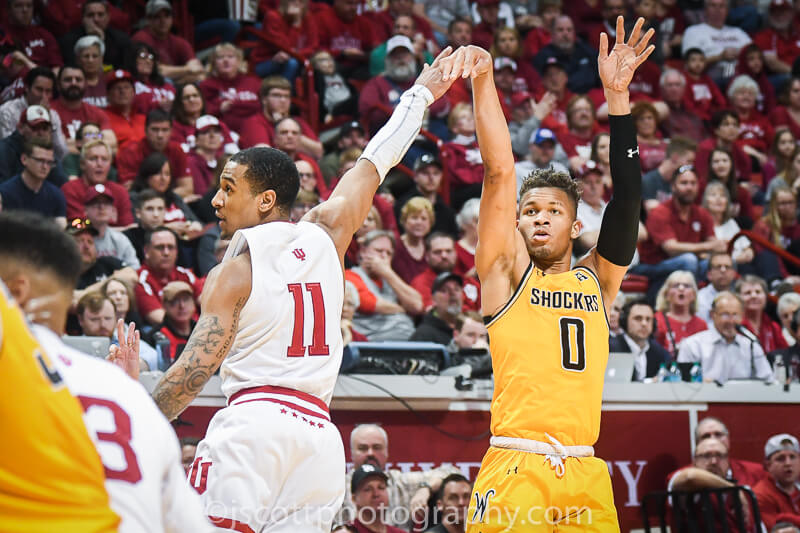 Wichita State transfer Dexter Dennis, who took an official visit to Bloomington last month, has Indiana among his top six schools.
Dennis, a 6-foot-5 guard from Baker, Louisiana, is considering Indiana, Clemson, Georgia Tech, Kansas State, Texas A&M and Vanderbilt.
Over four seasons for the Shockers, Dennis averaged 8.8 points, five rebounds and 1.1 assists in 27.7 minutes per game. His career field goal percentage is 36.8 and he's a career 34.4 percent 3-point shooter.
But the primary value Dennis brings is on the defensive end.
Last season, he was named the defensive player of the year in the American Athletic Conference. In 26 games, Dennis totaled 24 blocks and 23 steals while guarding multiple positions.
According to Jeff Goodman of Stadium, Dennis is the 72nd best player to enter the transfer portal this offseason.
Indiana's scholarship situation for next season is still unclear due to Trayce Jackson-Davis testing the NBA draft waters.
If Jackson-Davis opts to stay in the draft, the Hoosiers will have one scholarship to give. But if he opts to return for a fourth season, Indiana will be at the NCAA scholarship limit of 13. Jackson-Davis has until 11:59 p.m. ET on June 1 to decide whether he will return to school or stay in the draft.
The deadline to enter the transfer portal and be eligible to compete immediately next season in a fall or winter sport has passed.
According to Travis Branham of 247Sports, "athletes can still transfer throughout the spring and summer but will have to apply for a waiver to be granted entry into the portal."
Filed to: Dexter Dennis