6-Banner Sunday: 2021-22 Indiana basketball schedule released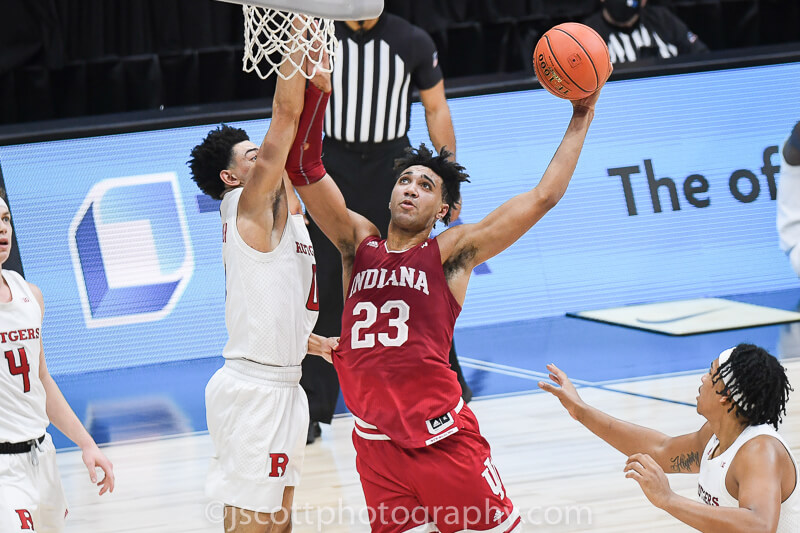 6-Banner Sunday is Inside the Hall's weekly newsletter in partnership with The Assembly Call. More than 8,000 Indiana fans receive the newsletter each week. In addition to appearing each week on the site, you can also opt to receive 6-Banner Sunday by email. A form to subscribe via email is available at the bottom of this week's 6-Banner Sunday.
Welcome to another edition of 6-Banner Sunday, a joint production between The Assembly Call and Inside the Hall where we highlight the five most essential IU basketball stories of the past week, plus take a look at how the other IU sports programs are doing.
The major news this week was the full Indiana basketball schedule finally being released as the Big Ten put out the entire slate for the conference. This turned out to coincide well with the ongoing non-conference opponent preview series Inside The Hall has done.
In addition, former Hoosier's Juwan Morgan and Devonte Green made headlines for different reasons. Also, some minor recruiting nuggets happened over the last week and as usual we will conclude with our look into other IU sports.
• Full IU basketball schedule released
• Non-conference opponent preview series
• Juwan Morgan signs with Celtics
• Devonte Green speaks up
• Recruiting news
• Hoosier roundup
Banner #1 – Full IU basketball schedule released
As all Hoosier fans are probably aware by now, the entire IU Basketball schedule was released this week. While the opponents were already previously known, the dates and order is now known.
The full schedule is available here and Inside The Hall had a piece on it's release. Tyler Tachman also took a deeper look at it and how Mike Woodson's first season will be affected by it.
One important note is that IU will not play any Exhibition games this year and will have 'secret' scrimmages instead. As a result, besides Hoosier Hysteria on October 2, fans will not get to see the team inside Assembly Hall until the official opener on Nov. 9 against Eastern Michigan.
Assembly Call's radio show this week saw Brian Tonsoni and Andy Bottoms take a look into the schedule and analyze it.
Banner #2 – Non-conference opponent preview series
Inside The Hall continued its non-conference opponent preview series this week to coincide with the schedule being released.
This week ITH took a closer look at Notre Dame, Northern Kentucky and UNC Asheville.
Banner #3 – Juwan Morgan signs with Celtics
Former Hoosier Juwan Morgan has found his next landing spot in the NBA. For Morgan it could not be more ideal from an Indiana perspective as he will get to play for new Boston Celtics GM and Indiana native Brad Stevens. In addition to that, former Hoosier teammate Romeo Langford is a member of the Celtics.
For Morgan the agreement is a non-guaranteed training camp deal that could turn into a two-way contract. This would allow him to play for both the Celtics and their G-League affiliate throughout the season.
Banner #4 – Devonte Green speaks up
Recent Hoosier Devonte Green gave a feature interview this week. His discussion was with former Hoosier great AJ Guyton on his 'House of Hoosier' podcast that is released regularly.
Green talked about growing up in a basketball family with his brother (NBA player Danny Green), his time at IU and how COVID has affected him in his professional career.
Banner #5 – Recruiting News
There were a couple small recruiting tidbits this week. One was IU's continued pursuit of 2023 top 50 player Kaleb Glenn. The Hoosiers sent their assistants to watch him and Mike Woodson will do the same next week.
The other nugget to come to light this week involved the recruitment of elite 2023 top 10 prospect Kwame Evans Jr. IU saw him in-person for the first time after making an offer recently.
Banner #6 – Hoosier Roundup
Football rebounded with a dominant performance against Idaho that included a near-sellout and a completely full student section. Besides that, Women's basketball announced its Big Ten schedule as well. Also, most other fall sports were in competition this week as the IU athletic season is well underway now.
• Football used strong defense and special teams to route Idaho 56-14.
• Women's Basketball announced its Big Ten Schedule as it looks to match or build on its Elite Eight appearance from last year with their entire team back.
• Men's Soccer bounced back with a win over Xavier before a tie at an elite Akron squad.
• Women's Soccer routed both SEMO and Murray State. As a result of this, newcomer Jordan Levy earned Big Ten Freshmen of the Week for her strong play.
• Field Hockey dominated Bellarmine before falling to Louisville.
• Volleyball dropped three heartbreaking close matches this week against Power 5 competition.
• Drew Salyers took home the individual title as Men's Golf finished 3rd in their first tournament of the season. As a result of this Salyers was named Big Ten Golfer of the Week.
• Women's Golf announced its schedule.
• Softball added a Director of Operations.
• Wrestling had four athletes earn preseason rankings.
Thanks for your continued support for The Assembly Call and Inside the Hall. We'll be back next weekend with a new roundup.
Now go enjoy yourself a 6-banner Sunday.
Aaron (Ari) Shifron
Assembly Call Contributor
Filed to: