2021-22 Non-conference opponent preview: Notre Dame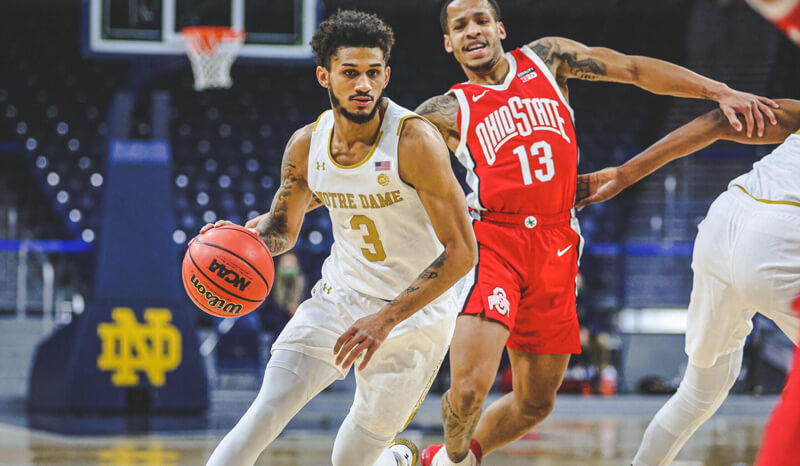 It's the final year of the Crossroads Classic and Indiana drew the Notre Dame Fighting Irish. The Hoosiers will play the Irish for the 63rd time on December 18 at Bankers Life Fieldhouse. The Hoosiers currently lead the all-time series 44-18.
The Irish capped out last season with an 11-15 record, including a 10-point loss to Purdue in the 2020 Crossroads Classic. Their 7-11 finish in conference play gave them the 11th spot in the ACC standings.
This year marks head coach Mike Brey's 22nd season leading the Irish. Brey is the all-time winningest coach in Notre Dame history with 448 victories as well as 12 NCAA tournament berths.
Moving forward into the 2021-22 season, Brey was able to maintain most of his roster throughout the offseason — with the exception of two seniors, Juwan Durham and Nikola Djogo. Durham chose to forgo his extra year of eligibility to start his professional career overseas, while Djogo transferred to Northeastern.
The main loss is in forward Juwan Durham, who averaged 10.7 points and 5.5 rebounds a game. Losing the 6-foot-11 Durham means losing his rim protection and shot-blocking, but also his leadership.
But Brey still managed to hold together a talented group of veterans, led by senior guard Prentiss Hubb and senior forward Nate Laszewski. Hubb led the Irish in points and assists per game last season with 14.6 and 5.8, respectively. Meanwhile, Laszewski pulled down the most rebounds for the Irish on average with 7.3 a game.
The returns of Hubb and Laszewski will benefit Brey not only from a statistical standpoint but also because the group knows how to play together and they're hungry for an NCAA tournament berth — something Notre Dame hasn't attained in four years.
Brey also brought in some new additions to the squad over the offseason in both transfers and freshmen. On the transfer front, he got one of the top available forwards in the nation in Paul Atkinson from Yale. In his most recent season in 2019, the 6-foot-9 forward won Ivy League Player of the Year on a season averaging 17.6 points along with 7.3 rebounds per game.
In its freshman class, Notre Dame welcomes guards JR Konieczny and Blake Wesley. Both Konieczny and Wesley were ranked among the top 135 prospects in the country, according to the 247Composite.
The two new guards are also local kids from the South Bend area, with Wesley coming from Riley High School and Konieczny from Saint Joseph High school.
The experience the Irish have returning coupled with the new faces, Brey's squad can be competitive in the ACC this season and look to make its first NCAA tournament since 2017.
Filed to: 2021-22 schedule, Notre Dame Fighting Irish