A deeper look at Indiana's schedule as Mike Woodson navigates his first season as head coach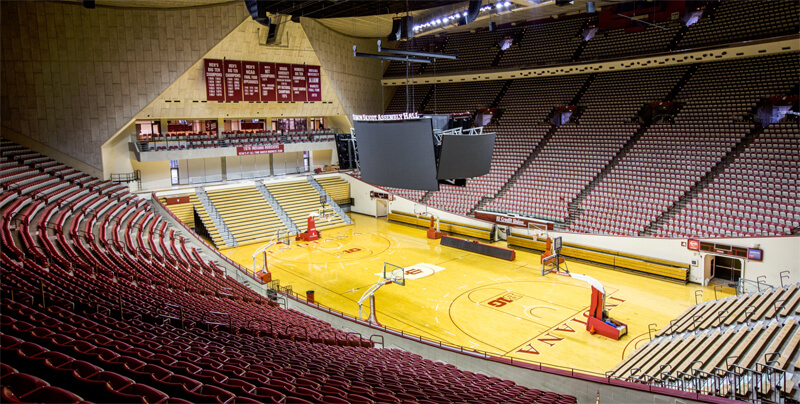 The Big Ten's college basketball schedule release show on Wednesday afternoon left a lot to be desired. For one, it was too long. But most prevalently, it didn't even release a full conference schedule during the 30-minute program.
After all of the hoopla, Indiana's full 2021-22 schedule was finally unveiled, giving us an initial, big picture view of what Mike Woodson will have to navigate in his first season as head coach. It is, in many ways, a favorable draw for the Hoosiers, especially in the conference slate, although it also means the Hoosiers can't afford multiple slip-ups in early games that should be guaranteed wins.
Let's begin with the non-conference schedule, which had largely already been set over the last few months. As a whole, the 11-game slate is less than challenging. Only four of Indiana's non-conference opponents finished in the top 100 of KenPom last season: Syracuse (42), St. John's (69), Notre Dame (85) and Marshall (92). The rest were 200th or worse, including Northern Illinois, which was a handful of spots away from being dead last.
Indiana's biggest resume-building opportunity will come against Syracuse in a daunting Carrier Dome environment as a part of the Big Ten-ACC Challenge in late November. The other two early litmus tests for Indiana, although not overwhelmingly difficult, will be at home against St. John's in the third game of the season as part of the Gavitt Tipoff Games and Notre Dame in the Crossroads Classic.
There are some obvious reasons that Woodson set up the schedule this way: sparse with big names and without any real road tests besides Syracuse.
First, Woodson has only been working with his team for less than four months. And most of that time over the summer was solely dedicated to defense. There are also five new players. Indiana has little experience playing together as unit and, even when they did, Michael Durr, Logan Duncomb and Anthony Leal were sidelined last month in The Bahamas.
Playing an underwhelming opening schedule will allow Indiana to make more mistakes without paying a significant price. With players vying for rotation spots, Woodson can mix and match different lineups. Players like freshman Tamar Bates will have more time to acclimate to the college game, a luxury that wasn't available to Indiana's newcomers last season because of the truncated schedule. There were times where that lack of experience became apparent. This season should allow smoother transitions.
This is a nonconference schedule that Indiana could, and frankly should, win no less than nine games. It would also be realistic to say that IU could win all 11.
On the flip side, the first handful of games won't be a sound indication of how good Indiana actually is, even if they do go undefeated. The last two of Archie Miller's seasons got off to a relatively fast start, only to miss the NCAA tournament again and again.
In December, the 2021-22 conference schedule will begin. In its entirety, the always gauntlet of a Big Ten schedule seems somewhat feasible for Indiana this season. Indiana only has to play Michigan, Michigan State and Illinois – all of whom are projected at the top half of the Big Ten – once each. IU gets to play Nebraska, Minnesota and Penn State – all of whom are projected near the bottom of the Big Ten – twice. This, however, isn't to disregard the fact that Indiana still has to play Ohio State, Maryland and Purdue twice each.
For the most part, Indiana's schedule is well-balanced, and they don't have to play bunches of potential top-15 teams in a row for two months without a break. There are, however, two especially demanding stretches that stick out. Starting from Jan.20-Feb. 5, where Indiana plays Purdue, Michigan, Maryland and Illinois, and then from Feb. 12-24, Indiana will see Michigan, Ohio State and Maryland.
It's worth noting what Indiana's final five games look like because that was precisely where Indiana fell apart last season after being on a path to make the NCAA tournament. Last season those last five regular-season games were all against teams that ultimately made the NCAA tournament.
This season, the last five regular-season contests are as follows: At Ohio State, Maryland, at Minnesota, Rutgers and at Purdue. It's certainly not a cakewalk to finish the season, but there are definitely some potential wins in there, which could prove to be crucial if making the NCAA tournament depends on it.
One of the biggest keys for Indiana this season is consistency. The Hoosiers didn't win more than two games in a row last season. There was nothing schematically or individually, other than Trayce Jackson-Davis, that was reliable on a night-to-to night basis.
The non-conference schedule this season should allow Indiana to build some of that potential consistency. From there, it will be about sustaining it into March.
Filed to: 2021-22 schedule, Mike Woodson