6-Banner Sunday: Crossroads Classic coming to an end after 11 years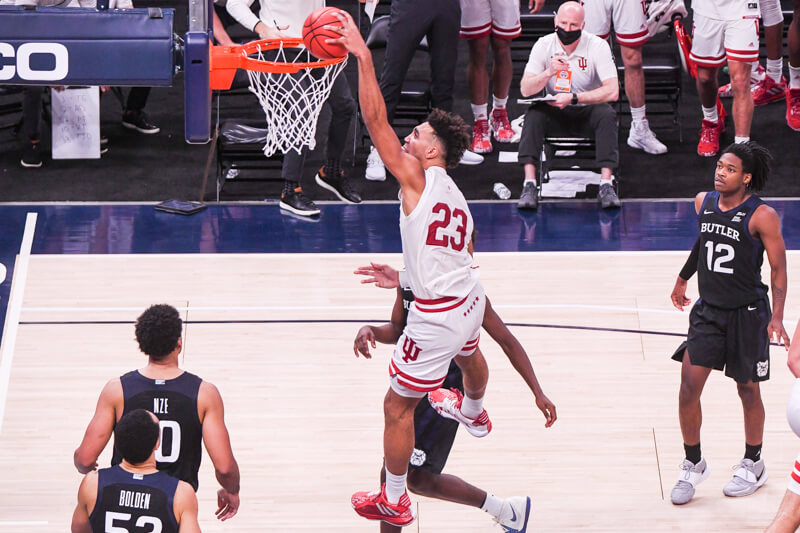 6-Banner Sunday is Inside the Hall's weekly newsletter in partnership with The Assembly Call. Nearly 8,000 Indiana fans receive the newsletter each week. In addition to appearing each week on the site, you can also opt to receive 6-Banner Sunday by email. A form to subscribe via email is available at the bottom of this week's 6-Banner Sunday.
Welcome to another edition of 6-Banner Sunday, a joint production between The Assembly Call and Inside the Hall where we highlight the five most essential IU basketball stories of the past week, plus take a look at how the other IU sports programs are doing.
As the offseason rolls on, several news items came out this week with the top story being the demise of the Crossroads Classic.
Besides that, another non-conference game is known, details of the upcoming Bahamas trip are more clear and some info on a future and past Hoosier. As usual 6-Banner will conclude with a look at happenings in other IU Sports.
• Crossroads Classic comes to an end after this year
• Hoosiers add a non-conference opponent and ITH previews the known preseason games
• More info released on the Bahamas trip
• Kaleb Banks summer highlights
• Former Hoosier Jerome Hunter speaks up
• Hoosier Roundup
Banner #1 – Crossroads Classic comes To an end after this year
The fate of the Crossroads Classic was hanging in the balance after this year's game against Notre Dame. Now we know the games are no more. News broke this last week from the Lafayette Journal & Courier's Mike Carmin that the four-team event featuring IU, Purdue, Notre Dame and Butler is done.
Greg Doyel of the Indianapolis Star wrote a column about the cancellation and Zach Osterman broke down the reasons for the demise.
Banner #2 – Hoosiers add a non-conference opponent and ITH previews the known preseason games
With the season fast approaching, IU announced a Nov 12 date with Northern Illinois to fill out another piece of the preseason puzzle.
Inside The Hall also took the time this week to do a detailed preview of some of the non-conference opponents. The series right now has previews of
Merrimack, St. John's, Marshall and Louisiana-Lafayette
Banner #3 – More info released on the Bahamas trip
While it has been known for a while that the Hoosiers would travel to the Bahamas in August more info was released about the trip this week.
The exhibition games against professional team BC Mega will take place Friday, August 13 at 7:30pm and Sunday, August 15 at 1pm in the Imperial Ballroom at the Paradise Atlantis. The contests will be open to the public for those willing to vacation and travel to paradise, but as of now no TV or radio will be available for those who stay back.
Banner #4 – Kaleb Banks summer highlights
As reported late last week, the Hoosiers picked up their second commit of the 2022 class when Fayetteville Georgia's Kaleb Banks pulled the trigger for the Hoosiers.
Banks is a four-star recruit ranked no. 123 in his class, and this week Inside The Hall found and posted a four minute highlight video of his time on the Adidas 3SSB Circuit where he has starred this summer.
Banner #5 – Former Hoosier Jerome Hunter speaks up
Former IU forward Jerome Hunter transferred to Xavier this summer. Before he begins his time with the Musketeers though the Columbus Dispatch's Adam Jardy wrote about him.
What should be of most interest to Hoosier fans is an actual concrete diagnosis of the leg injury that kept Hunter out his entire freshmen year. While rumors have circulated, the article confirms that Hunter indeed had surgery on a blood clot in his knee that caused him to miss the season.
Banner #6 – Hoosier Roundup
• Lots of Olympic news this week regarding current and former Hoosiers. Zach Apple and Blake Pieroni won a gold medal in the 400 meter relay and Lily King won a bronze medal in the 100 meter breaststroke. King and Annie Lazor also medaled in the 200 meter breaststroke. Several divers also won medals in a couple events.
• More Football players were put on Preseason Watch Lists.
• Women's Golf added a member to its coaching staff.
• Women's Basketball announced a tournament in the Bahamas over Thanksgiving.
• Men's Soccer lost a legend.
• Baseball's Drew Ashley was named an Academic All-American.
• Wrestling had a signee named a high school All-American.
Thanks for your continued support for The Assembly Call. We'll be back next weekend with a new roundup.
Now go enjoy yourself a 6-banner Sunday.
Filed to: